Tuesday Turn About #125 Little Christmas
We are opening up the Christmas season here at My Wee Abode. Tuesday Turn About #125 Little Christmas is featuring some fun seasonal DIYs!
TUESDAY TURN ABOUT #124 LITTLE CHRISTMAS
Welcome to the party! Are you ready for a little-bit-of-Christmas?
I sure am!
My week in Pennsylvania was AMAZING, and I can't wait to share it on the blog this week!
When I got home, I hit the ground running with catching up at my day job, surprise family events, and finishing up some baby blankets for Jellybean #5, scheduled to arrive on December 3. (Between you and me, I'm bettin' the scheduled c-section will happen earlier!)
Enough about me… let's get this party started!
And don't forget…
Oh, and as promised… our 'tips' have returned!
This post may contain affiliate links, at no additional cost to you. For more information, see my complete disclosure HERE.
Weekly Household Tip
Here's a candle 'grooming' tip for you. When you want to extinguish a candle, don't blow out the flame… use a snuffer. When you blow on a wick, it can sometimes move the wick from the center of the candle, creating an uneven burn. Using a snuffer will help your wax last longer.
Weekly Blogging Tip
Have you heard the exciting Instagram news?!!!
You can now redirect your followers from your Instagram stories directly to your blog! Yep! The "10K follower rule" no longer applies! Can you say, "Woo hooooo!"?
When creating a story, simply click on the sticker icon at the top, and you will see the link button. Add it to your story, along with the link to your blog! Voila!
Though not a requirement at all, we would love it if you would subscribe and/or follow your hostesses on one or more of our social medias:
Goings-On With Your Hostesses
My Wee Abode
DIY Coastal Farmhouse Winter Wreath //
How to Decorate a Window Pane for All Seasons
Thistle Key Lane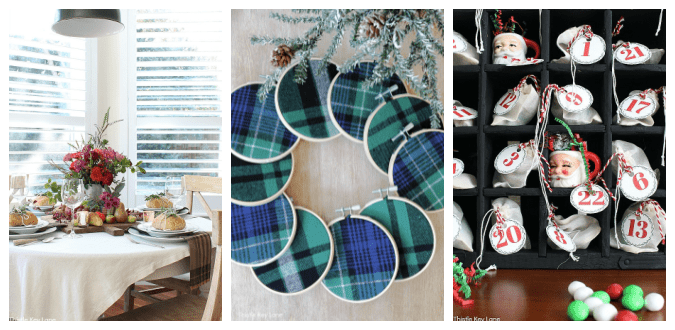 Thanksgiving Fruit & Flower Tablescape | Easy Embroidery Hoop Christmas Ornaments | Advent Calendar Bags & Printable Numbers
Bluesky At Home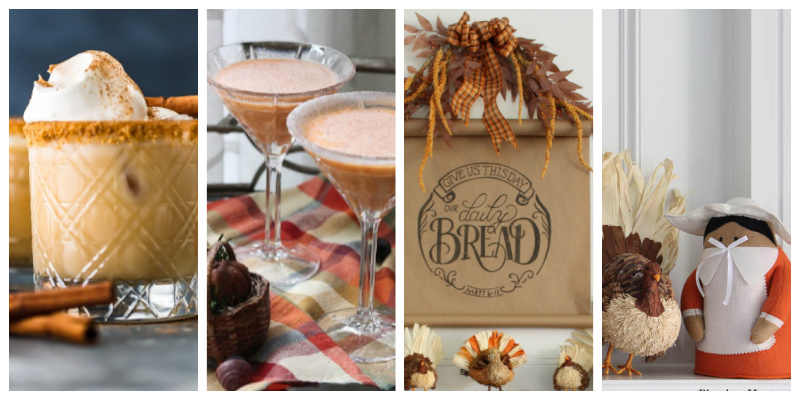 10 Fabulous Finds #13| The Perfect Pumpkin Martini for Thanksgiving | A Simple Farmhouse~Style Thanksgiving Sign | Easy Thanksgiving Signs for Your Thanksgiving Mantel
This Week's Features:
Candlestick Makeover
Whether you want to add some Christmas decor to your own home, or create a gift for someone else, Kathryn from Nuts and Bolts is sharing just how to do it! Aren't these candle holders lovely?!
Stacked Books for the Calligraphy-Challenged
This lovely stack of 'books' is just the thing for those of us that just can't get the whole 'lettering-thing' down. Steph Creates is showing us exactly how to create this lovely DIY project, and you can add some pine cones are candy canes to give it a seasonal twist!
Let It Snow!
Do you have a vintage sled disk 'lying around'? Well, if you don't, I bet you'll be on the look-out for one now! Robin from Junk Is My Life is showing us how to create this adorable winter wall decor!
Check out our Tuesday Turn About Link Party Pinterest board! All NINE featured posts are pinned to this board each week!
Now It's Your Turn! Link Away!
Let's start sharing! Because this is a party, we encourage all who link up to visit several other bloggers who have linked as well – comments and pins are a great way to spread the love!
Before you get started, take a look at our guidelines:
This party is for home decor and home-related posts only (recipes, organizing, DIY, crafts, etc.). Link up to 3 related posts. Please do not link up informational posts that do not relate to the topic.
If you would please not link up shops, advertising, round-ups, other link parties, or any posts promoting sales, we would appreciate it.
DO NOT PIN FROM IMAGES ON THIS PAGE (it just won't work right on Pinterest). However, please visit the original post/source and pin from there. That works perfectly!
Please make sure that your images are in a jpeg or png format. If we can't save your image, we may not be able to feature you. So sad!
By linking to the party, you give us permission to share your projects on our blogs and social media. We will always give proper credit with a no-pin image.
It was so fun looking through all the crafts, DIYS, recipes and decor this past week! Looking forward to even more in the coming weeks!