Tuesday Turn About #88 Spring Begins
The party is going on! It's Tuesday Turn About #88 Spring Begins!
TUESDAY TURN ABOUT #88 Spring Begins
This week past week has been a whirlwind… I may have taken on a wee bit more than I should have.
My mom is doing quite well, and she is back at her assisted living community. Upon settling her back in, we were happy to find out that minimal social activities had started again. This is a good thing!
The weekend was very busy with some family 'happenings', and I just discovered that I can't find my external hard drive. This is not good, as I have all my photos on the drive. Seriously… 3 years for photos! I *do* have it backed up, but I'm going to need to see when the last back-up happened. Prayers would be so appreciated!
UPDATE: Hard drive has been found! Praise God! My IT son-in-law says it's time for another option. I think it's his nice way of saying I'm getting old! LOL! 😉
Spring Begins
With all the 'weather happenings' across the country and the world, it seems many of us are ready for spring. So this week, I'm sharing some spring fun, and maybe a tip or two!
And remember…
But first, some tips!
This post may contain affiliate links, at no additional cost to you.
For more information, see my complete disclosure HERE.
Weekly Household Tip
When baking for gift-giving, I use disposable paper baking pans/trays. They are cute, easy to use, and make just the right size serving for a little gift! (Think hostess, teacher, or employee holiday gift.) You can pick them up at Target, too!
Weekly Blogging Tip
Have you thought about checking for broken links on your site?
My son (who is an SEO manager) suggests using Screaming Frog to check and fix broken links on your blog. Links that work make for happy readers and happy Google! Use it once a month or so to keep your site moving smoothly.
Though not a requirement at all, we would love it if you would subscribe and/or follow your hostesses on one or more of our social medias:
Goings-On With Your Hostesses
My Wee Abode
Free Spring Watercolor Printables | Family Friendly DIY Spring Placecard Holders
Thistle Key Lane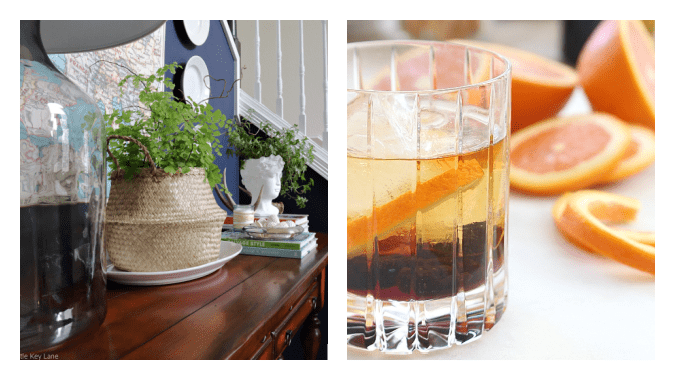 Early Spring Entry Table | Old Fashioned Cocktail Recipe
Bluesky At Home
How to Stencil Books for Your Home| 5 Ways to Use Green in Your Home | Easy and Delicious 4~Ingredient One~Pot Soup
This Week's Features:
Vintage Spring Birds
Amber from Follow the Yellow Brick Home is sharing how she uses nature-inspired vintage items to bring touches of spring to her home! I just love birds, and these prints are especially lovely!
Answers to a "Why"
Have you ever wondered why you have projects left 'undone' around your home? I have to admit… this is a big problem for me! Want to get some spring projects completed? This post from Serena at Thrift Diving explains 5 Reasons Why We Don't Finish DIY Projects… and she has solutions, too!
Wax On, Wax Off
You are not gonna believe what Cindy from Reinvented Delaware used to 'paint' this desk! Take a look, and while you're at it, checkout her whole site! She has so many lovely makeovers and tutorials. Perfect for spring or any season!
Check out our Tuesday Turn About Link Party Pinterest board! All NINE featured posts are pinned to this board each week!
Now It's Your Turn! Link Away!
Let's start sharing! Because this is a party, we encourage all who link up to visit several other bloggers who have linked as well – comments and pins are a great way to spread the love!
Before you get started, take a look at our guidelines:
This party is for home decor and home-related posts only (recipes, organizing, DIY, crafts, etc.). Link up to 3 related posts. Please do not link up informational posts that do not relate to the topic.
If you would please not link up shops, advertising, round-ups, other link parties, or any posts promoting sales, we would appreciate it.
DO NOT PIN FROM IMAGES ON THIS PAGE (it just won't work right on Pinterest). However, please visit the original post/source and pin from there. That works perfectly!
Please make sure that your images are in a jpeg or png format. If we can't save your image, we may not be able to feature you. So sad!
By linking to the party, you give us permission to share your projects on our blogs and social media. We will always give proper credit with a no-pin image.
Spring is just around the corner… Don't you just love decor for spring! And recipes… and DIYs. You get the picture. 😉 Looking forward to spring posts, both old and new!