Tuesday Turn About #49 ORC Plans
Tuesday Turn About #49 ORC Plans is live! Don't know what ORC plans are? Read on and find out!
TUESDAY TURN ABOUT #49 ORC PLANS
Welcome back to Tuesday Turn About. Michelle, Carol, and I are so blessed to have you visit each week! Really!
This week was the second week of the ORC!
What is the ORC? It's the One Room Challenge hosted by Linda from Calling It Home and Better Homes and Gardens!
The One Room Challenge features 20 hand-picked bloggers, and a plethora of guest bloggers, that are challenged (duhhh) to makeover a room in their home and then blog about it during the allotted time span (usually 6 weeks, but this year's challenge is 8 weeks because… well… #stayhome).
What a great way to get a room project done and inspire others at the same time! (I'm hoping to jump on the bandwagon for the next challenge!)
This week, I'm featuring just three of the guest bloggers joining the Spring 2020 ORC, and all three are doing bedroom makeovers, too. I hope you enjoy and are inspired by their plans as much as I am!
If you want to read more about the One Room Challenge, click HERE.
So, let's get this party started!
Weekly Blogging Tip
As promised, we are taking a tiny break from Pinterest tips to bring you a 'dashboard' tip. You know, something behind the scenes of your blog.
When linking to an external post, whether it be an affiliate link, a link to another blogger's post, your own Pinterest account, or anything else that is NOT part of your own website, be sure to mark the link as "open in new tab/window". This way, your reader can easily switch back to your site, and Google recognizes it as longer time spent on your blog.
Feel free to comment below if you need some additional help or if you'd like to expound on the tip! If you comment, we can all learn together!
Weekly Household Tip
When storing coffee cups, think about going 'down under'… your cabinets, that is.
Add hooks under your cabinets, or even on your wall above your counter, to create additional storage.
It can be pretty, too! Think about displaying mugs in a tight color palette (all white or all black), or coordinate your mugs in different colors or complimentary patterns.
Though not a requirement at all, we would love it if you would subscribe and/or follow your hostesses on one or more of our social medias:
Goings-On With Your Hostesses
My Wee Abode
Hobby Lobby Cheap Square Tray Makeover
Thistle Key Lane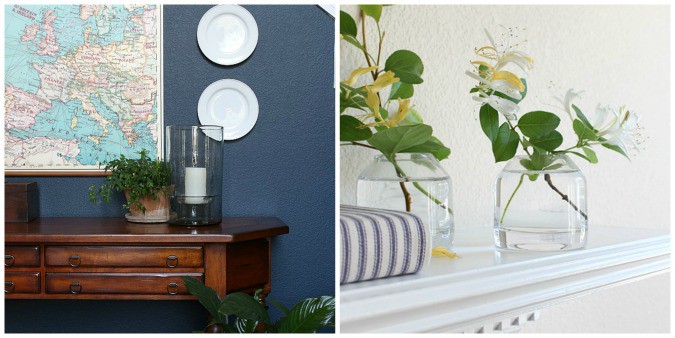 Ideas For Decorating With Plates | Styling A Spring To Summer Mantel
Bluesky At Home
Quick and Easy Patriotic Vignettes | How to Use Gel Stain to Refresh Your Furniture
This Week's Features:
ORC Master Bedrooom
One of my fave decor and DIY bloggers is Ashley from Cherished Bliss. Her use of a limited color palette, yet still making her home interesting and comfortable, is an amazing God-given talent. Take a look at her plans for her master bedroom.
ORC Diva Den
Okay… so this isn't exactly a bedroom… but I bet this photo has you wondering, "What in the world do hats have to do with interior design?" Well, Janet from JRL Interiors is sharing her plans for a "diva den", and what inspired her!
ORC Master Bedroom, II
I'm super excited to see the changes and progress of Kippi's Master Bedroom during the One Room Challenge. I love her mood board, but I think it is very cool that she is sharing her floor plan, too! Hop on over to Kippi At Home to see what plans she has for her master bedroom.
Check out our Tuesday Turn About Link Party Pinterest board! All NINE featured posts are pinned to this board each week!
Now It's Your Turn! Link Away!
Let's start sharing! Because this is a party, we encourage all who link up to visit several other bloggers who have linked as well – comments and pins are a great way to spread the love!
Before you get started, take a look at our guidelines:
This party is for home decor and home-related posts only (recipes, organizing, DIY, crafts, etc.). Link up to 3 related posts. Please do not link up informational posts that do not relate to the topic.
If you would please not link up shops, advertising, round-ups, other link parties, or any posts promoting sales, we would appreciate it.
DO NOT PIN FROM IMAGES ON THIS PAGE (it just won't work right on Pinterest). However, please visit the original post/source and pin from there. That works perfectly!
By linking to the party, you give us permission to share your projects on our blogs and social media. We will always give proper credit with a no-pin image.
I'm looking forward to seeing more ORC progress, along with summer posts that are starting to trickle in!