Tuesday Turn About #48 Spring Gardens
Tuesday Turn About #48 Spring Gardens is now live… Come get some great tips for your spring and summer planting!
TUESDAY TURN ABOUT #48 Spring Gardens
I hope this post finds you well and healthy! And I hope many of you were able to spend the holiday with family (especially moms)!
There were SO many wonderful posts this week, and quite a few newcomers. So fun, and we appreciate each and every one of you because you make this party a success!
This week, I'm thinking about decorating my tiny outside landing in preparation for the Pinterest Challenge. So, naturally, I was drawn to all the gardening-type posts.
Without further delay, grab yourself a snicky-snack and yummy drink and let's get to it!
Weekly Blogging Tip
Here's one more Pinterest tip! (Next week we'll take a break from Pinterest with a new area of blogging, I promise!)
Pinterest wants to give users the best experience possible. For influencers, that means offering 'fresh' (new) pins for Pinterest to share. Here are several ways to make 'fresh' pins that will help you create the 3-10 (or more) pins for your post:
Create pins with banners – this means that even if you use a photo you have used as a pin in the past, you can make it 'fresh' with a new banner/title (titles can be different than your post… get creative!)
Use one photo for a whole pin.
Create a collage of photos for a pin (and mix them up to create another pin!)
Feel free to comment below if you need some additional help or if you'd like to expound on the tip!  If you comment, we can all learn together!
Weekly Household Tip
It's super easy to DIY an extra cabinet shelf that adds more storage in your home. AND, you can even paint it to match the cupboard! See how I did one in my bathroom cupboard HERE.
Now, let's party!
Though not a requirement at all, we would love it if you would subscribe and/or follow your hostesses on one or more of our social medias:
Goings-On With Your Hostesses
My Wee Abode
Bluesky At Home
How to Make Mother's Day Cards with a Cricut
|
Fabulous Kitchen Remodel Tour
|
Update Your Discarded Containers
Thistle Key Lane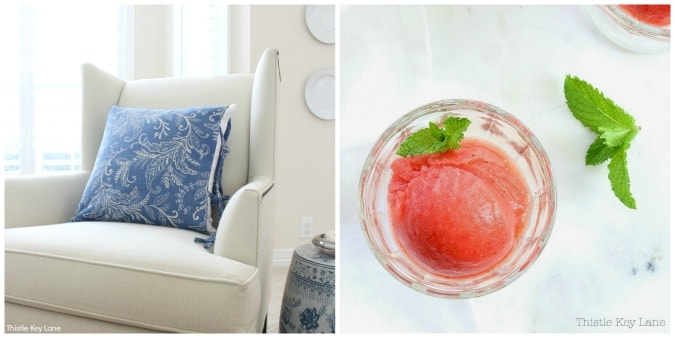 Ideas For Making Easy Pillow Covers With Ties | Strawberry Lemonade Sorbet Recipe
This Week's Features:
Prep Your Pots
Crissy from First Day of Home is sharing how to prep your containers and create some beautiful outdoor decor with her decoupage terracotta pots! And she shares a special trick to keep your fingers from sticking to the paper!
Table Your Plants
Do you have a potting table? This one from Botanic Bleu is just lovely! Judith is sharing how she is using her potting table this year, since she hasn't been able to make it to her local garden center. Lovely post!
Container Gardening Tip and Tricks
You will definitely find a new tip or trick in this amazing collection of ideas for container gardening. Yvonne from StoneGable recently moved into a home that is perfect for growing a garden in pots and containers!
Check out our Tuesday Turn About Link Party Pinterest board! All NINE featured posts are pinned to this board each week!
Now It's Your Turn! Link Away!
Let's start sharing! Because this is a party, we encourage all who link up to visit several other bloggers who have linked as well – comments and pins are a great way to spread the love!
Before you get started, take a look at our guidelines:
This party is for home decor and home-related posts only (recipes, organizing, DIY, crafts, etc.). Link up to 3 related posts. Please do not link up informational posts that do not relate to the topic.
If you would please not link up shops, advertising, round-ups, other link parties, or any posts promoting sales, we would appreciate it.
DO NOT PIN FROM IMAGES ON THIS PAGE (it just won't work right on Pinterest). However, please visit the original post/source and pin from there. That works perfectly!
By linking to the party, you give us permission to share your projects on our blogs and social media. We will always give proper credit with a no-pin image.
I have a feeling summer posts are coming soon! It will fit right in with our heat wave here in So Cal! Bring 'em on!