Tuesday Turn About #63 Tasty Summer Recipes
My Wee Abode is featuring some yummy food on Tuesday Turn About Tasty Summer Recipes. Come party with us!
TUESDAY TURN ABOUT #63 Tasty Summer Recipes
It's still crazy hot in these parts, which has halted some of the more physical tasks on the bathroom makeover!
But never fear, I'll have a reveal on Thursday (I promise… unless some crisis comes up) PLUS a GIVEAWAY! So make sure to visit and enter to win!
How's the weather in your area? Are you feeling fall coming yet?
This week, let's take a look at some yummy summer recipes that are easy, too! (And maybe just a bit spicy?)
But first…
And of course, we have to get to our weekly tips, too! (That too many "to's"… Oh, I forgot… it's TWOSDAY!)
Weekly Household Tip
This may sound so silly… and simple, but I'm sharing it for an obvious reason… 90-degree weather and no air-conditioning!
One of the easiest ways to cool down a small room is to place a large box fan in the window and turn it on full-blast! LOL! Yes, one resides in each room of My Wee Abode and it cools of my little loft in no time (well, not in 90 degrees… but it does great in the low 80s)!
Weekly Blogging Tip
One of our main goals as bloggers is to provide a great experience for our readers on our blogs. And, we always want to help, right?
A simple way to make each visit on our blog more enjoyable is to add a section at the end of our posts with 'related posts'. These posts often have something in common with the page the follower is currently reading.
An easy way to add related posts at the bottom of a page is to use the "column block" in Gutenberg. Just choose a 3-column block and add three images and links to the posts that might interest them. Easy-peasy!
Now, let's get to the party!
Though not a requirement at all, we would love it if you would subscribe and/or follow your hostesses on one or more of our social medias:
Goings-On With Your Hostesses
My Wee Abode
7 Fall Decor and DIY Ideas to Start the Season Right
Bluesky At Home

How to make an Easy Burlap Banner | How to Repaint a Tabletop in 3 Easy Steps |How to Transform French Doors into a Barn Door
Thistle Key Lane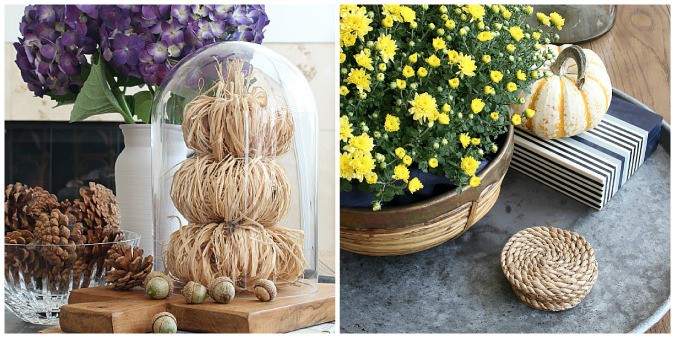 Fall Cloche With Raffia Pumpkins | Fall Decorating With Mums And Pumpkins
This Week's Features:
Start Off With an Appetizer
Carol from Comfort Spring is sharing one of her favorite appetizers… Her recipe for Balsamic Tomato Bruschetta! I must admit, it hasn't been until recently that I have appreciated the taste of Balsamic vinegar, but it's all I use on my salads these days (sorry Hidden Valley).
One Meal Deal
Pasta is a favorite in our family, and when you add an Asian spin, we're even happier! Michele from Cook-Clean-then-Repeat is sharing her take on a one-dish meal with her Asian Chicken Pasta Salad. Yum!
And for the Italian Lover
Gimme a little sausage, and some a dat cheese, and even a lil spinach, then wrap it up in a noodle! Splash some sauce on it and you have this amazing lasagna roll from Tracy at The Kitchen is My Playground! My mouth's not watering, yours is!
Check out our Tuesday Turn About Link Party Pinterest board! All NINE featured posts are pinned to this board each week!
Now It's Your Turn! Link Away!
Let's start sharing! Because this is a party, we encourage all who link up to visit several other bloggers who have linked as well – comments and pins are a great way to spread the love!
Before you get started, take a look at our guidelines:
This party is for home decor and home-related posts only (recipes, organizing, DIY, crafts, etc.). Link up to 3 related posts. Please do not link up informational posts that do not relate to the topic.
If you would please not link up shops, advertising, round-ups, other link parties, or any posts promoting sales, we would appreciate it.
DO NOT PIN FROM IMAGES ON THIS PAGE (it just won't work right on Pinterest). However, please visit the original post/source and pin from there. That works perfectly!
Please make sure that your images are in a jpeg or png format. If we can't save your image, we may not be able to feature you. So sad!
By linking to the party, you give us permission to share your projects on our blogs and social media. We will always give proper credit with a no-pin image.
Now let's see what you have for us this week! And remember, we love hearing from our readers! Let us know what inspired you this week!
Here's More Inspiration for You!
---