Tuesday Turn About #62 Easy Projects
We are partying to day with Tuesday Turn About #62 Easy Projects. Come and check out the easy tutorials, tips, and tricks we have for you today!
TUESDAY TURN ABOUT #62 Easy Projects
Welcome back to the party! So glad you could make it!
We're having a heat-wave here in So Cal, so the projects have been limited as paint dries too fast and sweat drips too much during these temps! However, I did get one project finished in the bathroom and I hope to share that on Thursday!
And, the flooring that I have had my eyes on for a month finally is restocked! This girl didn't waste any time, and I snatched up two boxes right away! I sure hope it works! It's the perfect solution for a rental home!
Would you like some inspiration for some projects that you may have ready and waiting for you to complete? Well, we get to see three here at MWA today… But, remember…
Let's check out our weekly home and blogging tips first!
Weekly Household Tip
If you own a natural fiber rug, such as jute or sisal, be sure to vacuum the rug with only the suction feature enabled. If you use the rolling brush feature, you will pull the fibers away from the rest of the rug. And, you really don't want to have to give your rug a haircut, right? (Who gets that pun?)
Weekly Blogging Tip
Do you have a pop-up subscribe box on your blog? I know, I know… they can definitely be annoying!
But, just like celery is not everyone's favorite, it is a 'necessity' in many diets. Yucky, but needed. So it is with a pop-up subscribe box. It can be a little 'yucky', but it's kinda needed.
You can actually set-up pop-ups to show after a certain amount of time, how many times you want it to show, and when it will re-appear (every visit, every week, etc). These parameters make it a little more palatable! 😉 And it only takes about 15 minutes to create! Try it, and let me know what happens with your subscriber list!
Though not a requirement at all, we would love it if you would subscribe and/or follow your hostesses on one or more of our social medias:
Goings-On With Your Hostesses
My Wee Abode
15 Painted Bathroom Cabinets to Fit Any Style
Thistle Key Lane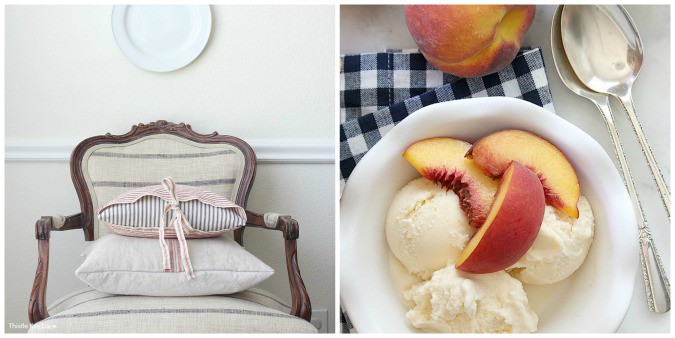 Make Your Home Look New After Painting | Peach Ice Cream Recipe
Bluesky At Home

How to Reuse and Restyle Fall Decorations | How to Style A Mantel for Fall |How to Make A Wood and Burlap Banner
This Week's Features:
Simple Rustic Pan Hanger
These simple but practical and pretty pan racks (say that three times fast) come from our new friend Anja at Our Gabled Home. She is also giving us some GREAT tips on taking care of cast iron skillets!
This is a quick and easy project that will add great storage to your home!
Farmhouse Style Filing Cabinet
Paula from Sweet Pea is sharing a tutorial on how to create this cute crate filing cabinet! So smart and affordable!
What a perfect way to story those school papers from virtual classes or craft supplies for the NEXT project!
Buffet Makeover
This gorgeous makeover comes from Shannon at Wise Little Owl Furniture. If you are thinking of giving a facelift to a piece of furniture in your home, take a look at how Shannon painted this cream colored buffet with a stained top!
My eyes are drawn more and more these days to a French vibe! Isn't the detail lovely with the neutral finish?!
Now It's Your Turn! Link Away!
Let's start sharing! Because this is a party, we encourage all who link up to visit several other bloggers who have linked as well – comments and pins are a great way to spread the love!
Before you get started, take a look at our guidelines:
This party is for home decor and home-related posts only (recipes, organizing, DIY, crafts, etc.). Link up to 3 related posts. Please do not link up informational posts that do not relate to the topic.
If you would please not link up shops, advertising, round-ups, other link parties, or any posts promoting sales, we would appreciate it.
DO NOT PIN FROM IMAGES ON THIS PAGE (it just won't work right on Pinterest). However, please visit the original post/source and pin from there. That works perfectly!
Please make sure that your images are in a jpeg or png format. If we can't save your image, we may not be able to feature you. So sad!
By linking to the party, you give us permission to share your projects on our blogs and social media. We will always give proper credit with a no-pin image.
We love seeing all the posts you link-up each week, and I know our readers do, too! Thank you, and be sure to share us with your friends and fam!