Tuesday Turn About #119 Fall Fun
Let's get this party started! We are celebrating the season with Tuesday Turn About #119 Fall Fun!
TUESDAY TURN ABOUT #119 FALL FUN
We are continuing to celebrate the season with more fall features and seasonal tips!
My daughter and I were walking this afternoon and admiring how much it felt like fall! Overcast skies, cool temps, and a slight breeze made for a wonderful fall 'trek'.
I'm working to get my "quaran-twenty" off, so I'm trying to walk more and correcting some bad habits I've gotten into. LOTS of praying, too… I need the Lord to enable me in this battle more than ever!
Just keepin' it real, my friends!
So, now let's get to my three features, and don't forget…
But, as per usual, let's take a look at our weekly tips, first!
Weekly Household Tip
Want to know what the BEST organizing and storage tool (at least that I have ever found)?
Take a look at ToteScan!
Weekly Blogging Tip
In the past, we have talked about making sure our sites are secure. But, did you know that many blogging gurus will tell you that adding an insecure external link to a blog post is a no-no, as well?
That's right… To make Google 'happy', be sure that any links you are adding to your blog posts are just as secure as your site. You don't want to be sending your readers to sites that don't have their security certificate. Your readers will thank you (whether they know it or not). 😉
Now, let's partayyyy!
Though not a requirement at all, we would love it if you would subscribe and/or follow your hostesses on one or more of our social medias:
Here's What We've Been Up To:
My Wee Abode
10-Minute Gorgeous Fall Wreath | Adding Fall Decor to a Tiny Patio
Thistle Key Lane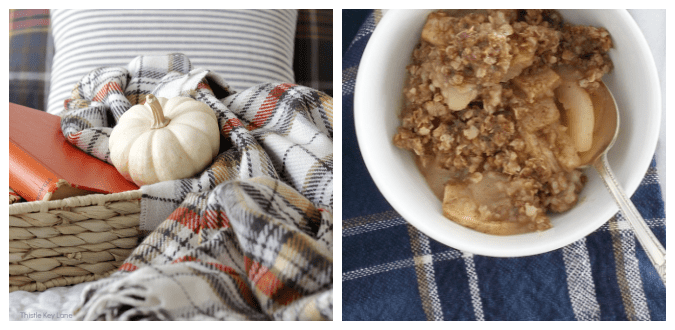 Simple Fall Bedroom Ideas | Apple Crisp Recipe
Bluesky At Home
DIY Paint and Stencil Halloween Decorations | How to Decorate Pumpkins with Rope and Twine | 10 Fabulous Finds #7
This Week's Features:
Preserve Those 'Punkins'
Do your gourds 'punk-out' after a few weeks of fall? Well, Niky from The House on Silverado is giving us some great tips on how to make pumpkins last through the season!
Natural Canvas Art, the easy way!
Add some lovely artwork using the elements of nature! Leslie from Feet Under My Table is sharing how to make these beautiful pieces of art, just in time for the fall season!
Rustic Mason Jars in Fall Colors
Aren't these mason jars lovely? The autumnal colors are just gorgeous, and look at those iridescent touches! Lee Ann from Creative Moments is sharing how to make these vintage-look pieces for your home, too!
Check out our Tuesday Turn About Link Party Pinterest board! All NINE featured posts are pinned to this board each week!
Now It's Your Turn! Link Away!
Let's start sharing! Because this is a party, we encourage all who link up to visit several other bloggers who have linked as well – comments and pins are a great way to spread the love!
Before you get started, take a look at our guidelines:
This party is for home decor and home-related posts only (recipes, organizing, DIY, crafts, etc.). Link up to 3 related posts. Please do not link up informational posts that do not relate to the topic.
If you would please not link up shops, advertising, round-ups, other link parties, or any posts promoting sales, we would appreciate it.
DO NOT PIN FROM IMAGES ON THIS PAGE (it just won't work right on Pinterest). However, please visit the original post/source and pin from there. That works perfectly!
Please make sure that your images are in a jpeg or png format. If we can't save your image, we may not be able to feature you. So sad!
By linking to the party, you give us permission to share your projects on our blogs and social media. We will always give proper credit with a no-pin image.
Are you enjoying all these amazing fall features as much as I am? Keep 'em coming, and keep on visiting, too!