Tuesday Turn About #45 Spring Projects
Today's Tuesday Turn About #45 Spring Projects features all kinds of home improvements and DIYs, perfect for when you are 'stuck' at home!
TUESDAY TURN ABOUT #45 Spring Projects
How are you all doing with the whole #stayhome 'thing'?
Can I be honest? This last week was a bit difficult for me.
Does anyone else feel like they are in kind of a 'rut'?
With home projects, blogging, and working my "9 to 5" job at MWA, I think it's getting a little stale. (Not to mention not being able to hug my family and jellybeans (grandchildren)).
So, I kinda took a break this week… and I think it has helped! Giving ourselves a bit of grace (like all my sweet friends keep encouraging ME to do) is often a good thing.
We don't have to do all the things, all the time! Right?!
Another Baby on the Way…
Also, just a heads up for y'all. Jellybean #4 is due any minute, and Jellybean #2 (I know the numbers are confusing) needs someone to take care of him! So darn-it-all, it looks as if I have to become 'essential' and make the trip to for a few days to take care of him (and, of course, meet my new granddaughter at the same time)! I guess I'll just have to make the sacrifice!
So, if I'm a bit MIA all of a sudden, you'll know why!
Okay, enough personal stuff… let's take a look at this week's tips!
Weekly Blogging Tip
This week's blogging tip: If you read last week's blogging tip, you'll remember I suggested opening a Pinterest business account asap…
So, the Pinterest/blogging tip for this week is, if you want to drive more traffic to your blog and share your wonderful content with the 'world', be sure to be creating Pins to publish on Pinterest.
Each blog post should have anywhere from 3-15 Pins (depending on the type of post, how much content you have, and how many times you "pin" each week). I know that sounds like a lot, but seriously… it works! (You can see an example of LOTS of pins for one of MWA's most popular posts HERE.)
Feel free to comment below if you need some additional help or if you'd like to expound on the tip! If you comment, we can all learn together.
Weekly Household Tip
Want to give your laundry a whitening and brightening boost without fading the colors? Try adding Oxi Clean White Revive Liquid to your laundry (the powder formula sometimes has issues with dissolving).
This little 'miracle-in-a-bottle' really does revive the whites and colors of your clothing and linens and often removes stains without needing an additional spot treatment. (To give your laundry even more of a boost, presoak them with Oxi Clean White Revive in the hottest water that is safest for the fabrics being washed, and then continue with the regular wash cycle.)
Spring Projects While Staying Home
Whew… that's a lot to take in! What say you to some spring projects that you may just LOVE to do while you are 'stuck' at home! (Let's be real, it could be SO much worse!)
Remember…
Check out our Tuesday Turn About Link Party Pinterest board! All NINE featured posts are pinned to this board each week!
Though not a requirement at all, we would love it if you would subscribe and/or follow your hostesses on one or more of our social medias:
Goings-On With Your Hostesses
My Wee Abode
How to Install a Wireless Ceiling Light | The Best Cabinet Organizers
Bluesky At Home
13 Important Blogging Tasks You Can Do Now | Blue and White Spring Master Bedroom Refresh
Thistle Key Lane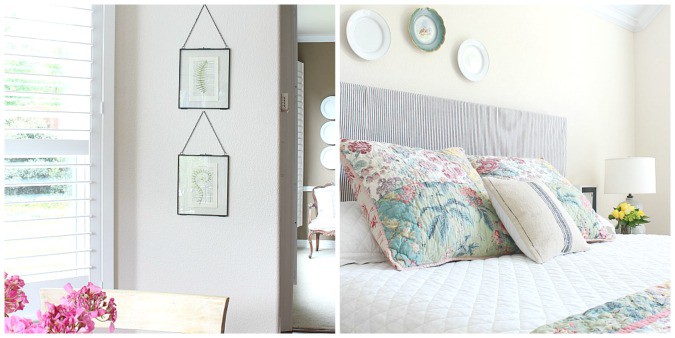 How To Make Book Page Botanical Art | Updating A Bedroom With Patterns
This Week's Features:
Hack a Piece of Furniture
This IKEA hack has been the 'talk of Blogland' this past weekend! Hannah from Handmade Weekly is showing us the ins-and-outs of creating this lovely modern industrial nightstand. I think it has a bit of farmhouse style to it too… maybe?
Paint a Piece of Furniture
This color though! Ann from Dabbling and Decorating decided to use some of her extended time at home to give this gorgeous piece a paint makeover! These types of pieces are VERY hard to find at an affordable price here in So Cal! Giddy for Ann, but just a wee bit jealous, too! LOL!
Build a Piece of "Furniture"
Okay… this is an 'ode to my son'. I sent my first-born a link to The DIY Dreamer in case he wanted a weekend project. Christine is sharing the plans and tutorial for this smart-looking game controller stand. My son and I were thinking you could stain or paint it to match your decor! Genius! (The stand, not our paint ideas. Hehe.) Be sure to pop on over to see how cool it looks from the front!
Now It's Your Turn! Link Away!
Let's start sharing! Because this is a party, we encourage all who link up to visit several other bloggers who have linked as well – comments and pins are a great way to spread the love!
Before you get started, take a look at our guidelines:
This party is for home decor and home-related posts only (recipes, organizing, DIY, crafts, etc.). Link up to 3 related posts. Please do not link up informational posts that do not relate to the topic.
If you would please not link up shops, advertising, round-ups, other link parties, or any posts promoting sales, we would appreciate it.
DO NOT PIN FROM IMAGES ON THIS PAGE (it just won't work right on Pinterest). However, please visit the original post/source and pin from there. That works perfectly!
By linking to the party, you give us permission to share your projects on our blogs and social media. We will always give proper credit with a no-pin image.
Are you doing any special projects or improvements while you are having this special time at home? If you're a blogger, link-up… If you are a reader, let us know in the comments!