Today is super special!  Y'all know I don't normally post on Sundays.  But, today is Welcome Home Sunday, and sweet Kelly from The Tattered Pew invited me to guest host this week, and I just couldn't say no! #blessedandthrilled
GUEST HOSTING AT WELCOME HOME SUNDAY
First off, I hope you all are having a happy Sunday and are taking advantage of the amazing freedom we have to worship the Lord in His house today (and every Sunday).  He is a good God and His promises are true!
If you are a My Wee Abode fam member, thanks for dropping in on a Sunday!  If you are new to My Wee Abode, welcome, and I hope y'all will enjoy popping around my little space for a bit!
Each week the lovely bloggers from Welcome Home Sunday get together and share what's been going on in their neck-of-the-woods, whether it be home decor, recipes, or a DIY project! So much wonderful inspiration, tips, and tricks to be discovered!
Meet My Lovely Friends
Last month, Kelly from The Tattered Pew, Jenn from Noting Grace, Deb from Seeking Lavender Lane and I all joined in on the Celebrating Fall Blog Hop. It was a privilege and joy to collectively share our fall homes in such a fun way!
Marie from Sincerely Marie Designs has a beautiful site and I'm thinking I may just have to try one or ten of her yummy recipes!
And last but not least, meet Kristin from White Arrows Home.  Kristin shares her design and lifestyle all set in her Wisconsin rustic log cabin!
I'm so glad to be able to introduce you to these lovely ladies.  Now, let's take a look at what we've all been up to this past week!
Welcome Home Sunday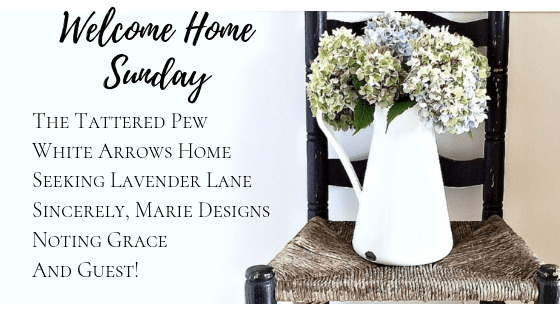 Aren't all these blogs beautiful?!  I'm sure you are blessed, just as I am!
And, if you liked meeting these wonderful ladies, come back on Tuesday for the Tuesday Turn About link party where we have LOTS of bloggers sharing their latest and greatest each week.
Also this week, I'll be taking part in the Holiday Cookies Blog Hop.  It starts Monday and continues through the week (my family-fave cookie recipe will be featured on Thursday)!  Hope to see you soon!