Tuesday Turn About #98 Celebrate May
We are celebrating Cinco De Mayo with Tuesday Turn About #98 Celebrate May! Find some great recipes, tips, and tricks for this special annual fiesta!
TUESDAY TURN ABOUT #98 CELEBRATE MAY
May is here, can you believe it? Next month, we will be half-way through 2021!
And since tomorrow is Cinco de Mayo, I thought I would share some "hot" features that you may enjoy making and/or creating! You know, add a little spice to your life for the fifth of May fiesta!
And remember…
But first, let's take a look at a couple of tips!
Weekly Household Tip
If you're anything like me, you may have an electrical outlet strip (or two) that holds several (or more!) cords at one time. Sometimes, it ain't easy deciphering which cord goes to which appliance. You know… that cord 'jungle' that can grow out-of-control.
You can easily find which cord goes to which electrical device by simply looping a piece of washi tape around the base of the cord (at the plug) and create a 'tag'. Write the name of the device on the tag, and you're all set!
Weekly Blogging Tip
Today's blogging tip is a quick one. Do you know how to check your site speed?
Google wants your site to be a great 'reader experience'. Site speed is one of the 'biggies' that Google looks at to ensure your readers are loving your site. There are several free 'checkers' you can use to find out how quickly your blog is loading for your followers:
Do some 'checking' and see how your site is doing!
Now, let's party!
Though not a requirement at all, we would love it if you would subscribe and/or follow your hostesses on one or more of our social medias:
Goings-On With Your Hostesses
My Wee Abode
The Best Color Palettes for a Bathroom Makeover | Best Paints and Tools for Flawless Bathroom Cabinets
Thistle Key Lane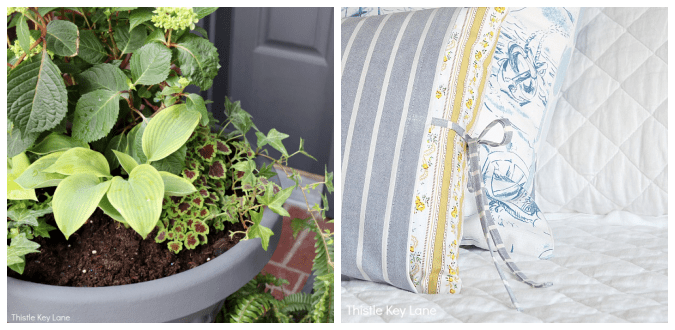 Updating A Porch Planter For Spring | Ideas For Making Easy Pillow Covers With Ties
Bluesky At Home
How to Freshen Up your Kitchen for Spring | How to Use Pretty Pastels in a Spring Tablescape | 9 Awesome Wall Treatment Ideas
This Week's Features:
Set the Fiesta Atmosphere
It's always fun to create the right vibe for a party. Rachel from The Ponds Farmhouse is giving us some great ideas for Cinco de Mayo place settings! Take a look at her lovely fiesta tablescape with a farmhouse flair.
This is NOT Corny
Or is it? Carrie from Curly Crafty Mom is sharing her recipe for a dip that is perfect for a fiesta! Try out this yummy spicy and sassy hot corn dip!
Sourdough WHAT?
Do you love homemade tortillas? Well, it's one of my guilty pleasures! What about sourdough? Me, too! What about sourdough tortillas? Yes, you read that right! The Happy Mustard Seed is sharing their recipe for sourdough tortillas, along with some tips and tricks for making and storing them! Try these out for a special twist on your Cinco de Mayo celebration!
Check out our Tuesday Turn About Link Party Pinterest board! All NINE featured posts are pinned to this board each week!
Now It's Your Turn! Link Away!
Let's start sharing! Because this is a party, we encourage all who link up to visit several other bloggers who have linked as well – comments and pins are a great way to spread the love!
Before you get started, take a look at our guidelines:
This party is for home decor and home-related posts only (recipes, organizing, DIY, crafts, etc.). Link up to 3 related posts. Please do not link up informational posts that do not relate to the topic.
If you would please not link up shops, advertising, round-ups, other link parties, or any posts promoting sales, we would appreciate it.
DO NOT PIN FROM IMAGES ON THIS PAGE (it just won't work right on Pinterest). However, please visit the original post/source and pin from there. That works perfectly!
Please make sure that your images are in a jpeg or png format. If we can't save your image, we may not be able to feature you. So sad!
By linking to the party, you give us permission to share your projects on our blogs and social media. We will always give proper credit with a no-pin image.
I hope you all have a wonderful week, and a fun fiesta if you celebrate! Looking forward to all the posts that are coming this week!