Tuesday Turn About #99 Table Happenings
The party is now live, and it's Tuesday Turn About #99 Table Happenings. Take a look at some wonderful table decor inspo.
TUESDAY TURN ABOUT #99 TABLE HAPPENINGS
Welcome to the party! I hope your holiday weekend was a blessing, no matter how you celebrated!
This week, there were some wonderful posts related to petite table-foods, centerpieces, tablescapes, and more. So this week, I'm featuring three that made me stop and sigh.
And remember…
Now, let's take a look at our weekly household and blogging tips.
Weekly Household Tip
I love to tear apart fresh lettuce for my salads. However, what I don't love is that lettuce, left in the vegetable drawer, can go bad before I get to it.
My solution? Separate the lettuce leaves, clean and dry them, and then put them in a gallon size zip lock bag. Now add a piece of paper towel in the bag and, the best tip… Put a straw in the bag, close the bag with the straw sticking out, and then suck the air out of the bag. Instant vacuum seal without the appliance! (I also put just one little puff of air back into the bag before removing the straw and sealing the bag.) My lettuce lasts 'forever'. 😉
Weekly Blogging Tip
If your Pinterest traffic seems to have slowed down as of late, don't be discouraged. Pinterest often has algorithm updates that are hard to keep up with.
Try switching things up. Create some new 'fresh' pins for your content. Use a different photo, add a new title overlay, and/or use some updated keywords on the overlay. And remember, pin 80% of your content, and 20% of others (we all want to spread the love)!
Now, let's get to the features!
Though not a requirement at all, we would love it if you would subscribe and/or follow your hostesses on one or more of our social medias:
Goings-On With Your Hostesses
My Wee Abode
Summer Decor Items to Freshen Up Your Home | 15 Painted Bathroom Cabinets for Every Style
Thistle Key Lane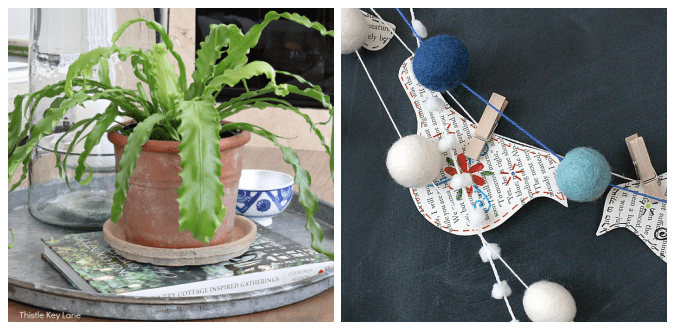 Spring To Summer Family Room Styling | Book Page Bird Garland
Bluesky At Home

Simple Patriotic Vignettes | How to Use a Canvas Print | 7 Ideas for Using Wall Treatments
This Week's Features:
Spell It Out!
Though Mother's Day is over, this unique charcuterie 'board' idea would work for any special occasion! Take a look at how Jennifer from Wanderlust and Wellness shows us how she created this gorgeous, edible 'centerpiece'!
Inexpensive and Elegant DIY
Marie from Rever en couleur is sharing her simple and elegant DIY tray and centerpiece. Take a look at how she made the caned tray along with the lovely Baby's Breath and copper accents! So pretty!
Popping Pansies and Gold
Want a "champagne taste" centerpiece on a "beer budget"? Holly from Home with Holliday is not only sharing an easy centerpiece tip that look like a million bucks, she's also showing us how to create a lovely lavender and gold tablescape for the spring!
Check out our Tuesday Turn About Link Party Pinterest board! All NINE featured posts are pinned to this board each week!
Now It's Your Turn! Link Away!
Let's start sharing! Because this is a party, we encourage all who link up to visit several other bloggers who have linked as well – comments and pins are a great way to spread the love!
Before you get started, take a look at our guidelines:
This party is for home decor and home-related posts only (recipes, organizing, DIY, crafts, etc.). Link up to 3 related posts. Please do not link up informational posts that do not relate to the topic.
If you would please not link up shops, advertising, round-ups, other link parties, or any posts promoting sales, we would appreciate it.
DO NOT PIN FROM IMAGES ON THIS PAGE (it just won't work right on Pinterest). However, please visit the original post/source and pin from there. That works perfectly!
Please make sure that your images are in a jpeg or png format. If we can't save your image, we may not be able to feature you. So sad!
By linking to the party, you give us permission to share your projects on our blogs and social media. We will always give proper credit with a no-pin image.
We are looking forward to your posts this week… and looking forward to summer posts starting to pop-in, too!