Tuesday Turn About #59 Christmas in July
We are entering the last party of July 2020 so I thought it would be fun to do Tuesday Turn About #59 Christmas in July.
TUESDAY TURN ABOUT #59 Christmas in July
If you missed last week's party, My Wee Abode featured fun projects for July!
Welcome to the party, friends!
Yesterday I shared in my newsletter that I had a lovely time in the Seattle area while 'attending' the virtual Haven blogging conference. Both of my co-hostesses attended as well, from their homes in Texas.
The blog was a blessing in many ways, and it's always an encouraging time, as well. My favorite part was the Zoom meetings we had with our mentor groups. It actually felt more cozy than normal and my group was really wonderful! We learned from each other which is what it's all about, in my opinion!
Head Over Heels…
Upon returning, I decided to help my daughter with some gardening and stepped on a loose brick while trying to prune a hydrangea with kitchen scissors. My body took on a mind of its own and I tumbled several times (my grandson witnessed the whole thing and said I did a backwards somersault…well I would have LOVED to have seen that)!
The scissors ended up puncturing my hand and somehow cut open my inner thigh! Along with abrasions (from the brick planter), I ended up with a couple of sutures in my leg!
Recovery is coming along, and the stitches will be removed on Wednesday. My family is having a good ol' time making jokes about this oldest sibling taking after our mother who uses a walker. I'll never hear the end of this!
Now Let's Party
Since today is the last party for July 2020, I thought I would share some Christmas in July posts that many fellow bloggers have been sharing.
Hallmark is doing it, why shouldn't we?
And I think we need a little Christmas right now. (I'm still trying to convince myself, can you tell?)
So let's take a look at My Wee Abode's features this week. Remember…
But first… let's get some tips!
This post may contain affiliate links, at no additional cost to you.
For more information, see my complete disclosure HERE.
Weekly Blogging Tip
If you're using the WordPress.org platform, and haven't started using Gutenberg editor, give it a try! It's not as scary as you might think…
Using Gutenberg on a simple post, or even a 'repeat' post like a link party, makes adjusting to it rather easy. AND, if you need some extra help, Grayson Bell from iMark Interactive has some GREAT Gutenberg tutorial videos! Take a look!
Weekly Household Tip
Did you know your dishwashing liquid can actually be decorative?
Purchase a pretty bottle from your local dollar store, pour the liquid inside and add an oil spout to it! Voila! Practical and pretty! (You can even add a sprig of faux greenery or herbs inside to give it some extra pizazz!) Makes a great hostess gift, too!
Though not a requirement at all, we would love it if you would subscribe and/or follow your hostesses on one or more of our social medias:
Goings-On With Your Hostesses
My Wee Abode
How to Repair Bathroom Cabinets the Fast and Easy Way
Thistle Key Lane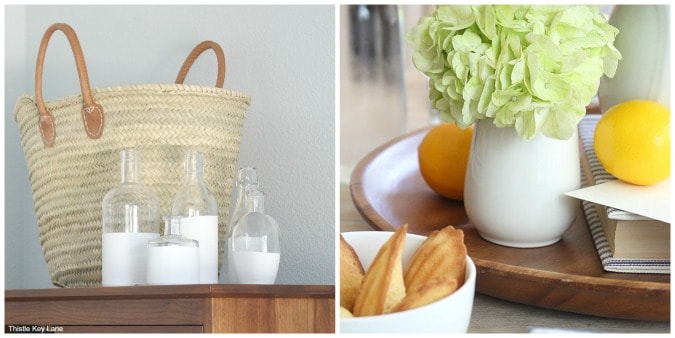 How To Create Vases With Chalk Paint | Summer Lemon Tablescape And A Free Printable
Bluesky At Home

Cucumber Tomatillo Gazpacho | Rescued Tray Gets Makeover | DIY Christmas Wood Signs
This Week's Features:
Bottle Brush Trees
These sweet little bottle brush tree ornaments are just one of the lovely projects that MaryJo from Masterpieces of My Life is sharing with us! Start on these now and you can give them as gifts to friends, employees at your local grocery store, and servers at restaurants!
Stockings Are Hung
South House Designs is getting in the Christmas spirit! Diane is showing us how to hang stockings with angle brackets! Genius!
Not Just for Christmas
Okay, okay… CoCo's post from The Crowned Goat isn't only Christmas, but it definitely has simple tips for starting to prepare for the holidays now! And CoCo's photos are always fun to stare at! (I'm always ready for PSL!)
Check out our Tuesday Turn About Link Party Pinterest board! All NINE featured posts are pinned to this board each week!
Now It's Your Turn
Let's start sharing! Because this is a party, we encourage all who link up to visit several other bloggers who have linked as well – comments and pins are a great way to spread the love!
Before you get started, take a look at our guidelines:
This party is for home decor and home-related posts only (recipes, organizing, DIY, crafts, etc.). Link up to 3 related posts. Please do not link up informational posts that do not relate to the topic.
If you would please not link up shops, advertising, round-ups, other link parties, or any posts promoting sales, we would appreciate it.
DO NOT PIN FROM IMAGES ON THIS PAGE (it just won't work right on Pinterest). However, please visit the original post/source and pin from there. That works perfectly!
Please make sure that your images are in a jpeg or png format. If we can't save your image, we may not be able to feature you. So sad!
By linking to the party, you give us permission to share your projects on our blogs and social media. We will always give proper credit with a no-pin image.
As usual, we always look forward to new and inspiring posts to share with our readers and blogging friends alike! Thanks for making this party a fun place to be each week!