Tuesday Turn About #185 Lovely Crafts
Are you getting ready for Valentine's Day? Or maybe just adding a bit of 'love' to your home for the season. Well, today at the party, we have some 'love'ly crafts. Welcome to Tuesday Turn About #185 Lovely Crafts.
TUESDAY TURN ABOUT #185 LOVELY CRAFTS
It's party time!
We are so glad you are here… whether it's to inspire or BE inspired… or BOTH!
This week and next, I'll be the sole caretaker for my mom (sis is on family vacation). Today, has been the first day I have really felt like I need a break.
I know I will make it through this time… it's only two weeks. However, prayers are appreciated that I will have patience, be gentle, and remember that Mom is no longer 'capable' of doing better. God is good, and He is my refuge and strength.
And more…
Along with this temporary change, I'm also working on a new eating regimen (not a resolution… simply have to make changes). It's going well, but again, God is my refuge and strength as I make these changes for His glory!
Valentine's Day Fun…
Here at the party, we are seeing lots of wonderful Valentine's posts… and I have a recipe coming up this weekend for Valentine's that does NOT include eggs. Perfect with those with physical allergies and those with allergies to paying exorbitant prices for food items. 😉
But, I digress. Let's take a look at several posts featuring Valentine's crafts. One feature is reviewing an item that might help you MAKE a Valentine for your loved one!
And remember…
Be sure to hop on over to My Family Thyme and Reinvented Delaware to check out SIX additional features from TTA!
If you haven't been featured at MWA this week, you just may be featured there!
But first, some tips!
Weekly Household Tip
This may be a silly tip to some, but with most of us dealing with the '2023 egg shortage', I wanted you to know how I purchased two flats of eggs at the price I normally pay.
As of today, if you are a member at Costco, show up first thing when they open. Then, gently but briskly make your way to the dairy area. You can get up to two flats of eggs (organic and pasture raised) for $8.89 a flat. Non-organic eggs are available, as well. Costco gets a new shipment in every morning (at least that's how it's going here in So Cal).
Weekly Blogging Tip
We have a Pinterest tip this week!
While we wait for Pinterest to add the promised link-feature to the Idea Pin creator, did you know you can add your post's URL in the description area of your Idea Pin?
On the last page of the creator, just before you publish, scroll down and open the Add Details field. Click on "Notes" and paste your URL there. You can even add something like, "Find the tutorial for this project at: …." Voila! Your link is now able to be copied and pasted by your reader!
I even put a note on my last photo of the idea pin to "Find the link in the description".
My Wee Abode
Add a Little Spice with a Valentine Door Tote //
The Best Christmas Decor Storage Solutions // DIY Red Ticking Fabric Heart Wreath
My Family Thyme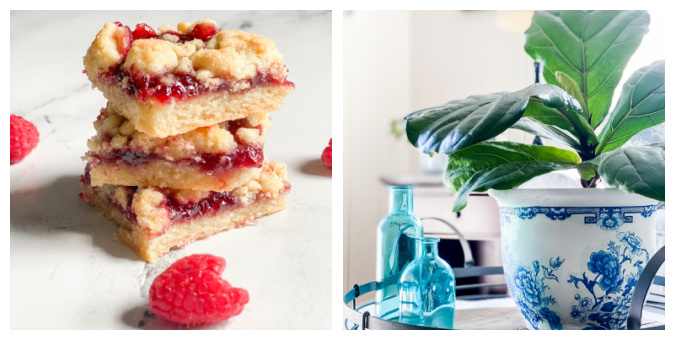 Fabulous Five Ingredient Raspberry Bars // How to Decoupage a Pretty Planter
Reinvented Delaware
Upcycling Junk – 3 Easy DIY Ideas // 5 Ingredient Instant Pot Chili
DIY Dollar Tree Valentine's Candy Favors
These sweet little Valentine cones from Pinecones and Acorns are sure to please any special person on your list! Elizabeth shows us how to make these AND options to 'stuff' them with!
How to Create a Fun Valentine's Day Tree
Want to know what all the pink and red craft supplies are used for below? Leslie from Feet Under My Table is sharing a fun craft that she created with her granddaughter… Big and little kids alike will love this project! (Link is having issues… will update soon!)
Sketchmarker Aqua Watercolor Markers Review
This may not be an actual Valentine's Day craft, but you can certainly use these amazing watercolor markers to make a beautiful Valentine's creation! Pam from An Artful Mom is sharing all about these cool markers. (I know this post isn't about resolutions, but I couldn't resist using the red/pink/white writing!)
Check out our Tuesday Turn About Link Party Pinterest board! All NINE featured posts are pinned to this board each week!
Let's start sharing! Because this is a party, we encourage all who link up to visit several other bloggers who have linked as well – comments and pins are a great way to spread the love!
Before you get started, take a look at our guidelines:
This party is for home decor and home-related posts only (recipes, organizing, DIY, crafts, etc.). Link up to 3 related posts. Please do not link up informational posts that do not relate to the topic.
If you would please not link up shops, advertising, round-ups, other link parties, or any posts promoting sales, we would appreciate it.
DO NOT PIN FROM IMAGES ON THIS PAGE (it just won't work right on Pinterest). However, please visit the original post/source and pin from there. That works perfectly!
Please make sure that your images are in a jpeg or png format. If we can't save your image, we may not be able to feature you. So sad!
By linking to the party, you give us permission to share your projects on our blogs and social media. We will always give proper credit with a no-pin image.
Again, we are so happy to have you all here, and we always look forward to your posts! Gotta love all the Valentine's, winter, and even spring posts, right?