Tuesday Turn About #61 August Tips
Let's get Tuesday Turn About #61 started with August Tips! Learn some tips and tricks to use around the home!
TUESDAY TURN ABOUT #61 August Tips
How is your week going so far, my friends?
On Saturday, we celebrated grandson #1's (aka 'jellybean' #1) fifth birthday. There was a home-made slip-n-slide made by daddy, the kids' blow-up swimming pool, pizza, cupcakes, presents, and an outdoor movie theater! (Mommy and Daddy were very busy!) It was a wonderful day!
Enough about my weekend! How was yours?
At today's party, we're going to take a look at some tips and tricks to use around the home!
By the way, don't forget…
But first, let's take a look at a couple tips that are part of our regular party itinerary! Remember to visit Michelle and Carol for even more fun and useful tips and tricks!
Weekly Household Tip
Don't you just love vintage Pyrex and enamelware? I sure do! But, have you ever run into brown spots or hard to remove stains on these lovely antique pieces? Yep, me, too!
Well, many years ago as a teen girl (yes, it was many years ago!), I discovered that making a paste using baking soda, warm water, and just a drop of dish-washing liquid created a magical stain remover!
Just buff it onto glass or enamel, and see what happens! (Warning: Baking soda can leave a light scratching behind. Only use this "paste" if you aren't too worried about possible light abrasions to the piece.)
Weekly Blogging Tip
So, let's talk newsletters for a quick second…
When writing your newsletter, be sure to "take it easy" on how many images you include. Images are seen by email 'bots' as empty space, and because of that, your sweet little letters might find themselves in the 'spam' folder, never to be found by your reader.
One large image is fine, but think twice about including two or three.
Though not a requirement at all, we would love it if you would subscribe and/or follow your hostesses on one or more of our social medias:
Goings-On With Your Hostesses
My Wee Abode
The Best Paint and Tools for Updating Bathroom Cabinets
DIY Perfectly Painted Cabinets in One Day
Thistle Key Lane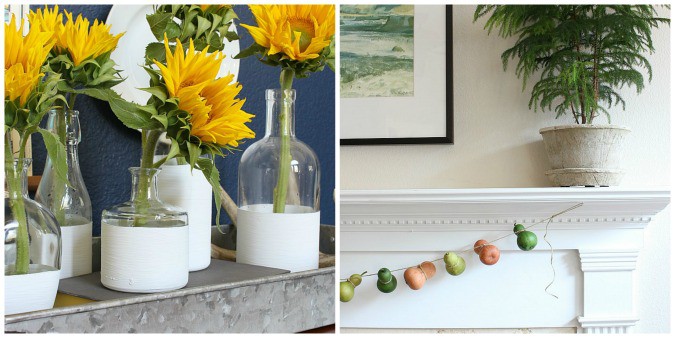 Summer To Fall Entry Table With Sunflowers | Summer To Fall Mantel And A Gourd Garland
Bluesky At Home

Yummy Blackberry Cobbler | Fall Farmhouse Sign | 7 Fall Vignettes
This Week's Features:
Affordable Gorgeous Tile Update
This tip and tutorial from Life at Bella Terra couldn't have come at a better time! As I shop for tips on affordable flooring, Mary's stenciled floor stopped me dead in my tracks! Take a look at her lovely updated DIY coastal tiles.
Less is More
One tip near-and-dear to Yvonne at StoneGable is that less is more. And she shares just how that can 'look' for each of us in our homes! Yvonne always has amazing decorating tips and tricks!
This May Be a Great Option for You!
Have you ever heard of a "medical share program"? I belong to one, and if you want an introduction to what it's all about, Jessi Fearon has some GREAT info!
Check out our Tuesday Turn About Link Party Pinterest board! All NINE featured posts are pinned to this board each week!
Now It's Your Turn
Let's start sharing! Because this is a party, we encourage all who link up to visit several other bloggers who have linked as well – comments and pins are a great way to spread the love!
Before you get started, take a look at our guidelines:
This party is for home decor and home-related posts only (recipes, organizing, DIY, crafts, etc.). Link up to 3 related posts. Please do not link up informational posts that do not relate to the topic.
If you would please not link up shops, advertising, round-ups, other link parties, or any posts promoting sales, we would appreciate it.
DO NOT PIN FROM IMAGES ON THIS PAGE (it just won't work right on Pinterest). However, please visit the original post/source and pin from there. That works perfectly!
Please make sure that your images are in a jpeg or png format. If we can't save your image, we may not be able to feature you. So sad!
By linking to the party, you give us permission to share your projects on our blogs and social media. We will always give proper credit with a no-pin image.
We DID see some fall posts this past week, and I can't wait to start sharing some myself! Are you thinking about fall yet?