Tuesday Turn About #85 February Feelings
Tuesday Turn About February Feelings is live… and there's a reason why it's about 'all the feels'.
TUESDAY TURN ABOUT #85 February Feelings
Happy February everyone! Everyone is saying it, so I will, too… Can you believe it's already February?
How has your week started?
Me? My day-job was conducted from home yesterday because I seriously over-did it on Sunday, starting my next project on my Modern Coastal Bathroom makeover.
Yep… I said 'starting'. I didn't even put a dent in it, but my body says something different! LOL!
February Feelings
There's a specific reason I'm 'sub-titling' this week's TTA as "February Feelings", and you'll see it at the first feature here at My Wee Abode.
But, last week was not lacking in "love"ly posts and Valetine's tips and tricks! So, this week will feature some of those that were linked up. And remember…
But first, some tips…
Weekly Household Tip
If you are a coffee drinker, do you use disposable pods, reusable pods, or a traditional drip coffee maker?
For me, reusable pods are my go-to. They make a quick, single cup of coffee and save money and waste!
And, I love using Seattle's Best dark roast coffee (any of them). SB is affordable and the coffee has a deep, rich taste!
Weekly Blogging Tip
There are many opinions on how many pins you should be pinning each day on Pinterest, as well as opinions on the ratio of your pins versus others.
I have found that an 80/20 ratio works best for me. So, if I pin 10 of my own pins each day, than that means 2 pins from other blogs get pinned for that day, as well.
Again, test and see what works best for you. But keep in mind, you want Pinterest users clicking over to YOUR blog, so pinning your content the most seems logical (at least to me)!
Share what your strategy is in the comments, so we can all learn from each other!
Though not a requirement at all, we would love it if you would subscribe and/or follow your hostesses on one or more of our social medias:
Goings-On With Your Hostesses
My Wee Abode
Third Blogiversary Celebration and Giveaway | Make an Easy Velvet Heart Garland with Wood Beads
Thistle Key Lane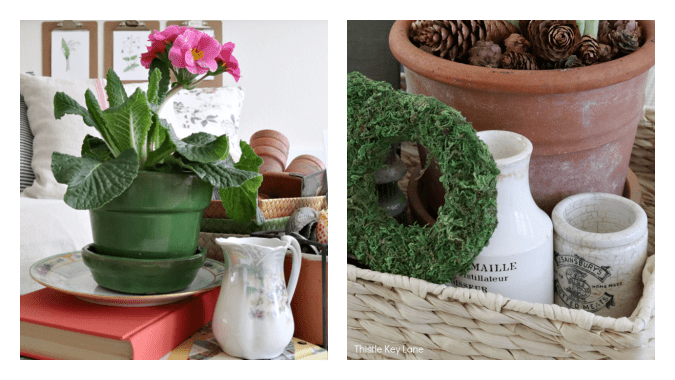 Winter Botanical Inspired Vignette | Welcome Home Sunday With Friends
Bluesky At Home
The Easiest Valentine's Wreaths + One | 5 Handmade Valentine's Cards | Ideas for Using Hooks to Use Vertical Space
This Week's Features:
All the Feels
By the time I got to the middle of this post, I had tears streaming down my face. Denise from My Home of All Seasons shares a Valentine vignette that is full of all the feels… memories from now and from the past! You won't want to miss it!
Pretty and Yummy Feels
Aren't these lovely? These Valentine hot cocoa bombs give your eyes and tummy all the feels! Check out how Carrie from Curly Crafty Mom makes these! Perfect for your Valentine, whether it's a spouse, child, or sweet friend!
Warm and Fuzzy Feels
This month's Pinterest Challenge was all about creating a door wreath for Valentine's Day. Seventeen bloggers joined in, and one of my faves was from Angie at Postcards from the Ridge. Take a look at how to make this fuzzy wreath with these easy-to-make fabric roses!
Check out our Tuesday Turn About Link Party Pinterest board! All NINE featured posts are pinned to this board each week!
Now It's Your Turn! Link Away!
Let's start sharing! Because this is a party, we encourage all who link up to visit several other bloggers who have linked as well – comments and pins are a great way to spread the love!
Before you get started, take a look at our guidelines:
This party is for home decor and home-related posts only (recipes, organizing, DIY, crafts, etc.). Link up to 3 related posts. Please do not link up informational posts that do not relate to the topic.
If you would please not link up shops, advertising, round-ups, other link parties, or any posts promoting sales, we would appreciate it.
DO NOT PIN FROM IMAGES ON THIS PAGE (it just won't work right on Pinterest). However, please visit the original post/source and pin from there. That works perfectly!
Please make sure that your images are in a jpeg or png format. If we can't save your image, we may not be able to feature you. So sad!
By linking to the party, you give us permission to share your projects on our blogs and social media. We will always give proper credit with a no-pin image.
Be sure to link up any of your Valentine recipes this week! I'm hoping to feature all 'love'ly recipes next week!