Tuesday Turn About #73 DIY Gift Ideas
The party is going strong, and this week is Tuesday Turn About #73 DIY Gift Ideas!
TUESDAY TURN ABOUT #73 DIY Gift Ideas
Welcome everyone! So glad to have you at the party this week!
It seems I'm overly pre-occupied with the weather these days, but it's just a wee bit crazy here still.
We've had wonderful mid 70s for over a week now, but it looks like a couple of scorchers will be hitting at the end of the week… and then? Then we dip down into the 60s!!!! What'd I tell ya?! Crazy! What's happening in your area with the weather?
This week, some DIYs were shared at the party that are great gift ideas, too. Are you ready to start your Christmas shopping/diying yet? (I think I am!) So, let's take a look as some DIY gift idea inspiration!
And remember…
But before we start the party, let's take a look at a couple of tips!
This post may contain affiliate links, at no additional cost to you. For more information, see my complete disclosure HERE.
Weekly Household Tip
When painting a room, do you use painter's tape for cutting in and protecting surfaces from over-paint? I often do, too.
However, this weekend I decided to use my Zibra 2″ Angle Brush for the cutting-in of my bathroom walls. It worked like a dream. No painter's tape needed, and the lines were straight and even. Saved lots of time, too!
Weekly Blogging Tip
Do you know what Domain Authority is? According to OptinMonster.com:
Domain authority is the most accurate representation of the search results landscape and a key to understanding why certain websites rank higher than others. Higher DA sites perform better than lower DA sites. As a result, there's a direct correlation between high DA scores and higher rankings.
To find out what your Domain Authority score is, simply put your domain URL in the free DA checker from ahrefs.com. Give it a try!
Though not a requirement at all, we would love it if you would subscribe and/or follow your hostesses on one or more of our social medias:
Goings-On With Your Hostesses
My Wee Abode
DIY Velvet Pumpkins for a Thanksgiving Centerpiece
Create a Fall Coffee Nook in a Small Space
Thistle Key Lane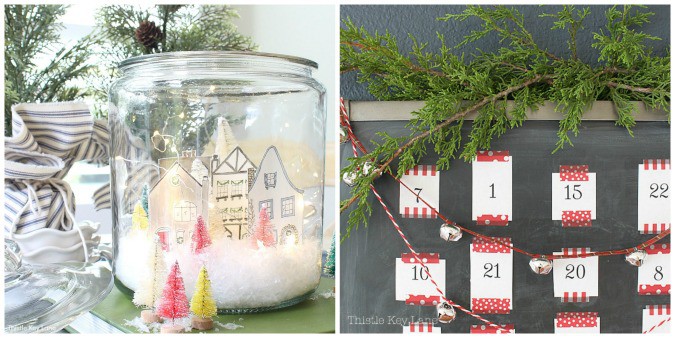 Snowy Village Houses In A Jar | DIY Chalkboard Advent Calendar With Activities
Bluesky At Home

Christmas Village Vignette | Wheat Bundle Centerpiece | 9 Awesome Thanksgiving Projects
This Week's Features:
A Gift Mat
Party newcomer and blogging buddy Kori from The Farmhouse Life is sharing a tutorial on creating a seasonal outdoor mat. For those of us that don't have a machine, this is a great alternative for stenciling a mat, and it would make a great gift (for any season/occasion), too! (Be sure to visit Kori's lovely blog!)
Thoughtful Bath Bombs
Why do I consider these DIY bath bombs 'thoughtful'? Because Ellen from The Socialite's Closet created these bath bombs for sensitive skin! Just think, you can make them for just about anyone to enjoy. 🙂 My little grandson struggles with eczema, but he loves bath bombs, so I think these will be on my list to make for stocking stuffers!
A Fragrant Fire…. Starter
Have you ever used a fire starter? I have, and they are quite amazing! And these fire starters from Satsuma Designs are not only practical, they are pretty AND smell amazing (can you see why?)! AND, Jennifer is sharing a free printable with us, too! Take a look at all her wrapping suggestions, as well!
Check out our Tuesday Turn About Link Party Pinterest board! All NINE featured posts are pinned to this board each week!
Now It's Your Turn! Link Away!
Let's start sharing! Because this is a party, we encourage all who link up to visit several other bloggers who have linked as well – comments and pins are a great way to spread the love!
Before you get started, take a look at our guidelines:
This party is for home decor and home-related posts only (recipes, organizing, DIY, crafts, etc.). Link up to 3 related posts. Please do not link up informational posts that do not relate to the topic.
If you would please not link up shops, advertising, round-ups, other link parties, or any posts promoting sales, we would appreciate it.
DO NOT PIN FROM IMAGES ON THIS PAGE (it just won't work right on Pinterest). However, please visit the original post/source and pin from there. That works perfectly!
Please make sure that your images are in a jpeg or png format. If we can't save your image, we may not be able to feature you. So sad!
By linking to the party, you give us permission to share your projects on our blogs and social media. We will always give proper credit with a no-pin image.
Don't you just love the holiday season? This period of Thanksgiving with Christmas just on the horizon is always a special time! Can't wait to see what everyone shares this week!