Tuesday Turn About #142 March Flowers
We're going all feminine at the party today! It's Tuesday Turn About #142 March Flowers.
TUESDAY TURN ABOUT #
This week, we continue to celebrate March and the coming of spring!
Are you decorating your home with flowers for the season? I'm ready to get my patio all decked-out for spring! Hoping to share that at the end of the month!
Perusing all the posts during spring is one of my fave things to do! It's so fun to see everyone's amazing ideas!
This week, I'm sharing some floral projects, tips, and tricks from all over Blogland! And remember…
Be sure to hop on over to My Family Thyme and Reinvented Delaware to check out SIX additional features from TTA!
If you haven't been featured at MWA this week, you just may be featured there!
But first… how 'bout a couple of tips!
This post may contain affiliate links, at no additional cost to you.
For more information, see my complete disclosure HERE.
Weekly Household Tip
In my little home, I don't always like to break out the large vacuum when I'm cleaning.
However, I LOVE using my Hoover stick vacuum! It not only has great suction for hardwood floors and vinyl, but it also has a roller that works great on carpet and rugs! AND, it's a great way to train your littles how to vacuum because it's lightweight and easy to handle! WIN!
Weekly Blogging Tip
This may not be a very popular tip, but I learned this at The Haven Conference several years ago at an SEO class.
Using your full name on your blog gives your blog credibility and authority. Let's face it… in this day and age, if someone REALLY wants to find out your last name, it's not difficult to do so. So, why not list it on your blog, which is a business, and give your site more authority? Other businesses list full names, right?
My Wee Abode
Small Living Room Update and Spring Tour // 21 Spring Centerpieces for Your Home
My Family Thyme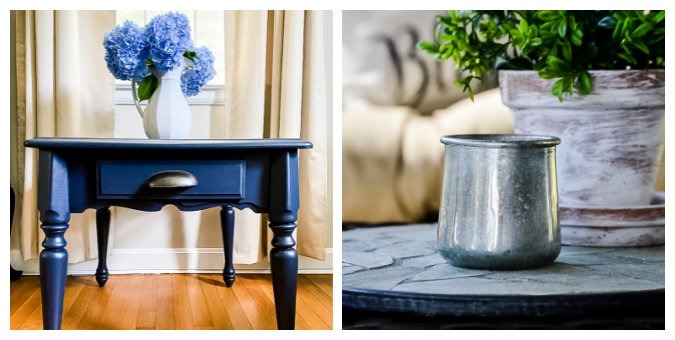 An Easy Side Table Makeover With Fusion Mineral Paint | DIY Faux Mercury Glass Votive Holders
Reinvented Delaware
Melamine Serving Tray Makeover | Easy Handmade Wreath
Peonies Are Coming!!!
Are you on the lookout for peonies? Either in your garden or at Trader Joe's??? LOL! Well, I was looking the other night when I visited TJ's, but they weren't showing their beautiful buds yet. But, if you want to jump-the-gun, take a look at this tutorial from Marie at This Dear Casa on how to create an arrangement using peonies (you could even us faux)!
Tulips and Daffodils, Oh My!
Shelley from Calypso in the Country is sharing all kinds of spring decor ideas, including this vignette that includes tulips AND daffodils!
Farmhouse Fresh!
Cotton stems are still a fave of mine! Add greenery and lavender in a white pitcher, and you've got yourself a perfect spring arrangement. 🙂 See how to create this yourself via Emily's tutorial from Hunny I'm Home.
Check out our Tuesday Turn About Link Party Pinterest board! All NINE featured posts are pinned to this board each week!
Let's start sharing! Because this is a party, we encourage all who link up to visit several other bloggers who have linked as well – comments and pins are a great way to spread the love!
Before you get started, take a look at our guidelines:
This party is for home decor and home-related posts only (recipes, organizing, DIY, crafts, etc.). Link up to 3 related posts. Please do not link up informational posts that do not relate to the topic.
If you would please not link up shops, advertising, round-ups, other link parties, or any posts promoting sales, we would appreciate it.
DO NOT PIN FROM IMAGES ON THIS PAGE (it just won't work right on Pinterest). However, please visit the original post/source and pin from there. That works perfectly!
Please make sure that your images are in a jpeg or png format. If we can't save your image, we may not be able to feature you. So sad!
By linking to the party, you give us permission to share your projects on our blogs and social media. We will always give proper credit with a no-pin image.
You know, TTA is a fave with both my blogging friends and readers alike! So keep those posts coming, and ask your friends to join, too!