Tuesday Turn About #86 Valentine Treats
The party is now live, and it's Tuesday Turn About Valentine Treats!
TUESDAY TURN ABOUT #86 Valentine Treats
So, Valentine's Day is coming up. What are you doing this weekend?
Me? The plan is for my mom to finally have her surgery on Saturday, and then I will be taking care of her the following week… 24/7. It's a long story, but the siblings figured this was the best option.
So, I'll be celebrating Valentine's with my mom (first time I've actually seen her in person in weeks)… We'll be eating cherry jello, considering she will be recovering from wisdom teeth removal! LOL!
Valentine's Recipes
Even though there weren't a WHOLE lot of Valentine's recipes linked-up this past week, I found a few that I thought would be fun to feature, with the pending 'holiday of love' comin' up.
And remember…
How 'bout some tips before we check our features?
Weekly Household Tip
This tip may be a little too simple, but because my readers range from young adult to seniors (think first time homes vs downsizing retirement), I think this may help some of the readers that are starting out in their homes. 🙂
When making a dinner of stew, chili, soup, etc., make dinner one time but prepare for two or three times!
Make a double our triple recipe and place the extra in a gallon size freezer bag and pop it in the freezer. Just thaw it out (or use the microwave) for a quick dinner later, or maybe even give it to someone that would appreciate a break from cooking for one night (a new mom, a friend recovering from an illness, etc.)
Weekly Blogging Tip
I received a few questions about last week's blogging tip. One of the questions is, "You said you pin at about an 80/20 ratio. How many pins of your own do you pin each day?"
For me, because I still don't have a lot of content (remember, I blog part-time), I pin about ten (10) of my own pins each day… 5 in the morning and 5 in the evening. Then I pin about 2-4 pins from other bloggers each day. (I know that isn't exactly 80/20… but it varies depending on what I find.)
Though not a requirement at all, we would love it if you would subscribe and/or follow your hostesses on one or more of our social medias:
My Wee Abode
Last Minute DIY Gifts for Your Valentine | "Seeing Red" in a Tiny Kitchen
Thistle Key Lane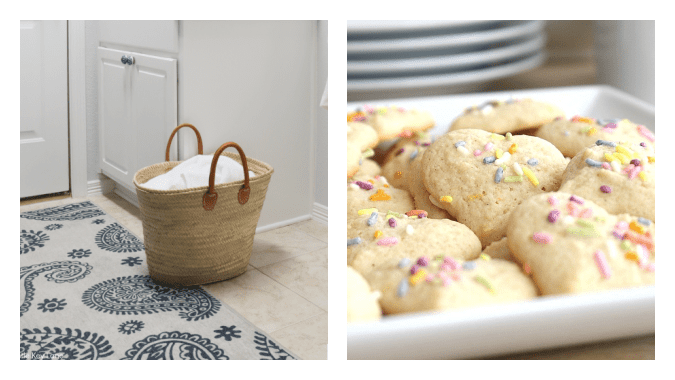 Simple Laundry Room Organizing Ideas | Lemon Sour Cream Pressed Cookie Recipe
Bluesky At Home
14 Awesome Valentine's Day Gifts| Repurpose Wine Crates into Office Storage| How to Rearrange an Office Bookcase
This Week's Features:
Chocolately Valentine Decadence
When I saw this yummy mini Valentine chocolate cake, I knew I needed to share it with you!
Beverly from the Eclectic Red Barn is showing us how to make this decadent dessert… and don't forget the cake flour! 😉
Chocolate Ain't My Thang
If chocolate ain't your thang, no worries… I'll still be your friend! And, I've got something for YOU, too!
These Funfetti Sugar Cookie Truffles are easy to make and only use 4 ingredients! Kelli from 3 Boys and a Dog shows us how to make these, and even has a printable recipe card at the bottom of her post!
And Wash It All Down…
Tiffany from A Nod to Navy is sharing her recipe for the perfect "Hallmark" hot cocoa! This adorable hot chocolate station is a Valentine's treat that is fun for all winter (and even the beginning of spring)!
Check out our Tuesday Turn About Link Party Pinterest board! All NINE featured posts are pinned to this board each week!
Now It's Your Turn! Link Away!
Let's start sharing! Because this is a party, we encourage all who link up to visit several other bloggers who have linked as well – comments and pins are a great way to spread the love!
Before you get started, take a look at our guidelines:
This party is for home decor and home-related posts only (recipes, organizing, DIY, crafts, etc.). Link up to 3 related posts. Please do not link up informational posts that do not relate to the topic.
If you would please not link up shops, advertising, round-ups, other link parties, or any posts promoting sales, we would appreciate it.
DO NOT PIN FROM IMAGES ON THIS PAGE (it just won't work right on Pinterest). However, please visit the original post/source and pin from there. That works perfectly!
Please make sure that your images are in a jpeg or png format. If we can't save your image, we may not be able to feature you. So sad!
By linking to the party, you give us permission to share your projects on our blogs and social media. We will always give proper credit with a no-pin image.
Okay, y'all… we're ready for spring! How 'bout you? Feel free to link up your everyday posts, but also start linking up those fun and fresh spring posts!