Tuesday Turn About #117 All Pumpkins
Let's get this fall party started with Tuesday Turn About #117 All Pumpkins. My Wee Abode is featuring some fun fall pumpkin projects this week!
TUESDAY TURN ABOUT #117 ALL PUMPKINS
Well, the temps look like they are going down here again in my part of the world! As I sit typing this post, I'm getting ready to get up and turn the fan off and close the window…
Okay… done. 😉
So, all the fall-feels are starting to hit! Can you feel them, too?
With autumn coming on strong, I though it would be fun to look at some pumpkin-themed projects!
And remember…
But before we get to the fun DIYs, let's get some tips!
Weekly Household Tip
Getting the pit out of an avocado can be, well… the pits! How do you remove the pit from an avocado?
Do you use the tried and true 'knife' approach? (It always scares me a bit.)
Well, recently I saw on Instagram how someone pushed the pit out by pressing the back of the avocado (where the skin is still 'closed'). I tried it and it works pretty well!
Weekly Blogging Tip
Have you ever asked a trusted friend or relative to peruse your blog and give you gentle constructive criticism?
This has been SUPER helpful for me to have a friend or two that will let me know when something isn't working smoothly, a page is a little clunky, or even if an image is a bit blurry. And those same 'critics' also are great supporters that give me encouragement and tell me when something is 'great'!
Now, let's get to the party!
Though not a requirement at all, we would love it if you would subscribe and/or follow your hostesses on one or more of our social medias:
Goings-On With Your Hostesses
Free Fall Watercolor Printable Art Gallery | Neutral Decor with a Fall Cloche
Thistle Key Lane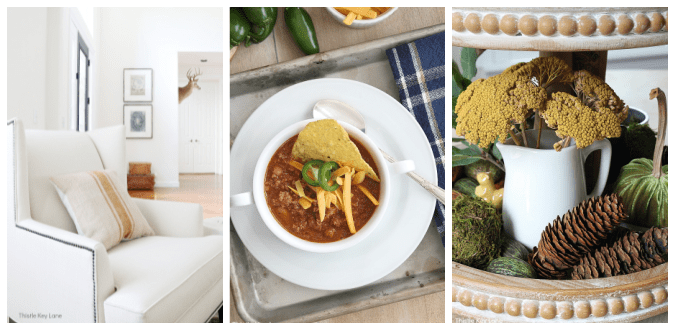 Subtle Ways To Decorate For Fall | Best Chili Recipe | Fall Tiered Tray With Greens & Browns
Bluesky At Home

Outdoor Fall Tablescape with Harvest Colors | An Easy Wood and Burlap Fall Banner |
10 Fabulous Finds #5
This Week's Features:
Starting Off With Yumkin!
Lois from Walking on Sunshine has so many amazing recipes on her blog. This week, she shared her Pumpkin Cheesecake Pudding recipe! Doesn't it look delicious?
Three Pumpkin Mini-Signs
Interior Frugalista is sharing not one, but THREE pumpkin chalkboard mini-signs! I love the detailed tutorials Marie shares that help us to make her lovely projects with ease!
Custom Color Pumpkin Pillow
What do you do when you find a gorgeous pillow cover at a store, but it's the wrong color for your home? You make your own custom pumpkin pillow cover, of course! And Tammy from Patina & Paint is showing us how we can do it, too!
Check out our Tuesday Turn About Link Party Pinterest board! All NINE featured posts are pinned to this board each week!
Now It's Your Turn! Link Away!
Let's start sharing! Because this is a party, we encourage all who link up to visit several other bloggers who have linked as well – comments and pins are a great way to spread the love!
Before you get started, take a look at our guidelines:
This party is for home decor and home-related posts only (recipes, organizing, DIY, crafts, etc.). Link up to 3 related posts. Please do not link up informational posts that do not relate to the topic.
If you would please not link up shops, advertising, round-ups, other link parties, or any posts promoting sales, we would appreciate it.
DO NOT PIN FROM IMAGES ON THIS PAGE (it just won't work right on Pinterest). However, please visit the original post/source and pin from there. That works perfectly!
Please make sure that your images are in a jpeg or png format. If we can't save your image, we may not be able to feature you. So sad!
By linking to the party, you give us permission to share your projects on our blogs and social media. We will always give proper credit with a no-pin image.
Looking forward to all the fun that we'll see this week! Are you getting ready for fall yet? How do you prepare for this cozy season?