Tuesday Turn About #87 February Fun
The party is live and Tuesday Turn About #87 February Fun is full of fun and loveliness!
TUESDAY TURN ABOUT #87 February Fun
Y'all are not going to believe this…
Well, maybe you will! 😉
This weekend was full of my sister and I playing tag team between the oral surgeon and the insurance company, misdiagnosis discoveries (TWO of them), a visit to the ER until my mom was finally admitted to the hospital at 11pm on Saturday evening, surgery (on her chin, NOT her wisdom teeth) on Sunday morning, me driving back and forth to Los Angeles (about 30-50 minutes away, depending on the time of day) to take care of my mom in the hospital (yes, one of us was allowed because of her dementia), and now, finally settling into a local Residence Inn to have a 'staycation' and help my mom recover!
And guess what… the one thing I thought would happen did…
I forgot Tuesday Turn About!
So, as my mom softly snores in her comfy bed, feeling no pain at the surgery site at all (and no narcotics!), I popped out of bed to do a quick TTA post!
So, let's take a look at the February Fun features that I actually chose on Friday night before all heck broke loose!
And remember…
Tips will return next week… and may I just say… God's constant abundant goodness was extremely evident this weekend! Praise Him for many miracles, big and small, that we were witness to!
Though not a requirement at all, we would love it if you would subscribe and/or follow your hostesses on one or more of our social medias:
Goings-On With Your Hostesses
My Wee Abode
Valentine Cards for MWA Subscribers | 10-Minute DIY Succulent Wreath
Thistle Key Lane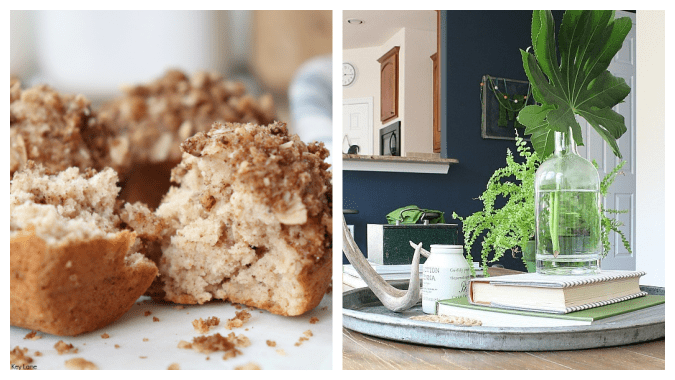 Coffee Cake Muffin Recipe | Ideas For Decorating With Green
Bluesky At Home
Ideas for Warm and Cozy Winter Decor | 2021 Home Decor Trends|
5 Delicious Valentine's Day Cocktails
This Week's Features:
February Snow Has Arrived…
Or so it seems everywhere except So Cal! It was so fun reading this post from Debbie Dabble Blog. Debbie is sharing about a huge snowstorm that her area went through and how she not only shoveled her steps and front porch, she also… Well, I'll let you read about this kind wonder-woman yourself!
Some Punk-y Fun!
If you haven't taken a look at the techniques that Unique Creations by Anita uses on her steampunk decor items, you really need to pop on over and see! Anita creates unusual pieces out of crazy stuff! Seriously… take a look!
February Is Winter AND Valentine's
Lori from Dining Delight has an amazing gift for creating lovely tablescapes and vignettes! And this frosty Valentine's tablescape is no exception! Don't you just love the pink, white, and green together? And those snowflakes! Hop on over to be inspired!
Check out our Tuesday Turn About Link Party Pinterest board! All NINE featured posts are pinned to this board each week!
Now It's Your Turn! Link Away!
Let's start sharing! Because this is a party, we encourage all who link up to visit several other bloggers who have linked as well – comments and pins are a great way to spread the love!
Before you get started, take a look at our guidelines:
This party is for home decor and home-related posts only (recipes, organizing, DIY, crafts, etc.). Link up to 3 related posts. Please do not link up informational posts that do not relate to the topic.
If you would please not link up shops, advertising, round-ups, other link parties, or any posts promoting sales, we would appreciate it.
DO NOT PIN FROM IMAGES ON THIS PAGE (it just won't work right on Pinterest). However, please visit the original post/source and pin from there. That works perfectly!
Please make sure that your images are in a jpeg or png format. If we can't save your image, we may not be able to feature you. So sad!
By linking to the party, you give us permission to share your projects on our blogs and social media. We will always give proper credit with a no-pin image.
We had a record for entries last week! It's so fun to stop in and look at each post! We appreciate it so much! (Now I'm off to bed!)