Tuesday Turn About #77 Unique Christmas Decor
Today we start really ramping up for Christmas with Tuesday Turn About #77 Unique Christmas Decor.
TUESDAY TURN ABOUT #77 Unique Christmas Decor
I hope you all had a wonderful Thanksgiving holiday. Can you even BELIEVE it is December?!
Happy-beginning-of-the-Christmas-season y'all!
My Wee Abode is all decked-out in frosty mint garb for the Christmas season AND for the Bloggers' Best Holiday Home Tour that started yesterday! Tomorrow, it's MWA's turn! I hope you'll join us and be inspired by six different and lovely bloggers each day this week!
Now, let's start off December with some unique Christmas decor that was shared this past week at TTA! And remember…
Before we take a look at this week's features, here's a couple of tips!
Weekly Household Tip
'Tis the season for potato side dishes, of all kinds! Can I get a "yum"?!
If you want to peel and prep your potatoes the night before, you go right ahead. To keep them from going 'brown', just put them in a bowl and cover them with water. Make sure your spuds are completely immersed, or you'll get some ugly brown spots (but you can always cut the spots off). Drain your potatoes when you're ready to cook them, and you're all set.
Weekly Blogging Tip
This has been said before, and I'm sure it will be said again. One of the priorities when writing our blogs should be a great user experience. This is especially true with our photos and content.
One way we can improve the readability of our blogs is to enlarge our fonts. According to Google, 16pt to 18pt font size is most pleasant to the eye, and easiest for a follower to read. If you want to rank higher with your readers AND Google, check out your fonts, and give them a quick makeover.
Though not a requirement at all, we would love it if you would subscribe and/or follow your hostesses on one or more of our social medias:
Goings-On With Your Hostesses
My Wee Abode
Add a Winter Crate to a Tiny Entryway | DIY Coastal Farmhouse Winter Wreath
Thistle Key Lane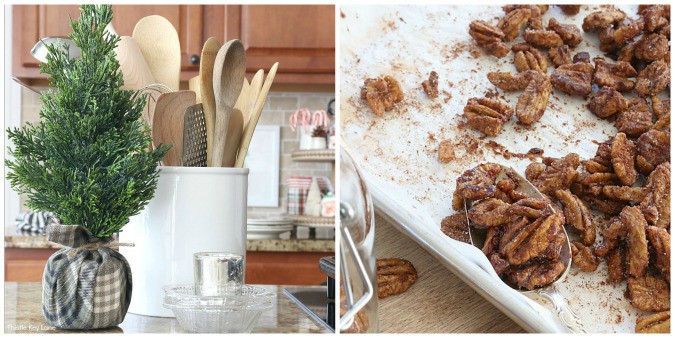 Christmas In The Kitchen And Family Room | Bourbon Candied Pecans Recipe
Bluesky At Home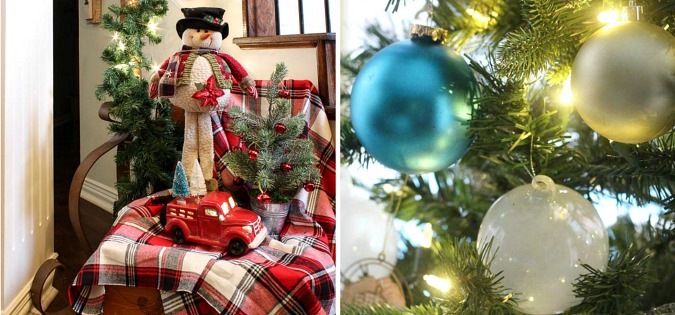 3 Ways to Style a Box for Christmas| Tips for Decorating for Christmas after Thanksgiving
This Week's Features:
Heavy Metal Christmas Tree
Well, it's not REALLY heavy metal, but Unique Creations by Anita is sharing her steampunk version of a Christmas tree! Talk about unique Christmas decor! I found the post SUPER interesting to read and to learn how to create this cool Christmas tree!
Super Easy Fabric Ornament
This quilted ornament from Pam at An Artful Mom is so easy to make, even a child can do it! Try making these with quilt squares from your local fabric store. Your kids will LOVE picking out their fave colors and creating lovely ornaments for your tree!
Framed Christmas Silhouettes
If you don't own a cutting machine, like a Cricut or Silhouette, you may want to put one on your wish list! Amy at Health, Home and Heart is showing us how to make these lovely and unique Nativity artwork pieces using her Cricut and some sheet music!
Check out our Tuesday Turn About Link Party Pinterest board! All NINE featured posts are pinned to this board each week!
Now It's Your Turn! Link Away!
Let's start sharing! Because this is a party, we encourage all who link up to visit several other bloggers who have linked as well – comments and pins are a great way to spread the love!
Before you get started, take a look at our guidelines:
This party is for home decor and home-related posts only (recipes, organizing, DIY, crafts, etc.). Link up to 3 related posts. Please do not link up informational posts that do not relate to the topic.
If you would please not link up shops, advertising, round-ups, other link parties, or any posts promoting sales, we would appreciate it.
DO NOT PIN FROM IMAGES ON THIS PAGE (it just won't work right on Pinterest). However, please visit the original post/source and pin from there. That works perfectly!
Please make sure that your images are in a jpeg or png format. If we can't save your image, we may not be able to feature you. So sad!
By linking to the party, you give us permission to share your projects on our blogs and social media. We will always give proper credit with a no-pin image.
It's always a blessing to click through and visit every site each week! We are so happy to see each of your here, and look forward to this week's inspiration for bloggers and readers alike!