Tuesday Turn About #132 Winter Tidbits
Happy New Year! Let's get this year started with a party, shall we? Tuesday Turn About #132 Winter Tidbits!
TUESDAY TURN ABOUT #132 WINTER TIDBITS
We hope you all had a wonderful Christmas and a Happy New Year!
We are back from a short break and we have lots to share!
This week, I'm sharing some tidbits that are still wonderful for the winter season!
And remember…
But first, as promised, we are back with our tips!
Weekly Household Tip
Is the water pressure in your shower not as good as it 'used to be'? It may be a clogged shower head. Pour a cup of white vinegar into a plastic bag, zip-tie it around the shower head, and leave overnight. In the morning, take a scrub brush and brush away the build-up then rinse! Your shower just might have more pressure than the night before!
Weekly Blogging Tip
This tip comes to you via our dear friend, Crissy, from First Day of Home.
She suggests that I (we) take a look at AHREFS' YouTube channel for some great (and free) tips for SEO. Ya just can't beat free, right? And the info given by AHREFS is quite reliable and super helpful!
Now, let's party!
Though not a requirement at all, we would love it if you would subscribe and/or follow your hostesses on one or more of our social medias:
Goings-On With Your Hostesses
My Wee Abode
2022 Printable Calendar in Watercolor // The BEST Organizing Tool… EVER!
Thistle Key Lane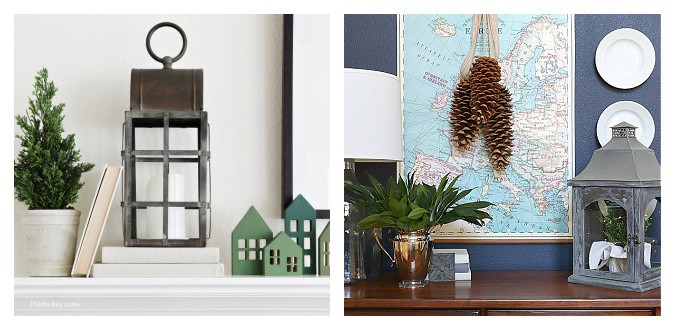 Transition To Cozy Winter Decor | Winter Entry Table And A Pinecone Swag
Bluesky At Home
5 Champagne Cocktails for New Year's Eve | 13 Winter Decor Accessory Ideas

This Week's Features:
Cookie Butter? Yes!!!
Have you heard of 'cookie butter'? If not, run to Trader Joe's and ask for some right away! (Or even ask for their Cookie Butter Sandwich Cookies! You're welcome!) Well, Mrs. Kringle's Kitchen is sharing her recipe for Cookie Butter Fudge! This is going on my list for the next family celebration!
Tasty Chicken Recipe!
Chicken, cheese, and balsamic marinade? Yes, please! Estelle from Homemade on a Weeknight is sharing her delicious balsamic stuffed chicken recipe! This looks like a family fave in the making!
From Christmas to Winter, the Easy Way!
Cindy from County Road 407 is sharing her super easy tips for transitioning your Christmas decor to the winter season! Her photos are lovely, and her decor is always sigh-worthy!
Check out our Tuesday Turn About Link Party Pinterest board! All NINE featured posts are pinned to this board each week!
Now It's Your Turn! Link Away!
Let's start sharing! Because this is a party, we encourage all who link up to visit several other bloggers who have linked as well – comments and pins are a great way to spread the love!
Before you get started, take a look at our guidelines:
This party is for home decor and home-related posts only (recipes, organizing, DIY, crafts, etc.). Link up to 3 related posts. Please do not link up informational posts that do not relate to the topic.
If you would please not link up shops, advertising, round-ups, other link parties, or any posts promoting sales, we would appreciate it.
DO NOT PIN FROM IMAGES ON THIS PAGE (it just won't work right on Pinterest). However, please visit the original post/source and pin from there. That works perfectly!
Please make sure that your images are in a jpeg or png format. If we can't save your image, we may not be able to feature you. So sad!
By linking to the party, you give us permission to share your projects on our blogs and social media. We will always give proper credit with a no-pin image.
We're hoping to see more winter (and maybe spring?) posts… and share those organizing and storage tips, too! Have a blessed week!