Tuesday Turn About #133 January Joy
Let's party, shall we? With Tuesday Turn About #133 January Joy!
TUESDAY TURN ABOUT #133 JANUARY JOY
Well, the first week of January was filled with lots here in our family!
My siblings and I made the decision to move our mom to memory care. It was a difficult decision, and we had decided last Tuesday to wait. However, the next day the Lord opened a plethora of doors that we walked through (He obviously had other plans for Mom), and Mom will be moving to "Traditions" on Thursday of this week. She will be in the same community and it is the best possible situation.
We would so appreciate your prayers, as moving a loved one with dementia is always a challenge. And, we are finding that it is different with every loved one and their family.
Now… Onto some January hi-jinx. Well, more like some projects that will hopefully bring you some January joy!
And remember…
Before sharing the features, let's take a look at some tips!
Weekly Household Tip
Want to do a speed clean of your home in 30 minutes? Yvonne from StoneGable shows you how with her Easy 30-minute Cleaning Schedule!
Weekly Blogging Tip
If you are looking to monetize your blog with ads, but don't yet qualify for MediaVine or AdThrive, checkout some other options.
Google Adsense is an easy way to start, but really doesn't offer a whole lot of income. However, you usually need to have a Google Adsense account to qualify for any other network option. Other ad networks are SHE Media, Ezoic, and/or Monumetric. (NOTE: Be sure to do your research and homework on each of these options… and ask others what they think!)
Now… onto the party!
Though not a requirement at all, we would love it if you would subscribe and/or follow your hostesses on one or more of our social medias:
Goings-On With Your Hostesses
My Wee Abode
Easily Add a Closet to a Small Space // The BEST Shelving Options for a Small Closet
Thistle Key Lane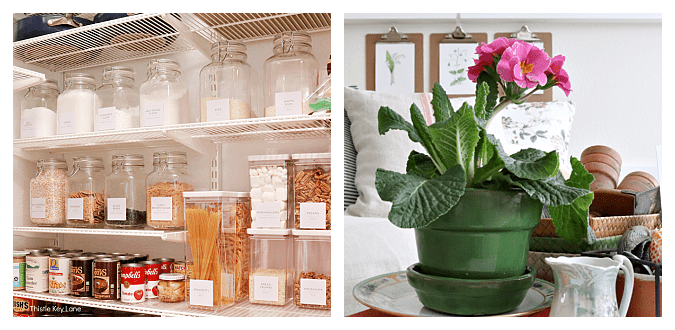 Best Small Pantry Organizing Tips | Winter Botanical Inspired Vignette
Bluesky At Home

7 Wonderful Winter Mantel Decorating Ideas | 13 Ways to Declutter your Digital Devices | Green and White Rustic Winter Decor | Bluesky Browsing #20
This Week's Features:
A REAL Bucket List!
Want a SUPER cute idea for a family bucket list? Creatively Beth is sharing her family's special and easy way to 'fill your bucket'. (And you can even customize the colors!)
Cutie-Patootie Beanie
Okay… I know we all can't take our eyes of this darling little model… but the beanie is ALMOST as cute! AND, Tomiko from Kiku's Corner is sharing how YOU can create this sweet little hat, too!
A Nod to Mom
Not only is this buffalo check coaster so pretty, it also reminds me of my mom. Before dementia hit, Mom was an extremely smart lady and a wonderful seamstress and crafter. She loved making plastic canvas coasters to gift to her family and friends, and she always made each set special. Alex from Eye Love Knots is sharing how YOU can make these cute little coasters in a snap!
Check out our Tuesday Turn About Link Party Pinterest board! All NINE featured posts are pinned to this board each week!
Now It's Your Turn! Link Away!
Let's start sharing! Because this is a party, we encourage all who link up to visit several other bloggers who have linked as well – comments and pins are a great way to spread the love!
Before you get started, take a look at our guidelines:
This party is for home decor and home-related posts only (recipes, organizing, DIY, crafts, etc.). Link up to 3 related posts. Please do not link up informational posts that do not relate to the topic.
If you would please not link up shops, advertising, round-ups, other link parties, or any posts promoting sales, we would appreciate it.
DO NOT PIN FROM IMAGES ON THIS PAGE (it just won't work right on Pinterest). However, please visit the original post/source and pin from there. That works perfectly!
Please make sure that your images are in a jpeg or png format. If we can't save your image, we may not be able to feature you. So sad!
By linking to the party, you give us permission to share your projects on our blogs and social media. We will always give proper credit with a no-pin image.
So many wonderful posts! We always look forward to seeing what you're sharing with us!