Homestyle Gathering 15 | Your Homekeeping Destination
The party has started and Homestyle Gathering 15 is your homekeeping destination! Come join us and see all that has been going on this week!
HOMESTYLE GATHERING 15 | YOUR HOMEKEEPING DESTINATION
So many new 'linkers' with us last week! We actually hit an all-time-high of over 100 posts! We are so blessed with your presence at our wee little Homestyle Gathering (that we hope will not be 'wee' for long)!
Personally, I visited each post and tried to comment on at least one from each blogger. If I didn't comment, it's because comments were closed or not available… but, I diiiid visit! 😉
We hope each and every one of you joins us again at Homestyle Gathering as 'regular party-ers'. And we hope our communities of readers enjoy all the great ideas and inspiration as much as we do!
This week, Kim from Serving Up Southern had the fun of choosing our 5 features! Lucky girl!
Welcome to Homestyle Gathering!
Hey there! Kim here! Wow! You helped make last week our best week yet! We reached over a hundred links! You are awesome! I enjoyed looking at all that was shared at last week's party. We hope you'll come back and join us regularly.
Bloggers, we ask someone to be our guest host every 4th week, so be sure and link-up so you'll have a chance to be our guest. If you are a reader be sure and check out all the new link-ups we had. You will love all the inspiration you'll find.
Ready to party?

Meet Your Hosts:
Here's what we've been up to lately:

How to Paint a Cottage Farmhouse Window Sign
Lemon Curd
And now for this week's features:
Judith from Botanic Bleu shares a beautiful faux lavender arrangement that graces her dining room table. I love how delicate and dainty the lavender looks in the white vase.
Michelle from Hello Lovely shares some lovely before and after projects from around her home. The exterior transition of the walkway and porch areas are amazing!

Corinne from This Delightfull Life shares her beautiful spring dining room. I love the slip-covered chairs and the simplicity of the table setting! Less is more!

Mary Beth from The How-To Home shares a trick for arranging flowers in a large container. You'll love what she does to make these beautiful roses look like they were made for this pink bucket.

Jenna from JRL Interiors shares a Hearty Quinoa Salad that I look forward to trying. I've recently added quinoa to my diet on a more consistent basis, so I'm always looking for new recipes.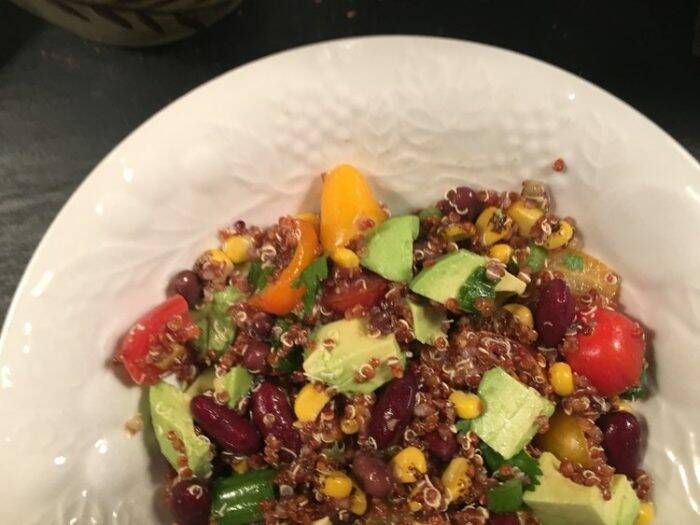 Now It's YOUR Turn!
Since this is a party we encourage all who link up to visit several other links and spread some love – comments and pins are always welcome.
Before you get started, please review our rules:
This party is for home decor and related home-keeping posts only (recipes, organizing, anything home-related). Link up to 3 related posts. Please do not link up informational posts that do not relate to the topic.
If you would please NOT link up shops, advertising, round-ups, other link parties, or any posts promoting sales, we would appreciate it.
DO NOT PIN FROM IMAGES ON THIS PAGE (it just won't work right on Pinterest). However, please visit the original post/source and pin from there… that works perfectly.
By linking to the party, you give us permission to share your projects on our blogs and social media. We will always give proper credit.
We look forward each week to visiting all the wonderful inspiration from our fellow bloggers, and we hope our readers enjoy the posts just as much as we do!