Tuesday Turn About #60 August Finds
Welcome to August and Tuesday Turn About August Finds! I'm featuring a little bit of this-'n'-that at the party today!
TUESDAY TURN ABOUT #60 August Finds
If you missed last week's party, I shared some lovely posts for Christmas in July.
Can you believe it's August already?
For the last two years, the word "August" has new meaning for me. Every time I say the word, it now makes me think of my #3 jellybean, who shares the name with the month. Never thought I would have a towheaded, blue-eyed grandchild, but I do! So fun!
Do you have any special plans for this month?
This week, I'm featuring a little bit of this and a little bit of that to kick-off this month's parties!
Let's get some tips before we get to the features, shall we?
Weekly Blogging Tip
Are you sending a newsletter to your subscribers when you publish a post? What about sending a summary type newsletter once a week with all the posts that have gone live for that period of time?
Newsletters are a great way to engage with your readers and serve as a reminder that you have great ideas for them, whether it's decor tips and tricks, an easy DIY, a yummy recipe, or a fun craft for the weekend!
Weekly Household Tip
Making a personal list for myself of the household tips I share might be in order! I can't remember if I've shared this one before! If I have, it bears repeating.
When doing a paint DIY around the house, and the first coat of paint needs to dry in order to apply a second coat, wrap your brush/roller in plastic wrap! This keeps the brush from drying out, and you can use it again! Covering your paint tray works this way, as well!
Now to go start that list. 😉
Though not a requirement at all, we would love it if you would subscribe and/or follow your hostesses on one or more of our social medias:
Goings-On With Your Hostesses
My Wee Abode
How to Prep Cabinets for an Amazing Paint Finish
Bluesky At Home
Citrus~Inspired Summer Centerpiece | Wood~Slice DIY Wreath | How to Style a Christmas Tree 3 Ways
Thistle Key Lane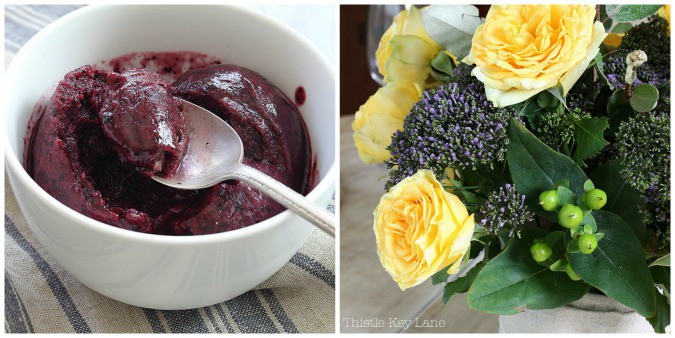 Blueberry Lemon Sorbet Recipe | Easy Fall Tablescape
This Week's Features:
When Life Gives You Lemons…
…make a DIY "vase" and lemony floral arrangement, of course! My dear friend Cindy from County Road 407 hosts a monthly Pinterest Challenge blog hop. This month was all about using a sour fruit in some sweet decor!
When Life Gives You MORE Lemons…
Oh my goodness, I think I have a surprise (to me) theme going on this week! My Uncommon Slice of Suburbia is showing us how to use citrus fruits and essential oils to repel bugs AND make our outdoor area that much prettier! And Kristin has even more luminary ideas at the end of her tutorial!
No Sew T-shirt Updates
One of our newest 'party-ers' is Creatively Beth! This week, Beth is teaching us how to add just the right amount of lace to update 3 different t-shirts… and it's all NO-SEW!
Check out our Tuesday Turn About Link Party Pinterest board! All NINE featured posts are pinned to this board each week!
Now It's Your Turn
Let's start sharing! Because this is a party, we encourage all who link up to visit several other bloggers who have linked as well – comments and pins are a great way to spread the love!
Before you get started, take a look at our guidelines:
This party is for home decor and home-related posts only (recipes, organizing, DIY, crafts, etc.). Link up to 3 related posts. Please do not link up informational posts that do not relate to the topic.
If you would please not link up shops, advertising, round-ups, other link parties, or any posts promoting sales, we would appreciate it.
DO NOT PIN FROM IMAGES ON THIS PAGE (it just won't work right on Pinterest). However, please visit the original post/source and pin from there. That works perfectly!
Please make sure that your images are in a jpeg or png format. If we can't save your image, we may not be able to feature you. So sad!
By linking to the party, you give us permission to share your projects on our blogs and social media. We will always give proper credit with a no-pin image.
I'm thinkin' we're going to start seeing some autumn inspiration very soon! Crazy how time flies, right? Have a great week, and be sure to share TTA with your friends and fams!