Tuesday Turn About #69 Autumn DIYs
The party has started and we are discovering fall projects at Tuesday Turn About #69 Autumn DIYs.
TUESDAY TURN ABOUT #69 Autumn DIYs
Welcome to the party all! We are back to our "regularly scheduled program" this week with household and blogging tips!
Plus, we've got some great autumn DIYs that you can add to your home now! And remember…
The weather here has been rough again, but it looks like things are cooling down, and I just may get back to the bathroom makeover! Painting the walls is next, and I'm rethinking whether I'm going to DIY or hire out the bathroom floor… we'll see!
In the meantime, let's take a look at a couple of tips!
Weekly Household Tip
During the day, I often think of things that I need on my next shopping trip. If you don't do this already, make a list on your Notes app in your phone. It's easy to use and you ALWAYS have your phone with you, am I right?
This is great if you are taking care of an elderly parent, too. I have a separate list for my mom that I use!
Weekly Blogging Tip
Are you using social share buttons on your site? You know… like the ones you see at the top/side/bottom of this site.
If you aren't, you might want to think about adding some. Blogging is all about making readers happy and making your site easy to use does just that!
Social share buttons are an easy way for a reader to share your post on any social medias they choose (you give the specific options), including Pinterest, Facebook, Instagram and more! And there are LOTS of free plugins for social share buttons, like Sassy Social, Grow (former knows as Social Pug), and Social Warfare to name just a few.
Remember, do your research for which social share plug-in would work best for you!
Now, let's party!
Though not a requirement at all, we would love it if you would subscribe and/or follow your hostesses on one or more of our social medias:
Goings-On With Your Hostesses
My Wee Abode
THREE Fall Watercolor Printables for Your Home |
More Watercolor Printables for Your Fall Decor
Thistle Key Lane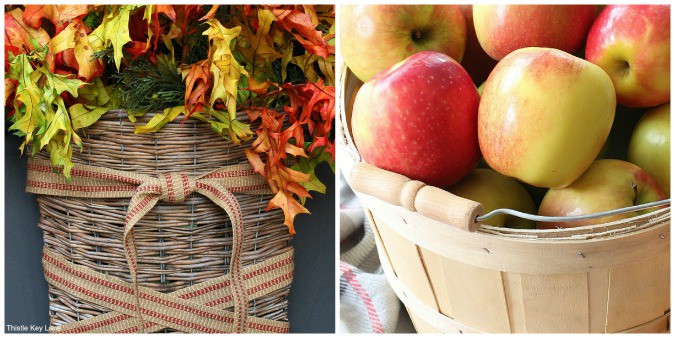 Fall Decorating Ideas For A Small Porch | Simple Ideas For Bushel Baskets
Bluesky At Home

Fall Living Room Tour| DIY Halloween Projects | Halloween Decorations in the Entry
This Week's Features:
Tricky Little Cloche
This cute little bell jar cloche was created by Naush from Doodle Buddies. Naush is all about repurposing items and creating new projects and decor for her home, and this sweet cloche can be used for any season! Think about a baby boo pumpkin or a few acorns!
Candy Corn Garland
Curly Crafty Mom is sharing a 'sweet' little tassel garland reminiscent of candy corns. And Carrie is showing us how we can make one! Again, this could be made for just about any season using the right colors!
Pudgy Little 'Punkins'
And last but not least, these pretty little pumpkins are from Hello Sewing. Helen is showing us exactly how we can sew these fabric pumpkins with all their gourd-y goodness!
Now It's Your Turn! Link Away!
Let's start sharing! Because this is a party, we encourage all who link up to visit several other bloggers who have linked as well – comments and pins are a great way to spread the love!
Before you get started, take a look at our guidelines:
This party is for home decor and home-related posts only (recipes, organizing, DIY, crafts, etc.). Link up to 3 related posts. Please do not link up informational posts that do not relate to the topic.
If you would please not link up shops, advertising, round-ups, other link parties, or any posts promoting sales, we would appreciate it.
DO NOT PIN FROM IMAGES ON THIS PAGE (it just won't work right on Pinterest). However, please visit the original post/source and pin from there. That works perfectly!
Please make sure that your images are in a jpeg or png format. If we can't save your image, we may not be able to feature you. So sad!
By linking to the party, you give us permission to share your projects on our blogs and social media. We will always give proper credit with a no-pin image.
We hope you are enjoying TTA! Be sure to click around, visit a few friends, and comment! We bloggers LOVE hearing from you!