Tuesday Turn About #113 Fall Beginnings
The party has started… and along with Tuesday Turn About #113 Fall Beginnings, you may have noticed another 'beginning' today!
TUESDAY TURN ABOUT #113 FALL BEGINNINGS
Happy Tuesday, everyone!
Today, we're celebrating the beginning of fall! Well, it IS just around the corner, so we gotta start preparing for the season, right?
And, coincidentally, I'm also celebrating the new and improved My Wee Abode site! What do you think?
There are definite 'tweaks' that still need to be done and, believe me, I'm working on the fine-tuning.
And that Logo!
By the way, the logo IS complete, and I LOVE it! The graphic artist from Fiverr.com did a wonderful job and she was very versatile! She listened to what I wanted, gave me four different designs to start with, and 'married' the two that were my faves!
What do YOU think about the new look?
If you have any questions, or suggestions, feel free to leave them in the comments section below!
Now, let's look at a couple tips before we look at our 'fall beginnings' features!
This post may contain affiliate links, at no additional cost to you. For more information, see my complete disclosure HERE.
Weekly Household Tip
Have you ever tried using wool dryer balls? They really work! And cut drying time by about 25%!
Weekly Blogging Tip
I don't know about you, but sometimes I lose sight of what I truly love to blog about… You, too! Well then, let's be friends! (Oh, we already are friends!)
Anyways, sometimes it's just a good idea to step back and say to ourselves, "What do I really want to blog about? Have I lost site of my original 'love'? Do I need to get focused on what I truly want to offer to others?"
Let's all take a moment (or 3) to take stock of what we want our blog to be about… and how we want to help others!
Now, let's start this party! And remember…
Though not a requirement at all, we would love it if you would subscribe and/or follow your hostesses on one or more of our social medias:
Goings-On With Your Hostesses
My Wee Abode
7 Fall DIY and Decor Ideas | Simple Fall Decor to Add to Your Tiny Home
Thistle Key Lane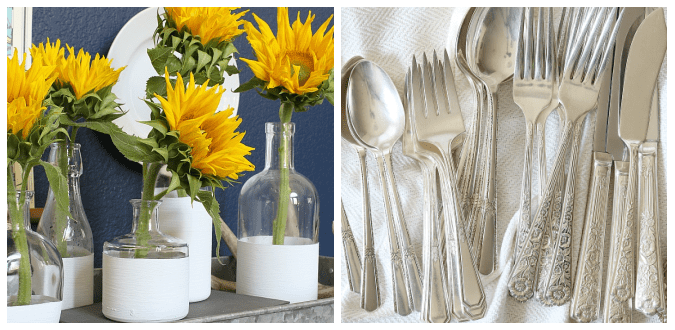 Summer To Fall Entry Table With Sunflowers | How To Polish Sterling Silver
Bluesky At Home
Fabulous Fall Living Room Ideas| 10 Fabulous Finds from Bluesky Browsing
This Week's Features:
Painted Pots for a Fall Garden (or home!)
These bohemian-style painted pots from Olivia OHern blog are simply lovely! You could create these for a minimal fall vibe and place them in your autumn garden or use them in your home! So pretty, and Olivia is offering free stencils for this project!
Early Fall Outdoor Shelter
DeeDee from Clover House is sharing her new outdoor 'gazebo'. This little shelter is a perfect solution for a tiny house, or even for just adding a 'screened-in-porch' type of space no matter what size home! Take a look at all the 'deets' on DeeDee's site.
A Coffee Station for All Seasons
If you haven't visited The Crowned Goat, you are missing out! CoCo is showing us how she styles her coffee station cabinet for all the seasons! Take a look, and help her make a decision for updating her cabinet, too! 😉
Check out our Tuesday Turn About Link Party Pinterest board! All NINE featured posts are pinned to this board each week!
Now It's Your Turn! Link Away!
Let's start sharing! Because this is a party, we encourage all who link up to visit several other bloggers who have linked as well – comments and pins are a great way to spread the love!
Before you get started, take a look at our guidelines:
This party is for home decor and home-related posts only (recipes, organizing, DIY, crafts, etc.). Link up to 3 related posts. Please do not link up informational posts that do not relate to the topic.
If you would please not link up shops, advertising, round-ups, other link parties, or any posts promoting sales, we would appreciate it.
DO NOT PIN FROM IMAGES ON THIS PAGE (it just won't work right on Pinterest). However, please visit the original post/source and pin from there. That works perfectly!
Please make sure that your images are in a jpeg or png format. If we can't save your image, we may not be able to feature you. So sad!
By linking to the party, you give us permission to share your projects on our blogs and social media. We will always give proper credit with a no-pin image.
It was so fun to start seeing fall posts trickling in! I love fall and Christmas decor DIYs and decor, don't you? There's just somethin' about it!