Tuesday Turn About #112 Late Summer Fun
Tuesday Turn About #112 late summer fun is now live! Come and be inspired with summer DIYs and decor that will ease you into the fall season!
TUESDAY TURN ABOUT #112 LATE SUMMER FUN
August is in full swing and autumn will be upon us in no time!
Today, my wonderful boss let me have a last-minute-half-day-off to celebrate my oldest jelly bean's (aka grandchild's) sixth birthday!
We went out to lunch with extended family and then visited the local reptile zoo. The kids were thrilled with the surprise excursion and it was fun to see them get excited, and sometimes just a little apprehensive. Well, at least his three-year-old sister and 1.5 year-old cousin had some reservations. But, for the most part, all had fun!
My grandson's birthday is also a reminder that autumn is just about to "fall" upon us. (See what I did there?)
So, with summer coming to a close in just a few weeks, I thought I would share some late summer fun (aka decor, crafts, and DIYs) with you this week.
And don't forget…
Firstly, let's take a look at a couple of tips!
Weekly Household Tip
This week, I'm asking you to confirm a tip I read about this week.
Has anyone ever wrapped banana stems in foil to keep them from ripening too fast? Does it work?
Inquiring minds want to know! Well, at least THIS inquiring mind does! Let me know in the comment section below.
Weekly Blogging Tip
We've talked before about cleaning-up broken links on our blogs. However, if that just seems a bit too overwhelming, here's a 'short-cut' that anyone can do in just a few minutes.
What are your top five performing posts? Once a month, take those five posts and check to see if the external links are broken or need to be updated. Taking 15-30 minutes a month to fix your 'best' posts is worth it! It will make for a better 'read' for your followers and it will make them happy to be able to purchase through your affiliate links with ease!
Now, on with the party!
Though not a requirement at all, we would love it if you would subscribe and/or follow your hostesses on one or more of our social medias:
Goings-On With Your Hostesses
My Wee Abode
Trending Bathroom Faucets Buying Guide | How to Make a Wood Leaf Garland for Fall
Thistle Key Lane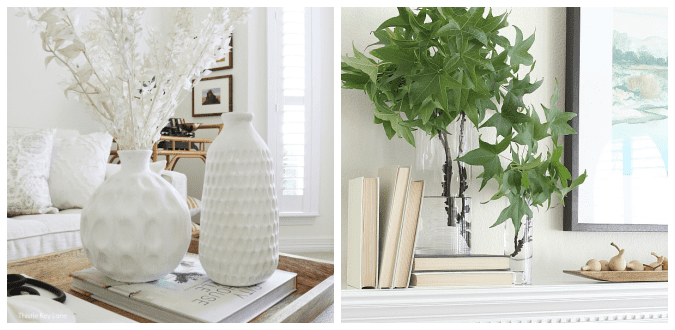 Easy Thrift Store Vase Makeover With Paint | Simple Fall Mantel With Gourds And Greenery
Bluesky At Home
How to Make a No~Sew Bench Cushion | How to Reuse and Restyle Your Fall Decor
This Week's Features:
Summery Centerpiece on a DIY Riser
Isn't this centerpiece lovely? The greens and neutral tones would look gorgeous on any table! And Julie from Restyle Relove is sharing her tutorial on how to create a farmhouse riser from plank wood! So pretty and useful, too!
Late Summer Lakehouse Sideboard
Have you seen the sideboard at Lori's home? I always love seeing how she decorates it for the season at her blog, Dining Delight. For late summer, she's given her buffet a lakehouse 'twist', and boy is it pretty! So many items, and so much loveliness!
Summery Thank You Card
I love to make greeting cards, do you? Meg at I Teach Stamping is sharing a 5-minute 'thank you' card that YOU can make! It's so pretty, fresh, and summery, right?
Check out our Tuesday Turn About Link Party Pinterest board! All NINE featured posts are pinned to this board each week!
Now It's Your Turn! Link Away!
Let's start sharing! Because this is a party, we encourage all who link up to visit several other bloggers who have linked as well – comments and pins are a great way to spread the love!
Before you get started, take a look at our guidelines:
This party is for home decor and home-related posts only (recipes, organizing, DIY, crafts, etc.). Link up to 3 related posts. Please do not link up informational posts that do not relate to the topic.
If you would please not link up shops, advertising, round-ups, other link parties, or any posts promoting sales, we would appreciate it.
DO NOT PIN FROM IMAGES ON THIS PAGE (it just won't work right on Pinterest). However, please visit the original post/source and pin from there. That works perfectly!
Please make sure that your images are in a jpeg or png format. If we can't save your image, we may not be able to feature you. So sad!
By linking to the party, you give us permission to share your projects on our blogs and social media. We will always give proper credit with a no-pin image.
I'm hoping to start sharing fall posts starting next week, so bring 'em on! I know our lovely readers are starting to look forward to autumn and all it brings, too!