Tuesday Turn About #209 Summer Upcycles
Today, we are upcycling and recycling! It's Tuesday Turn About #209 Summer Upcycles!
TUESDAY TURN ABOUT #209 SUMMER UPCYCLES
HAPPY 4TH OF JULY!
Yes, even though today is a national holiday, we are STILL partying here at Tuesday Turn About!
Though I must confess… last week I promised our weekly tips would be back. But, because of the holiday, and with ALL of us being a bit more busy than usual, the tips will return NEXT week! (But, I make no promises because… LIFE… ya know?)
So this week, I'm sharing some summer upcycle projects and ideas that just might be up your alley! A little bit of this, and a little bit of that.
You really won't want to miss clicking over and taking a look at this week's featured posts!
And remember…
Be sure to hop on over to My Family Thyme and Reinvented Delaware to check out SIX additional features from TTA!
If you haven't been featured at MWA this week, you just may be featured there!
July 4th Here at MWA…
Yesterday was my daughter's 30th birthday!
Now I have TWO that are in their thirties (Nika's brother is 33 this year)! It's really hard to believe!
While my daughter and son-in-love had an extended day-date for her birthday, the two grandmas took care of the kids and went on a trip to the park! My daughter's mother-in-love and I have been dear friends since our children were elementary age. We always enjoy being together, and now have the added joy of sharing grandchildren!
All this and Jesus, too!
Today, I will trek on over, again, to my daughter and SIL's home and celebrate the 4th with his folks along with lots of friends and family. Then, we will experience the firework display in their neighborhood that each year is, well… epic!
Oh, in case you are wondering… Mom is with my sister. DeeDee switched out her Saturday for today. Very kind of her!
What are YOU doing for the holiday?
Let's hope it's taking time to party at TTA! Shall we?
My Wee Abode
How to Add Coastal Touches to Your Summer Home //
Free Lemon Watercolor Printables for Summer
My Family Thyme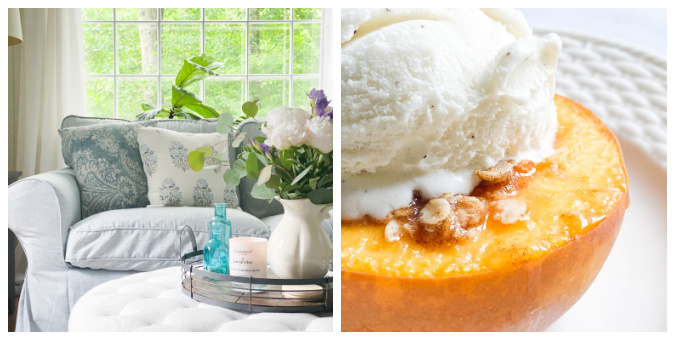 5 Ways to Make Your Home Feel Like New on a Budget //
Easy Baked Peaches with Brown Sugar Crumble
Reinvented Delaware
Antique Pine Cupboard Reveal // Easy DIY Window Planter Boxes
Check out our Tuesday Turn About Link Party Pinterest board! All NINE featured posts are pinned to this board each week!
Let's start sharing! Because this is a party, we encourage all who link up to visit several other bloggers who have linked as well – comments and pins are a great way to spread the love!
Before you get started, take a look at our guidelines:
This party is for home decor and home-related posts only (recipes, organizing, DIY, crafts, etc.). Link up to 3 related posts. Please do not link up informational posts that do not relate to the topic.
If you would please not link up shops, advertising, round-ups, other link parties, or any posts promoting sales, we would appreciate it.
DO NOT PIN FROM IMAGES ON THIS PAGE (it just won't work right on Pinterest). However, please visit the original post/source and pin from there. That works perfectly!
Please make sure that your images are in a jpeg or png format. If we can't save your image, we may not be able to feature you. So sad!
By linking to the party, you give us permission to share your projects on our blogs and social media. We will always give proper credit with a no-pin image.
I love to upcycle, do you? I'm working on a bedroom lamp right now. My first go-around was a 'fail', but I'm liking what's happening with it now. 😉
I hope you all have a wonderful holiday, celebrating our country's birth! And don't forget to link-up!