Tuesday Turn About #67 Fallebration
We are partying at Tuesday Turn About #67 Fallebration… Can you guess why?
TUESDAY TURN ABOUT #67 Fallebration
And we are celebrating today! Guess why?!
Yep, it's the official first day of fall! So My Wee Abode is having a "fallebration" along with Thistle Key Lane and Bluesky At Home!
As many of you already know, I'm already in full-fall-swing over here at MWA! With a home tour this past week that featured my kitchen and patio, along with prepping some DIY fall decor tutorials, autumn is busting out all over here!
More Fallebrating for MWA
And to celebrate even more, I'm on my way tomorrow to Virginia to experience their late summer early fall! Be on the lookout on Facebook and Instagram to see WHO I'll be celebrating with! 😉 (Does anyone have a guess? And, no, you can't guess, my hostess with the mostest!)
Before we get to some fun fall posts for celebrating the opening of autumn, let get some tips, shall we? Oh, and remember…
Weekly Household Tip
When getting ready to leave on a trip, pack your personal items as you use them the day of the trip. This makes for quick and easy prep time with very little chance of forgetting something!
Weekly Blogging Tip
At times, do you feel like your site may be losing traction, or maybe not even growing? I know I have felt that way! Let me tell you a tip I ALWAYS use to see where/if I need some improvement.
Ask a blogging buddy (or two) that you admire, trust, and you know will be gently honest with you, "Where can I improve?". Seriously… I have several BBBs (best blogging buddies) that I OFTEN go to and ask their opinion about a post, a photo(s), or even my grammar (among other things). However, be prepared to take constructive advice and apply it!
Okay… let's fallebrate!
Though not a requirement at all, we would love it if you would subscribe and/or follow your hostesses on one or more of our social medias:
Goings-On With Your Hostesses
My Wee Abode
Simple Fall Decor You Can Add to Your Tiny Home
Bluesky At Home
Quick Fall Projects |Butternut Squash Soup| Black and White Fall Entry
Thistle Key Lane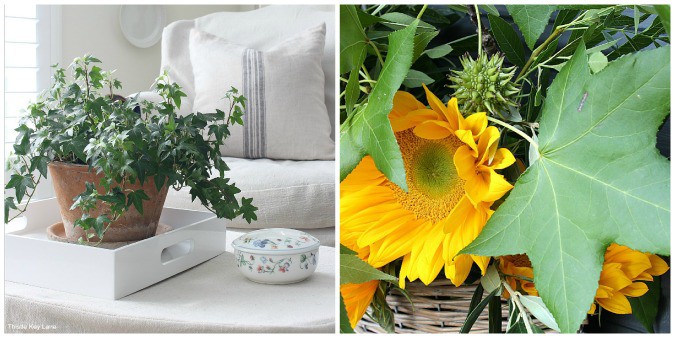 How To Create A Cozy Reading Nook | Willow Basket Door Arrangement For Early Fall
This Week's Features:
Easy Pumpkin Decor
These quick and easy wooden pumpkins would look adorable on a patio, porch, hearth, or even a mudroom (just to name a few places)! Lisa and Pete from Drugstore Divas show us exactly how we can create these pretty pumpkins!
Put a Cork On It
On a wreath, that is! My cousin gave me a boatload of corks recently, and I have some ideas how to use them. But, Debbee's Buzz is showing us a gorgeous cork wreath DIY you can make for the fall season, and it's pretty inspiring!
Fall Floral Arrangement
This lovely fall spray arrangement from Satsuma Designs is the perfect centerpiece transition for summer to autumn. And you just might be surprised what Jennifer used for the 'vase'! Be sure to check out her tutorial.
Now It's Your Turn! Link Away!
Let's start sharing! Because this is a party, we encourage all who link up to visit several other bloggers who have linked as well – comments and pins are a great way to spread the love!
Before you get started, take a look at our guidelines:
This party is for home decor and home-related posts only (recipes, organizing, DIY, crafts, etc.). Link up to 3 related posts. Please do not link up informational posts that do not relate to the topic.
If you would please not link up shops, advertising, round-ups, other link parties, or any posts promoting sales, we would appreciate it.
DO NOT PIN FROM IMAGES ON THIS PAGE (it just won't work right on Pinterest). However, please visit the original post/source and pin from there. That works perfectly!
Please make sure that your images are in a jpeg or png format. If we can't save your image, we may not be able to feature you. So sad!
By linking to the party, you give us permission to share your projects on our blogs and social media. We will always give proper credit with a no-pin image.
So, let's bring fall on full force this week! We're looking forward to all of your inspiration!