Tuesday Turn About #71 Halloween Hints
Do you decorate for Halloween? If you do, you can use these Tuesday Turn About #71 Halloween Hints for inspiration!
TUESDAY TURN ABOUT #71 Halloween Hints
Happy Tuesday everyone and welcome to the party!
There are so many new members joining My Wee Abode lately, you may want to know how Tuesday Turn About came to be and what it means!
Are y'all putting up Halloween decor this year? Truth be told, I have NEVER decorated my home for Halloween.
I know, I know… how can a blogger *not* decorate for a holiday? All the spooky, creepy decor… yeah, it's just not my thang.
But this week… this week I came across some Halloween decor that made me stop and stare and even giggle. And I'm going to share a few with you that may give you some Halloween hints for your decor!
And don't forget…
Let's take a look at a couple tips before we dive into our features for the week!
Weekly Household Tip
Upon coming home from my visit to Virginia, I noticed my luggage had been scuffed up from being thrown around the belts and pulleys at the airport. Those blacks marks made my new rose-gold luggage pieces look like I'd been using them for years.
One of the 'magic' cleaning products I use is Mary Kay's Eye Makeup Remover. I kid you not, this stuff is amazing (better than Goo Gone)! I just put a little on a cotton pad and buffed away the black scuffs, and then wiped away the residue with a warm cloth! Good as new!
Oh, and it's the best eye makeup remover I have EVER used, too! Contact your local consultant to try some!
Weekly Blogging Tip
Today's blogging tip is Pinterest related! Ah, Pinterest… are you friend or are you foe? Can y'all relate?! 😉
Are you using a tool to keep track of the Pins you've created for each post? You know, what Pins you've made and when you last posted them? If not, you may want to start using a database tool or even create your own spreadsheet!
If you are using a tracking tool for this, we'd love to hear what and how you are using your Pinterest database in the comments!
Though not a requirement at all, we would love it if you would subscribe and/or follow your hostesses on one or more of our social medias:
Goings-On With Your Hostesses
My Wee Abode
23 Best "Quiet" Toys for Kids in Big Church
9 Tips and Tricks for Choosing the Perfect Paint Color
Bluesky At Home
How to Make Halloween Cards| Halloween Cupcake Toppers | Autumn Pumpkin Vignette
Thistle Key Lane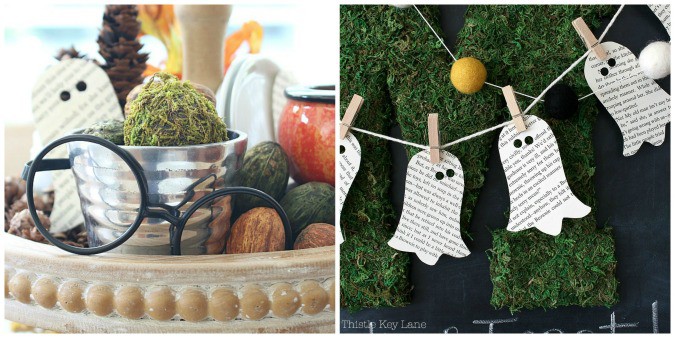 Create A Last Minute Halloween Tiered Tray | DIY Book Page Ghost Garland
This Week's Features:
Halloween Porch Decor
This Halloween porch from Cherished Bliss gives a little understated nod to Halloween with a big old spider wreath. The orange and black play well with the rest of Ashley fall decor of pumpkins and mums! Check out all her stunning ideas that includes a 'bonus' at the end of the post!
Orange and Black Lantern Inspiration
Kippi At Home always has posts that are lovely and inspiring. This week she shared a couple of orange and black lanterns she upcycled from the Goodwill.
Aren't those bows gorgeous? Love the different ribbon prints all in coordinating colors (even the skeleton ribbon doesn't bother me so much… hehe). And you can do something like this for any season!
Ghosts that Make You Giggle
Okay… this tablescape from The Little Yellow Corner Store is not only striking with its black and neon green colors, but those sweet little friendly white ghosts just made me smiiile.
And Marsha is sharing some closeups of the Halloween food items she prepared, as well! Be sure to take a look at all her pics!
Check out our Tuesday Turn About Link Party Pinterest board! All NINE featured posts are pinned to this board each week!
Now It's Your Turn! Link Away!
Let's start sharing! Because this is a party, we encourage all who link up to visit several other bloggers who have linked as well – comments and pins are a great way to spread the love!
Before you get started, take a look at our guidelines:
This party is for home decor and home-related posts only (recipes, organizing, DIY, crafts, etc.). Link up to 3 related posts. Please do not link up informational posts that do not relate to the topic.
If you would please not link up shops, advertising, round-ups, other link parties, or any posts promoting sales, we would appreciate it.
DO NOT PIN FROM IMAGES ON THIS PAGE (it just won't work right on Pinterest). However, please visit the original post/source and pin from there. That works perfectly!
Please make sure that your images are in a jpeg or png format. If we can't save your image, we may not be able to feature you. So sad!
By linking to the party, you give us permission to share your projects on our blogs and social media. We will always give proper credit with a no-pin image.
I have at least one more autumn post coming next week, and then I start my Christmas season! The temps are going down, which means DIY projects will be back in full swing, too!
We'd love to start seeing Christmas posts, but we LOVE the fall posts, too! Keep 'em comin'!