Tuesday Turn About #76 Seasonal Fragrance DIYs
The link party has started and this week it's all about Tuesday Turn About #76 Seasonal Fragrance DIYs.
TUESDAY TURN ABOUT #76 SEASONAL FRAGRANCE DIYS
And this week, there were LOTS of posts connected with fragrance, whether is was homemade candles, heavenly smelling recipes, DIY potpourri, and even candleholders. (I know that's a stretch, but you'll thank me.)
Let me just stop here and say "Happy Thanksgiving". As we ponder this past year's events, good and not-so-good, I'm especially thankful for you all, family and friends that follow the blog, as well as my blogging buddies.
Without you, there would be no My Wee Abode blog!
MWA has been bustling with all kinds of Christmas decor and DIYs. I'm hoping to share at least three new Christmas DIYs this season, plus a couple of home tours!
When will you start decorating your Christmas home?
A Special Shout-Out
Before we get to this week's features and tips, I want to give a special shout-out to my friend Kari at Me and My Captain.
Kari has been very open on her blog about her 1.5-year-battle with cancer. And this month, she is finally returning to part-time blogging. Take a look at her sweet Thanksgiving tablescape and give her some love.
We are SO glad to have you back, Kari! Praise God!
Weekly Household Tip
Do you make homemade stuffing/dressing (what do you call it)? If you do, here's a quick tip I learned from my mom.
We do a bread stuffing in our family, and mom taught us 'the cheaper the bread, the better the stuffing'. Buy the cheapest bread you can find and tear it up. Let it dry out in the open for at least 2-3 days, turning it over every few hours to get an even 'drying'. The longer the drying process, the better! (Oh, that's two tips, right?)
Weekly Blogging Tip
If you use an email provider (i.e., MailerLite, ConvertKit, Mailchimp, etc.), remember to "clean" your subscriber list each month.
In MailerLite, this is as easy as going to the Subscribers tab and clicking on "Clean Up Inactive" on the menu ribbon. This will allow you to delete those subscribers that haven't opened an email in 6 months. If you delete these inactive subscribers, you don't have to pay for them anymore, and it leaves room for new subscribers to 'replace' them. Check to see if you have this option with your provider!
Though not a requirement at all, we would love it if you would subscribe and/or follow your hostesses on one or more of our social medias:
Goings-On With Your Hostesses
My Wee Abode
Create a Faux Christmas Mantel with Flocked Garland | FREE Christmas Printables
Thistle Key Lane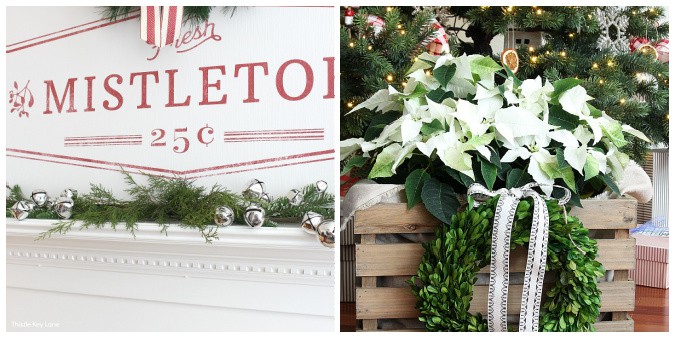 Cozy Christmas Mantel In Red And White | How To Decorate With Poinsettias In Crates
Bluesky At Home
How to Make Holiday Place Cards and Holders| Vintage Cutting Boards for Christmas Decor | Sweet Hot Chocolate Bar
This Week's Features:
Creamy Yellow Beeswax Candles
These creamy buttery colored beeswax candles stopped me in my tracks! Joy from Artful Homemaking is sharing her easy tutorial on how to make these "hot" little items (see what I did there?). You can use essential oils to add fragrance to these, or just leave the soft scent of honey to 'touch' your room.
DIY Potpourri for the Fall
Tee from TeeDiddlyDee is sharing her homemade recipe for a fall potpourri. Tee shares all the different dried items she uses, and you may be surprised by some of them. Add these yummy dried fruits and spices to a jar and give them as a gift, and be sure to keep some for yourself!
Custom Christmas Fragrance Holders
Okay, here's the 'stretch'… these tealight holders are gorgeous!!! Paula from Sweet Pea is sharing exactly how to create these yourself… and not just one design, but several wooden tealight holder designs for the holidays! So pretty and unique… You're welcome!
Check out our Tuesday Turn About Link Party Pinterest board! All NINE featured posts are pinned to this board each week!
Now It's Your Turn! Link Away!
Let's start sharing! Because this is a party, we encourage all who link up to visit several other bloggers who have linked as well – comments and pins are a great way to spread the love!
Before you get started, take a look at our guidelines:
This party is for home decor and home-related posts only (recipes, organizing, DIY, crafts, etc.). Link up to 3 related posts. Please do not link up informational posts that do not relate to the topic.
If you would please not link up shops, advertising, round-ups, other link parties, or any posts promoting sales, we would appreciate it.
DO NOT PIN FROM IMAGES ON THIS PAGE (it just won't work right on Pinterest). However, please visit the original post/source and pin from there. That works perfectly!
Please make sure that your images are in a jpeg or png format. If we can't save your image, we may not be able to feature you. So sad!
By linking to the party, you give us permission to share your projects on our blogs and social media. We will always give proper credit with a no-pin image.
I'm thinking the Christmas posts will be in full force this next week. So exciting! Hope you all are as inspired as I am!