Tuesday Turn About #134 Winter Crafts
The party is now live and I'm sharing Winter Crafts at Tuesday Turn About #134.
TUESDAY TURN ABOUT #134 WINTER CRAFTS
Welcome to Tuesday Turn About! I have some wonderful winter crafts to share this week!
We had SO many wonderful link-ups this last week, including some Valentine posts! Super fun!
In case some are wondering, my sister and I moved my mom this past Thursday, and all went very well! God is very good… all the time!
Before we take a look at this week's features, let's get some tips!
And remember…
Weekly Household Tip
This post may contain affiliate links, at no additional cost to you.
For more information, see my complete disclosure HERE.
If you're looking to work on some DIYs in the near future (or any time), you may want to pick up some wiping cloths from Home Depot. They are super versatile! I use them to wipe off wood after I've sanded, 'brush on' stain or paint, and then wipe it off again, and so much more!
Weekly Blogging Tip
Recently, I was having a little trouble with my email deliveries. One of my readers let me know that my email looked 'odd'. So I asked for an image of what she was seeing and I sent it to my email provider (which happens to be MailerLite). They checked the back-end of my account and found an issue.
The issue was fixed in 30 minutes and, since then, my open rate and click-thru rate has greatly improved! I learned that if something seems to not be working the right way, ask your vendor to check things out. This goes for your site provider, email provider, and plug-in vendors.
Now, let's party!
Though not a requirement at all, we would love it if you would subscribe and/or follow your hostesses on one or more of our social medias:
Goings-On With Your Hostesses
My Wee Abode
Love Your Dark Cabinets with Winter Neutrals // Winter Valentine's Decor in a Small Kitchen
Thistle Key Lane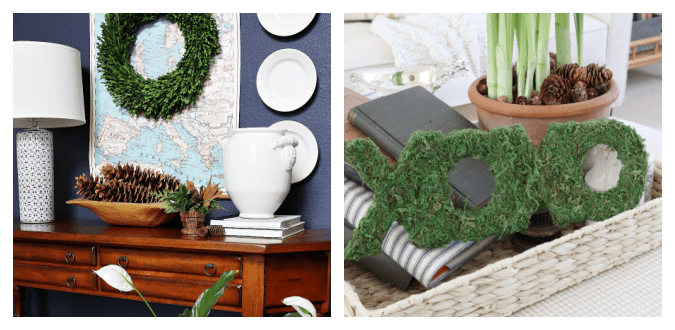 Winter Entry Table With Natural Elements | How To Make Moss Covered Letters For A Valentine Vignette
Bluesky At Home
8 Blog Areas to Focus On| How to Make the Cutest Pom~Pom and Heart Garland | Bluesky Browsing #211
This Week's Features:
Do This by Force!
Look at these lovely paperwhite blooms! Cecilia from My Thrift Store Addiction is showing how YOU can force bulbs to bloom in the winter! And she's also sharing some great ideas for containers to grow them in!
Easy Frosted Branches
Paula from Sweet Pea is sharing a fave of mine! Learn how to re-create her frosted branches in no time at all! Aren't they gorgeous?
This is Reversible!
This fleece beanie is so cute! And Helen from Hello Sewing is giving you step-by-step instructions on how to make this adorable winter hat! Perfect for your family members, or even as a Valentine gift!
Check out our Tuesday Turn About Link Party Pinterest board! All NINE featured posts are pinned to this board each week!
Now It's Your Turn! Link Away!
Let's start sharing! Because this is a party, we encourage all who link up to visit several other bloggers who have linked as well – comments and pins are a great way to spread the love!
Before you get started, take a look at our guidelines:
This party is for home decor and home-related posts only (recipes, organizing, DIY, crafts, etc.). Link up to 3 related posts. Please do not link up informational posts that do not relate to the topic.
If you would please not link up shops, advertising, round-ups, other link parties, or any posts promoting sales, we would appreciate it.
DO NOT PIN FROM IMAGES ON THIS PAGE (it just won't work right on Pinterest). However, please visit the original post/source and pin from there. That works perfectly!
Please make sure that your images are in a jpeg or png format. If we can't save your image, we may not be able to feature you. So sad!
By linking to the party, you give us permission to share your projects on our blogs and social media. We will always give proper credit with a no-pin image.
We're looking forward to all your fun posts this week! Give us your best!