Tuesday Turn About #106 Paper Projects
We are closing out the month of June with Tuesday Turn About #106 Paper Projects.
TUESDAY TURN ABOUT #106 PAPER PROJECTS
June is almost over, and the weather is starting to warm-up here in So Cal. We're hitting the low 80s this week, with plenty of humidity.
What is your weather looking like in your neck-of-the-woods?
This week there were plenty of paper pleasantries and 'findings' that y'all posted, whether it was printables, cards, decor, or sweet little projects.
Before I share the features from MWA, remember…
Now, let's take a look at a couple of tips!
This post may contain affiliate links, at no additional cost to you. For more information, see my complete disclosure HERE.
Weekly Household Tip
Have you ever used a garbage disposal cleaner? I recently started using the Rejuvenate Disposer and Pipe Cleaners. These magical little pods help to 'degrease' your disposer and pipes and make things smell 'fresh' again.
Weekly Blogging Tip
Let's talk more about SEO… or not?
Before you even try to work on the tools, tips, and 'tricks' of SEO, you want to remember to who (whom?) you are writing. ALWAYS put your readers first. What does this mean?
Create content that your readers will love! Does it solve a problem? Teach them a "how to"? Encourage them to 'think'? (You get the picture)
Be sure you don't keyword 'stuff'. In other words, if you are writing about summer decorating, don't use the words 'summer decorating' in every sentence, hoping that Google will love you for it. Don't write FOR Google. Write TO your reader, and make it enjoyable to read.
Be sure your content is easy to navigate. Add a Table of Contents (something I still need to implement), create topic headings that are easy to read and notice, and take care to write short paragraphs (long paragraphs tend to be a turn-off to readers… have you noticed this in your blog reading?)
These are just a few tips that will help you create 'user-friendly' content and, often, SEO naturally happens when you do this! Our mantra should always be "Reader first, SEO second"!
Now let's get this party started!
Though not a requirement at all, we would love it if you would subscribe and/or follow your hostesses on one or more of our social medias:
Goings-On With Your Hostesses
My Wee Abode
Understated and FREE Patriotic Printables | Affordable Summer Pillows for Your Home
Thistle Key Lane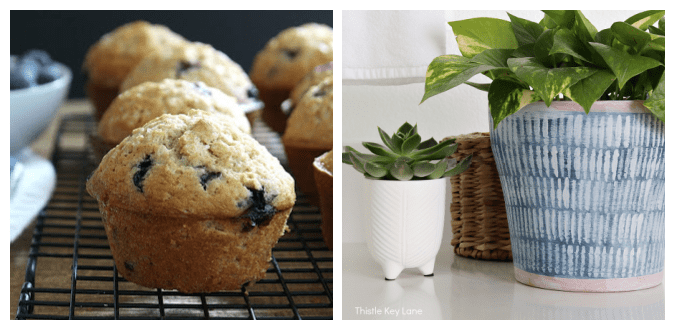 Basic Blueberry Muffin Recipe (Gluten Free Option) | How To Hand Paint A Cachepot
Bluesky At Home

Pink Tablescape on the Patio | How to Stencil a Design on Tile Coasters| 7 Budget~Friendly Summer Recipes
This Week's Features:
From Palette to Paper
Jeannie from The Marmelade Gypsy has a gift for watercolors. She is sharing some of her recent projects, including this lovely 'bird B&B'!
Paper and Snacks
These cute little paper snack-bags are TOO cute! Karin's Kottage shows us how these little origami food 'containers' are easy to make and can be used for just about any dry snack!
Wood Is a Thick Paper, right?!
Well, even if you don't consider wood to be paper, Creatively Beth is also using some cardboard to make these cute little RWB wooden houses! So easy to create and, if you know me, red-white-and-blue decor isn't my fave… but I would def use these in My Wee Abode!
Check out our Tuesday Turn About Link Party Pinterest board! All NINE featured posts are pinned to this board each week!
Now It's Your Turn! Link Away!
Let's start sharing! Because this is a party, we encourage all who link up to visit several other bloggers who have linked as well – comments and pins are a great way to spread the love!
Before you get started, take a look at our guidelines:
This party is for home decor and home-related posts only (recipes, organizing, DIY, crafts, etc.). Link up to 3 related posts. Please do not link up informational posts that do not relate to the topic.
If you would please not link up shops, advertising, round-ups, other link parties, or any posts promoting sales, we would appreciate it.
DO NOT PIN FROM IMAGES ON THIS PAGE (it just won't work right on Pinterest). However, please visit the original post/source and pin from there. That works perfectly!
Please make sure that your images are in a jpeg or png format. If we can't save your image, we may not be able to feature you. So sad!
By linking to the party, you give us permission to share your projects on our blogs and social media. We will always give proper credit with a no-pin image.
I don't know about you, but I'm ready for more summer posts… and maybe a little fall? Can't wait to see what everyone has to share this next week!