Tuesday Turn About #46 Neutral DIYs
The party has started and Tuesday Turn About #46 Neutral DIYs has some projects with a limited color palette… perfect for every home!
TUESDAY TURN ABOUT #46 – Neutral DIYs
Well, it seems that things are starting to look up for some of us! I'm hearing quite a bit of news today regarding modifications of shelter in place for several states! Are you one of them?
So Cal may be waiting for a bit, as our recent heatwave is tempting many-a-beach-goers to throng to our sandy shores. *facepalm*
It's times like these that make me thankful for a Heavenly Father that is in control and sovereign over all of this! Continued prayers for you and yours, and the that Lord will guide our leaders and us in the way we should go.
Well, we may not be able to go to the beach, but we CAN party! So let's do it!
Baby Update
Are you all waiting, like I am, on pins-and-needles for my little jellybean #4? I bet not! LOL!
Just as an update, we are still waiting. My daughter-in-love, Bitsy (short for Elisabeth), has her weekly appointment today, so we'll see what the doc has to say.
Bits (short for Bitsy, hehe) did have her 'burst of energy' on Sunday/Monday, so we're hoping that it's a tell-tale sign! I'll keep y'all posted!
Weekly Blogging Tip
This week we have another Pinterest tip for you! When creating pins, Pinterest "best practices" suggests creating a pin with a 2:3 ratio. For example, create your image/collage size as 600 x 900, 735 x 1102, or 1000 x 1500 pixels. You get the 'picture', right?
For more about Pinterest business 'best practices', click HERE.
Weekly Household Tip
Did you know that baking soda is a gift from God?! Well, I sure do think it is!
My favorite way to use baking soda is for cleaning my vintage Pyrex dishes and enamel cookware! Just dip a damp cloth into a little mound of baking soda and gently rub off those stubborn stains. (I would only use this on the unpainted/non-decal areas of vintage Pyrex, as there could still be some micro-abrasion from the baking soda… unless your piece is too far gone, and a bit of possible scratching wouldn't matter.)
Neutral DIYs
So many amazing posts were shared this week. It is always hard to choose just three, but it seemed especially hard this week!
However, three posts I did choose, and they all involved neutral-toned DIYs that are perfect for any style home, indoors and outdoors! And remember…
Though not a requirement at all, we would love it if you would subscribe and/or follow your hostesses on one or more of our social medias:
Goings-On With Your Hostesses
My Wee Abode
Create a Fresh Spring Vignette | Spring Floral Monogram Printable for Mom
Bluesky At Home
Best Lemon Icebox Pie You've Ever Tasted | 3 Ways to Decorate Terra Cotta Pots with Decoupage
Thistle Key Lane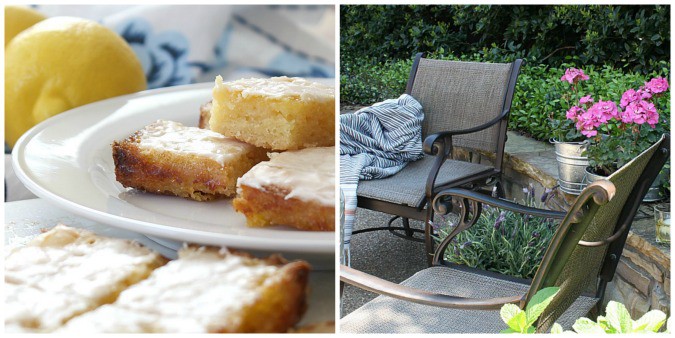 Lemon Squares Recipe | Simple Bucket Container Garden With Flowers
This Week's Features:
A Cushy DIY
This tufted DIY cushion is so pretty! The neutral linen fabric is just gorgeous and makes this DIY look like a million bucks! And Jayne from Chalking Up Success makes it easy to replicate with her DIY tutorial AND video!
A Scrappy DIY
Unique Creations by Anita is sharing a wonderful DIY wall hanging in a black-and-white color palette. I would LOVE to have this hanging on the HUGE wall outside MWA's front door!
Low "Coast" DIY
Yes, these lovely white coasters are low COST because they are DIY'd! Joy is sharing her tutorial and pattern for these simple and practical household items over at Artful Homemaking. You could do these in any color to coordinate with your home decor!
Check out our Tuesday Turn About Link Party Pinterest board! All NINE featured posts are pinned to this board each week!
Now It's Your Turn! Link Away!
Let's start sharing! Because this is a party, we encourage all who link up to visit several other bloggers who have linked as well – comments and pins are a great way to spread the love!
Before you get started, take a look at our guidelines:
This party is for home decor and home-related posts only (recipes, organizing, DIY, crafts, etc.). Link up to 3 related posts. Please do not link up informational posts that do not relate to the topic.
If you would please not link up shops, advertising, round-ups, other link parties, or any posts promoting sales, we would appreciate it.
DO NOT PIN FROM IMAGES ON THIS PAGE (it just won't work right on Pinterest). However, please visit the original post/source and pin from there. That works perfectly!
By linking to the party, you give us permission to share your projects on our blogs and social media. We will always give proper credit with a no-pin image.
We hit another all-time high last week! I keep wondering when we'll break the 150 mark.
We are so thankful for all of you, and hope you will share Tuesday Turn About with bloggers and readers alike!