Tuesday Turn About #47 Spring Recipes
We have lots to share this week at the link party. Tuesday Turn About #47 Spring Recipes has started!
TUESDAY TURN ABOUT #47 – Spring Recipes
So, I know y'all are just waiting on the edge of your seats for the big announcement! (Or not… hehe!)
Yes, Robin Artemis (aka Jellybean #4) made a quick entrance into this world on the evening of April 30, 2020. Everyone is healthy and well, and they even came home the next evening! Weighing in at 7.9 ounces and 20 inches long, we were thrilled when she surprised us with a head of black wavy hair and olive skin… just the opposite of her toe-headed blue-eyed fair brother! So fun! I'll be updating my About Page soon with current pics!
Quick Update:
Update: For those wondering, my son and DIL needed someone to help them take care of my grandson while they were in the hospital, so I was able to be with them from Thursday through Monday. What a blessing to be able to be with BOTH grandchildren (and my kids, too!)
We had well over 150 link-ups this past week, and so many amazing posts, at that! This week, MWA is featuring some spring recipes, but remember…
This post may contain affiliate links, at no additional cost to you.
For more information, see my complete disclosure HERE.
Weekly Blogging Tip
This week's blogging tip is a bit more of Pinterest help.
If you don't use the Tailwind App for scheduling your pins, I would SERIOUSLY look into at least getting the free trial. Tailwind has skyrocketed my traffic from Pinterest like nothing else!
For more information about Tailwind and for my affiliate link, click HERE.
Weekly Household Tip
Living in a small home, I've realized that less is more… in so many ways.
I'm thinking that less is more works in any size home, especially with today's tip.
Did you know keeping more than 2 sets of sheets for your bed isn't necessary? Keeping one set on the bed, and another in the closet to use for changing while laundering the other set, is really all you need. Saves space AND money!
Now, let's get on with the party!
Though not a requirement at all, we would love it if you would subscribe and/or follow your hostesses on one or more of our social medias:
Goings-On With Your Hostesses
My Wee Abode
Last-Minute Mother's Day Gifts She Will LOVE | Affordable Summer Pillow Picks
Bluesky At Home
How to Use Galvanized Pails and Flowers on the Patio | Yeastless Jalapeno Cornbread
Thistle Key Lane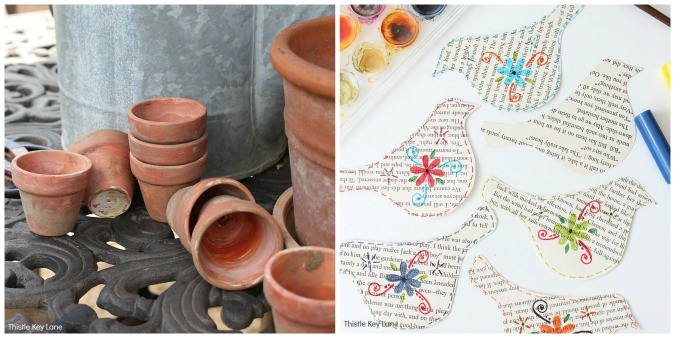 DIY Aging Terracotta Pots | Book Page Bird Garland
Since many of us are still at home for a bit, let's try some recipes that our families will enjoy and maybe be a bit comforted by, too!
This Week's Features:
Refreshing Knock-off
CincyShopper is sharing a yummy and refreshing Starbuck's copycat drink! Is your weather calling for Vanilla Bean Frappuccino's yet?
Makin' Bacon!
Not too many people can resist bacon, and adding chicken makes it healthy, right?! Walking on Sunshine has an air-fryer recipe for bacon-wrapped BBQ chicken that you just may have to have with your Vanilla Bean Frap!
Chocolatey Comfort!
Have you ever heard of chocolate cobbler? Well, it's a first for me, and A Day of Small Things is sharing a recipe that might just speak volumes to your fam!
Check out our Tuesday Turn About Link Party Pinterest board! All NINE featured posts are pinned to this board each week!
Now It's Your Turn! Link Away!
Let's start sharing! Because this is a party, we encourage all who link up to visit several other bloggers who have linked as well – comments and pins are a great way to spread the love!
Before you get started, take a look at our guidelines:
This party is for home decor and home-related posts only (recipes, organizing, DIY, crafts, etc.). Link up to 3 related posts. Please do not link up informational posts that do not relate to the topic.
If you would please not link up shops, advertising, round-ups, other link parties, or any posts promoting sales, we would appreciate it.
DO NOT PIN FROM IMAGES ON THIS PAGE (it just won't work right on Pinterest). However, please visit the original post/source and pin from there. That works perfectly!
By linking to the party, you give us permission to share your projects on our blogs and social media. We will always give proper credit with a no-pin image.
Always look forward to each week's link-ups! Hope to see everyone (and more) this week!