Tuesday Turn About #56 ORC Reveals
Welcome to the link party. Tuesday Turn About #56 is sharing ORC Reveals!
TUESDAY TURN ABOUT #56 ORC Reveals
Happy Tuesday, everyone!
I trust you had a blessed Independence Day and are looking forward to enjoying the rest of the summer with new and perhaps unique ways to relax and enjoy!
In just nine short days, I'll be headed out of town to 'retreat myself' for the Heart of Haven Conference! This is the virtual version (say that 5 times real fast) of the annual Haven Conference.
The conference will definitely be an adventure, and I'm looking forward to facilitating a mentor group of bloggers and Instagram personalities that are looking to enhance and grow their social media businesses!
Let me know in the comments if you are attending (and who your mentor is)!
The One Room Challenge
This week, some One Room Challenge participants shared the reveal of their room makeovers! I'm thrilled to be sharing a few with you this week (and maybe next week, too!) The features kinda fit in perfectly with my bathroom makeover designs I revealed yesterday on the blog.
But, first…
Weekly Blogging Tip
Blogging often involves LOTS of images on any given post! Be sure your images are:
resized appropriately for importing to your post (I.e., mine are all sized with a width of 675 pixels, but many adjust the smallest side of the image to 1020 pixels), and
compressed after you import them to your post. There are plenty of free plug-ins to do this. At least, they start out as free… but the cost is minimal for the space it saves on your blog, therefore making your site faster. FYI, I use Short Pixel, and I've been happy with it for over 2 years now.
Let me know how you process your photos on your site, and share what compression plug-in you use!
Weekly Household Tip
This week, I'll only be sharing a blogging tip, as I'm working into the wee hours of the night to get this post done.
We had a small family crisis today, and I was pulled away from the computer, so thank you for understanding. I'll be back next week with my regular weekly household tip feature. (And, please don't worry, all is well.)
So now, let's partayyyy!
Though not a requirement at all, we would love it if you would subscribe and/or follow your hostesses on one or more of our social medias:
Goings-On With Your Hostesses
My Wee Abode
Creating a Modern Coastal Bathroom in a Rental Home
Thistle Key Lane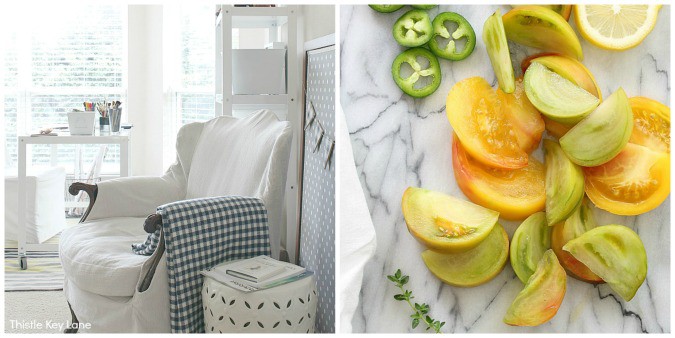 Heron Watercolors And A Look At My Studio | Small Batch Spicy Sweet Refrigerator Pickled Veggie Recipe
Bluesky At Home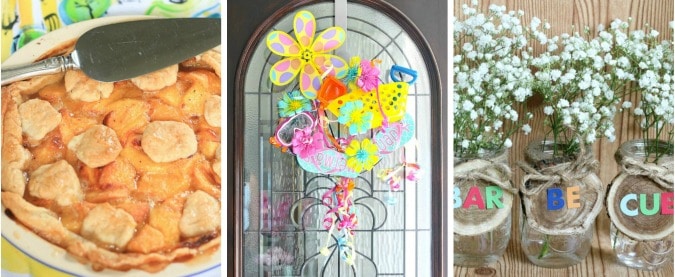 Best Summer Peach Cobbler | DIY Summer Wreath| Barbecue DIY Party Decoration
This Week's Features:
Cozy Modern Scandi Master
Ashley from Cherished Bliss was one of my features at the beginning of the ORC, and when she linked up her finished Scandinavian style master bedroom, I couldn't resist featuring her again! Love the limited color palette and minimal decor! What do you think?
Tween Galaxy Bedroom
This starry teen bedroom in purples, pinks, and blues would make most any young lady's eyes sparkle! Kathryn from The Dedicated House recreated her daughter's "little girl" bedroom with a more mature twist for her teen spirit in their new home!
Guest Room at the Lake
Who wouldn't want to sleep in this cozy guest bedroom at a lake house? Kristin from White Arrows Home did a lovely job on creating a guest bedroom that is true to her rustic cabin style! That headboard, though!
Now It's Your Turn
Let's start sharing! Because this is a party, we encourage all who link up to visit several other bloggers who have linked as well – comments and pins are a great way to spread the love!
Before you get started, take a look at our guidelines:
This party is for home decor and home-related posts only (recipes, organizing, DIY, crafts, etc.). Link up to 3 related posts. Please do not link up informational posts that do not relate to the topic.
If you would please not link up shops, advertising, round-ups, other link parties, or any posts promoting sales, we would appreciate it.
DO NOT PIN FROM IMAGES ON THIS PAGE (it just won't work right on Pinterest). However, please visit the original post/source and pin from there. That works perfectly!
Please make sure that your images are in a jpeg or png format. If we can't save your image, we may not be able to feature you. So sad!
By linking to the party, you give us permission to share your projects on our blogs and social media. We will always give proper credit with a no-pin image.
Hope you all have a wonderful week! Be sure to link-up your ORC reveals, as well as all your other lovely posts! And be sure to visit all the amazing inspiration shared here each week, and let me know what you use in your home!