Tuesday Turn About #55 Summer Treasures
This week at the link party, we have Tuesday Turn About Summer Treasures!
TUESDAY TURN ABOUT #55 Summer Treasures
How is your week starting off, friends? We are SO glad you are here with us.
Today's party 'intro' will be brief, as I'm EXHAUSTED! I started a project this weekend that is about 3/4 finished, but it's a lot of work!
Of course, I'll be sharing the project soon! Wanna a hint? It's my first room makeover!
This week, I'm sharing a bit of this 'n' that, and calling it my "summer treasures", even though ALL our party-goers are treasures! And speaking of ALL…
Before we go any further with the party, let's take a look at this week's blogging and household tips!
Weekly Blogging Tip
Last week, we talked about adding 'no-follow' to your affiliate links. But, I was assuming that you are USING affiliate links!
IF you haven't yet started to use affiliate income, the easiest online company to partner with is Amazon Associates. It's easy to apply (takes like 10 minutes), easy to qualify (if you are having a hard time qualifying, leave me a comment and let's talk), and easy to use!
Seriously… give it a try… you have nothing to lose and LOTS to gain!
Weekly Household Tip
This week, I'm sharing more of a DIY tip than a household tip.
When taking on a big paint project, you can keep your paintbrush or roller moist by wrapping it in cellophane. Some people even suggest putting the brush in the fridge, but I haven't found that any more helpful than leaving it out on the counter.
Watch for part 2 of this tip next week!
(BTW, I blown away last week by how many of you make your bed each day! I was encouraged, and actually made my bed more than half the time this week! Baby steps!)
Now, time to partayyyyy!
Though not a requirement at all, we would love it if you would subscribe and/or follow your hostesses on one or more of our social medias:
Goings-On With Your Hostesses
My Wee Abode
DIY Patriotic Flags from Fabric Scraps | Summer Watercolor Printables
Thistle Key Lane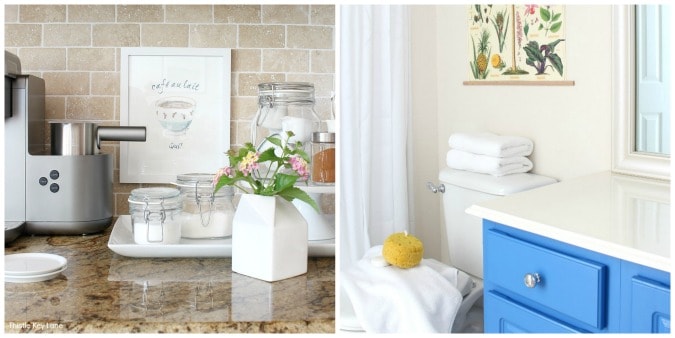 Organizing A Coffee Station And A Free Printable | Ideas For Updating A Plain Bathroom
Bluesky At Home
4th of July Outdoor Decor | 4th of July DIY Decorations | How to Style a Bar Cart
This Week's Features:
Cutest Coasters
Okay, these coasters that Marie from Interior Frugalista is sharing are some of the cutest things I've seen in a while!
Her twist on these is for Canada Day, but you could do these for your home state, July 4th, sports, dance… and so much more! And someone is sure to treasure these as a gift!
Adorable Pallet Coasters from Interior Frugalista
Summer Tour Treasure
Linda is not so sure about those pillows with the pop of lavender, but I sure love the accent it adds to her yellow and gray summer decor!
And Linda is sharing a couple tutorials you might treaure, too!
Summer Home Tour in Yellow and Gray from It All Started with Paint
Summer Fruit Freeze
Want something fresh and cool to top off your summer dinner? Well, this four ingredient peach sorbet may just do the trick.
Beverly from the Eclectic Red Barn is sharing her little recipe treasure with us!
Yummy and Refreshing Peach Sorbet from Eclectic Red Barn
Check out our Tuesday Turn About Link Party Pinterest board! All NINE featured posts are pinned to this board each week!
Now It's Your Turn
Let's start sharing! Because this is a party, we encourage all who link up to visit several other bloggers who have linked as well – comments and pins are a great way to spread the love!
Before you get started, take a look at our guidelines:
This party is for home decor and home-related posts only (recipes, organizing, DIY, crafts, etc.). Link up to 3 related posts. Please do not link up informational posts that do not relate to the topic.
If you would please not link up shops, advertising, round-ups, other link parties, or any posts promoting sales, we would appreciate it.
DO NOT PIN FROM IMAGES ON THIS PAGE (it just won't work right on Pinterest). However, please visit the original post/source and pin from there. That works perfectly!
Please make sure that your images are in a jpeg or png format. If we can't save your image, we may not be able to feature you. So sad!
By linking to the party, you give us permission to share your projects on our blogs and social media. We will always give proper credit with a no-pin image.
I hope you all have a blessed July 4th and/or Canada Day! We have so much to be thankful for in this country and world… and my prayer is that it will thrive on the values is was founded on!