Tuesday Turn About #52 Paper Pleasantries
The party has started! Tuesday Turn About #52 is live and I have some 'paper pleasantries' for you to enjoy!
TUESDAY TURN ABOUT #52 Paper Pleasantries
If you missed last week's party, be sure to checkout TTA #51!
This week has been crazy, in more ways than one, don't you agree?!
During these times of unrest and change, I'm so thankful that the Lord is always faithful and never changes!
What are you up to this week? We had a blessed time at my son's house this past weekend, and now we have a family graduation this weekend! Whew!
Let's just get right to the party, shall we? This week all the paper projects caught my eye! I wish I could have featured ALL of them!
But first, let's get some tips!
Weekly Blogging Tip
When you are using ANY affiliate links in a post, be sure to include a disclosure statement prior to adding any links. This will follow affiliate guidelines AND make Google happy, too!
You can see my disclosure statement in any of my DIY/craft posts, like my Easy Magnolia Market Pocket Makeover.
Weekly Household Tip
Do you dread going down the spice aisle because those pretty little bottles of yummy-ness are just so darn expensive?
Well, next time you need some ground nutmeg, cinnamon sticks, cumin or whatever your pantry might be missing, take a stroll down the international food aisle! In the Mexican food area, you will find a section with spices in little cellophane bags! They are just as good as the spices in the pretty jars, and you'll be shocked by the price!
Let me know if you already use this little money-saving tip!
Okay… let's take a look at some pretty paper projects!
Though not a requirement at all, we would love it if you would subscribe and/or follow your hostesses on one or more of our social medias:
Goings-On With Your Hostesses
My Wee Abode
Welcome Home Sunday Guest Hostess | Patriotic Patio Decor
Thistle Key Lane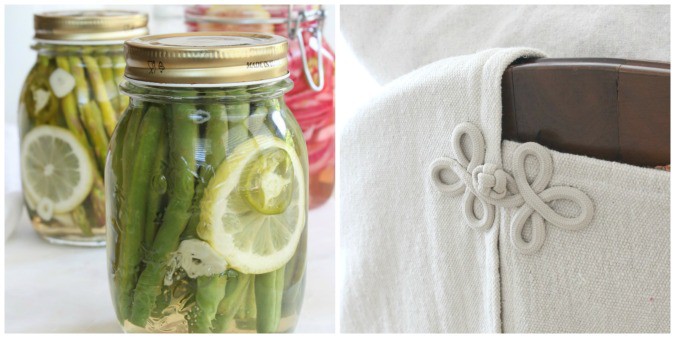 Sweet Spicy Refrigerator Pickled Green Bean Recipe | DIY Slipcovers and Why I Love Making Them
Bluesky At Home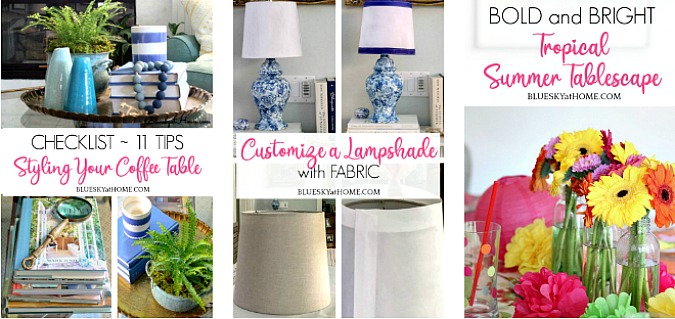 Tips for Styling Your Coffee Table | How to Customize a Lampshade with Fabric | Tropical Summer Tablescape
This Week's Features:
Perfect Poppies
Paper Seedlings is sharing a beautiful watercolor-look greeting card with lovely poppies as the feature. I think the white accent paper looks like leather. What do you think?
Decoupage Lanterns
This lovely lantern is actually made from paper and pressed flowers! Gorgeous, right?! Check-out how Jayne from Chalking Up Success makes these lovely hanging lights! Perfect for cool summer evenings on the patio!
More Ferns and Paper
Don't you just love the look of ferns in the summertime? Whether it's in a planter, on a lantern (wink), or on a pretty card! Terri from Nuts About Stamping is sharing this lovely greeting card that you can create and send as encouragement to a loved one!
Check out our Tuesday Turn About Link Party Pinterest board! All NINE featured posts are pinned to this board each week!
Now It's Your Turn! Link Away!
Let's start sharing! Because this is a party, we encourage all who link up to visit several other bloggers who have linked as well – comments and pins are a great way to spread the love!
Before you get started, take a look at our guidelines:
This party is for home decor and home-related posts only (recipes, organizing, DIY, crafts, etc.). Link up to 3 related posts. Please do not link up informational posts that do not relate to the topic.
If you would please not link up shops, advertising, round-ups, other link parties, or any posts promoting sales, we would appreciate it.
DO NOT PIN FROM IMAGES ON THIS PAGE (it just won't work right on Pinterest). However, please visit the original post/source and pin from there. That works perfectly!
Please make sure that your images are in a jpeg or png format. If we can't save your image, we may not be able to feature you. So sad!
By linking to the party, you give us permission to share your projects on our blogs and social media. We will always give proper credit with a no-pin image.
Have you started sharing patriotic posts? I would love to see even more this week! (wink-wink)