Tuesday Turn About #103 Summer Fun DIYs
This week, we have some great projects at Tuesday Turn About #103 Summer Fun DIYs.
TUESDAY TURN ABOUT #103 SUMMER FUN DIYS
Welcome to the party! I hope you all are doing well!
As I'm writing this post (Monday night), I'm also preparing in my mind for tomorrow's (today's) 'surprise' surgery appointment with my mom. She is having some complications with healing from the last surgery, so there may be an emergency surgery tomorrow. Prayers are appreciated, as there are many layers to this situation. Thank you so much!
This past week, so many projects caught my eye, so I decided to share a few summer DIYs that you might enjoy putting together, too!
There are three posts being shared here at MWA, but remember…
Now, let's take a look at our weekly tips, shall we?
Weekly Household Tip
Do you love watermelon? It's in my top-three fave fruits! And watermelon season is upon us!
Before you cut your watermelon, be sure to wash the outside rind with soap and water and make sure to rinse thoroughly. This will remove any dirt and/or bacteria from the rind before you prepare it.
Weekly Blog Tip
We've talked about getting a secured site certificate before. However, I just read this little 'nugget' in a Facebook Group from a seasoned and very successful blogger:
Do you have a secured site? If not, it's a MUST! I have been to two huge sites this week (that aren't secured) and now that Google has rolled out site warnings, it's more imperative than ever so that people reach your site. If you're not sure, log out and then Google your site in a private or incognito window.
This is just another reason why Tuesday Turn About only features those sites that are secured. We all want to keep our sites safe… for ourselves and, foremost, for our readers!
If you don't know how to secure your site, contact your site provider (I.e., Siteground, Bluehost, BigScoots, etc.)
Now, let's party!
Though not a requirement at all, we would love it if you would subscribe and/or follow your hostesses on one or more of our social medias:
Goings-On With Your Hostesses
My Wee Abode
35+ Best Neutral Shower Curtains plus Designer Tips | How to Tone-Down Red, White, and Blue Decor
Thistle Key Lane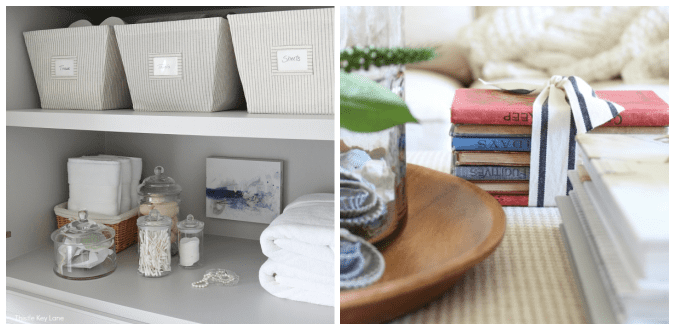 Organizing A Master Bathroom Linen Closet | Easy Ways To Decorate With Red White & Blue
Bluesky At Home

Cucumber Tomatillo Gazpacho | DIY 4th of July Decorations under $10 | 4th of July Tablescape
This Week's Features:
Summer Beach Day Scene
This sweet little beach scene from My Home of All Seasons is just adorable. It reminds me of days-gone-by, and I love how Denise uses lanterns in unique and unexpected ways!
Rocket Fire Starters
Marie from Interior Frugalista is sharing how to make these cute little rocket fire starters. Don't you just love the different prints that color-coordinate? And they smell SO good when you use them in a summer bonfire!
Patriotic Pizza Pan?
Can you believe this started as a Dollar Store pizza pan? Take a look at how you can DIY this patriotic wall hanging created by Lynne at My Family Thyme!
Check out our Tuesday Turn About Link Party Pinterest board! All NINE featured posts are pinned to this board each week!
Now It's Your Turn! Link Away!
Let's start sharing! Because this is a party, we encourage all who link up to visit several other bloggers who have linked as well – comments and pins are a great way to spread the love!
Before you get started, take a look at our guidelines:
This party is for home decor and home-related posts only (recipes, organizing, DIY, crafts, etc.). Link up to 3 related posts. Please do not link up informational posts that do not relate to the topic.
If you would please not link up shops, advertising, round-ups, other link parties, or any posts promoting sales, we would appreciate it.
DO NOT PIN FROM IMAGES ON THIS PAGE (it just won't work right on Pinterest). However, please visit the original post/source and pin from there. That works perfectly!
Please make sure that your images are in a jpeg or png format. If we can't save your image, we may not be able to feature you. So sad!
By linking to the party, you give us permission to share your projects on our blogs and social media. We will always give proper credit with a no-pin image.
I'm looking forward to seeing all the links this next week… I might just be perusing them while I'm helping my mom in the hospital! I'll keep you posted!