Tuesday Turn About #51 Summer Tables
Summer is almost here and this week we have Tuesday Turn About #51 Summer Tables inspiration!
Summer is a comin' and I have some lovely tablescape inspiration for you today!
TUESDAY TURN ABOUT #51 Summer Tables
But first, how are y'all doing in your neck of the woods? The unprecedented times in this world are quite amazing! I even went home from the office early today, in order to avoid a protest going on at an intersection I needed to go through. I was able to get home without any issues, thank the Lord.
Well, let's try to get our mind off the troubles in this world for a bit and enjoy some lovely work from lovely bloggers!
Weekly Blogging Tip
Today's blogging tip is short and sweet!
For the reader's sake, limit your pop-up windows to one or two… at the most! Nothing is more irritating than dealing with ads AND several pop-up windows. When that happens to me, I pop right off the site with the second window. How 'bout you?
Weekly Household Tip
This week's household tip is a simple one, as well. Edit your drinking glasses.
If you have a mish-mosh of drinking glasses, toss them and only keep the ones that are matching, or invest in a new set all together. They don't have to be expensive, but be sure you really like them! You'll find you have more room in your cupboards and you'll also feel a new sense of organization.
If you have grandchildren, like me, purchase a nice set of tumblers that have snap-on sippy cup lids. One matching set makes all the difference!
So, shall we get inspired with some glasses on tables? (How'd ya like that segue?)
Though not a requirement at all, we would love it if you would subscribe and/or follow your hostesses on one or more of our social medias:
Goings-On With Your Hostesses
My Wee Abode
Easy Magnolia Market Makeover | Patriotic Patio Ideas for a Tiny Home
Bluesky At Home

5 Decorating Books You Should Read | How to Make a Chinoiserie Style Lamp | DIY Woven Basket Project
Thistle Key Lane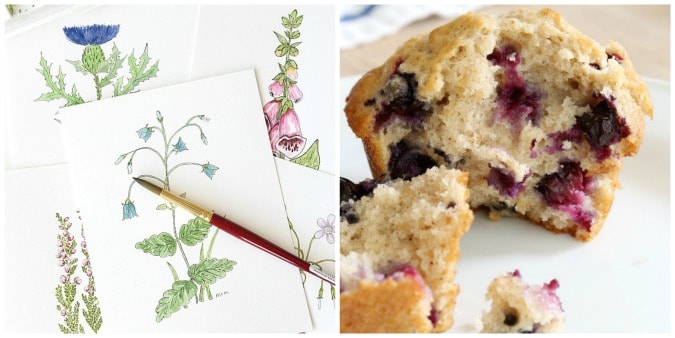 Simple Watercolor Botanicals | Basic Blueberry Muffin Recipe With Gluten Free Option
This Week's Features:
Take Me Out To the Ball Game!
Have you ever thought of setting a table with old baseballs? Me neither! But, I'm sure glad Shelley at Calypso in the Country knows how to set a vintage look baseball game tablescape. This is my kind of game!
Starry, Starry…. Day?
One of my fave items to decorate with during the summer is a starfish, or ten! And I think Beth from Whispers of the Heart agrees! This week, Beth shares her pretty blue and white starfish tablescape. Be sure to check out each plate she uses… they are all SO pretty!
Vibrant Summer Colors
Karin's Cottage is sharing fresh and bright tablescape with ALL kinds of summer colors from Izy and Oly! Don't believe me? Hop on over and check it out!
Now It's Your Turn! Link Away!
Let's start sharing! Because this is a party, we encourage all who link up to visit several other bloggers who have linked as well – comments and pins are a great way to spread the love!
Before you get started, take a look at our guidelines:
This party is for home decor and home-related posts only (recipes, organizing, DIY, crafts, etc.). Link up to 3 related posts. Please do not link up informational posts that do not relate to the topic.
If you would please not link up shops, advertising, round-ups, other link parties, or any posts promoting sales, we would appreciate it.
DO NOT PIN FROM IMAGES ON THIS PAGE (it just won't work right on Pinterest). However, please visit the original post/source and pin from there. That works perfectly!
Please make sure that your images are in a jpeg or png format. If we can't save your image, we may not be able to feature you. So sad!
By linking to the party, you give us permission to share your projects on our blogs and social media. We will always give proper credit with a no-pin image.
Now, show us what you got for this week! We love seeing your summer and patriotic decor, crafts, and DIY projects… and of course, don't forget the yummy recipes! *wink*