Tuesday Turn About #167 Fall Ideas
This week, it's Tuesday Turn About #167 Fall Ideas. It's all about easing into the season!
TUESDAY TURN ABOUT #167 FALL IDEAS
Fall is actually right around the corner, and we are experiencing our first heat-wave of the summer. LOL!
But that isn't discouraging me from starting all the fall plans! How 'bout you?
This week, I have three features… each are sharing LOTS of fall ideas! I learned something new from each post!
And remember…
Be sure to hop on over to My Family Thyme and Reinvented Delaware to check out SIX additional features from TTA!
If you haven't been featured at MWA this week, you just may be featured there!
But first, some tips…
Weekly Household Tip
I'm sure you are familiar with child-proof lids on medicine bottles. Have you ever noticed that some of the lids have threads on the top? Well, if you don't have children in the home, this lid can be turned over and used as a normal, easy-to-remove lid. 🙂
Weekly Blogging Tip
At the beginning of summer, I mentioned that I was going to do a newsletter series on 'oldy-but-goody' posts.
The results? I had some really good traffic this summer coming from my newsletters! My open-rate ranged from 40-49% and click through rate averaged 10%. That's considered a win-win in the blogging world!
Have you tried upping your game with your blog newsletters?
My Wee Abode
Gorgeous 15-Minute Fall Wreath // Celebrate with Free Fall Printables
My Family Thyme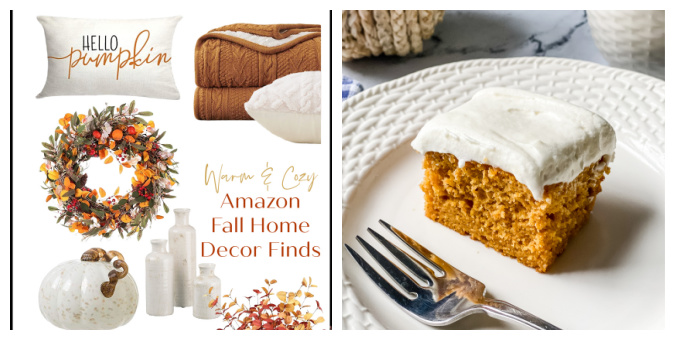 Warm and Cozy Amazon Fall Decor Finds // How to Make Perfect Pumpkin Bars
Reinvented Delaware
Painted Oak Furniture // Antique Church Pew
Check out our Tuesday Turn About Link Party Pinterest board! All NINE featured posts are pinned to this board each week!
Let's start sharing! Because this is a party, we encourage all who link up to visit several other bloggers who have linked as well – comments and pins are a great way to spread the love!
Before you get started, take a look at our guidelines:
This party is for home decor and home-related posts only (recipes, organizing, DIY, crafts, etc.). Link up to 3 related posts. Please do not link up informational posts that do not relate to the topic.
If you would please not link up shops, advertising, round-ups, other link parties, or any posts promoting sales, we would appreciate it.
DO NOT PIN FROM IMAGES ON THIS PAGE (it just won't work right on Pinterest). However, please visit the original post/source and pin from there. That works perfectly!
Please make sure that your images are in a jpeg or png format. If we can't save your image, we may not be able to feature you. So sad!
By linking to the party, you give us permission to share your projects on our blogs and social media. We will always give proper credit with a no-pin image.
Next week, I'll be looking at fall recipes to feature! Love me some pumpkins, apples, and spice!