Tuesday Turn About #128 Chocolatey Reindeer
The party has started with Tuesday Turn About #128 Chocolatey Reindeer. We have LOTS of Christmas fun, and an update on 'life' at My Wee Abode.
TUESDAY TURN ABOUT #128 CHOCOLATEY REINDEER
Well, this week has been quite crazy, which is par for the course around My Wee Abode these days.
After last week's party post and 'life' update, my mom took a turn for the worse that very day and ended up in the hospital with us fearing that a ventilator was inevitable.
Praise be to our God that she did NOT need to be vented, had a relatively brief stay, and was released in my care this past Saturday.
I have been with her, in her assisted living apartment in isolation, taking care of her along with my sister who is on the 'outside' running errands and delivering needs to our door. Mom is on oxygen, 24/7, but is doing quite well. We see the PT tomorrow who will be assessing the upcoming week.
Please Pray…
Prayers are coveted that all will be well enough by Friday, as my daughter, Nika, has her scheduled C-section, and I really need to be available for her. Good thing is, Mom (who has dementia) is not touching her oxygen cannula (nose piece) and is being really cooperative. We just need her to remember to call for a caretaker to help her to the potty (TMI?)! (And, that they will arrive in time so they don't have a mess to clean up!) (Definitely TMI!) 😉
So, with all that said, this will be another brief party for me (just like last week). Thank you all for understanding! And…
This week… I'm having fun with chocolate and reindeer! Take a look!
Though not a requirement at all, we would love it if you would subscribe and/or follow your hostesses on one or more of our social medias:
Goings-On With Your Hostesses
My Wee Abode
Big Ideas for Decorating a Small Tree // Easy DIY Handpainted Magnets //
Love Your Dark Kitchen Cabinets with Winter Decor
Thistle Key Lane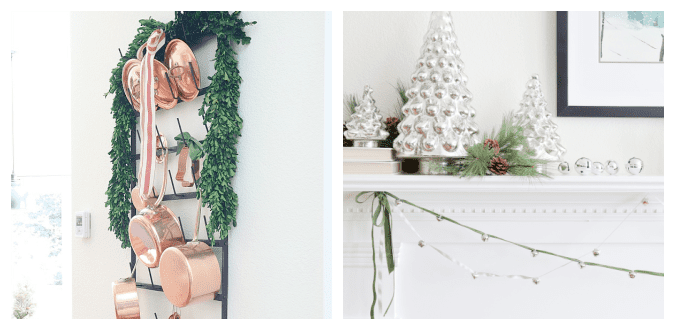 Christmas In The Kitchen & Family Room | Christmas Mantel With Jingle Bell Garlands
Bluesky At Home

9 Ways to Use Garland in Your Christmas Home | The Yummiest Apple Cider Martini
10 Fabulous Finds #16
This Week's Features:
Check out our Tuesday Turn About Link Party Pinterest board! All NINE featured posts are pinned to this board each week!
Now It's Your Turn! Link Away!
Before you get started, take a look at our guidelines:
This party is for home decor and home-related posts only (recipes, organizing, DIY, crafts, etc.). Link up to 3 related posts. Please do not link up informational posts that do not relate to the topic.
If you would please not link up shops, advertising, round-ups, other link parties, or any posts promoting sales, we would appreciate it.
DO NOT PIN FROM IMAGES ON THIS PAGE (it just won't work right on Pinterest). However, please visit the original post/source and pin from there. That works perfectly!
Please make sure that your images are in a jpeg or png format. If we can't save your image, we may not be able to feature you. So sad!
By linking to the party, you give us permission to share your projects on our blogs and social media. We will always give proper credit with a no-pin image.
I'm hoping to 'get back to normal' next week, but these days, I'm just learning to rest in the Lord and see what He has for me! However, keep the posts coming… I'm enjoying visiting them… AND sharing them with my mom! 😉