Tuesday Turn About #91 Simple Spring DIYs
The season is about to change, and this week we have Tuesday Turn About #91 Simple Spring DIYs.
Just a quick update… the saga continues with my aging mom. My sister and I have been playing tag-team dealing with issues going on at her current assisted living home.
We are hoping that we will have her moved to the new place by early next week! We are looking forward to many improvements with her living space, let alone the care and amenities. Please be praying that she will adjust well, and that her strength will grow as she heals from the infection and surgery. THANK YOU!
TUESDAY TURN ABOUT #91 Simple Spring DIYs
Now, let's start the party! This week, I have a few simple spring DIYs that might be right up your alley (they are deifinitely up my alley)! And remember…
How 'bout some quick tips, first?
Weekly Household Tip
I may have shared this tip before, but it bears repeating.
If you are a pillow cover collector (like me), one of the best tips I found is having a pillow cover 'file'. Simply fold your pillow covers in a way that they will 'stand-up' in a drawer, and file them by color or season or whatever your heart's desire! This system makes covers easy to find and it makes for a great space-saver!
Weekly Blogging Tip
Picking up where we left off last week, on the subject of 'return on investment'. Where do YOU make your income from? Or, where do you WANT your income to come from? Is it Instagram… Facebook… or your blog?
For me, it's my blog, which is good because I own it.
Next question… where does most of your blog traffic come from? Instagram? Facebook? Pinterest? Depending on where your traffic comes from, you may want to invest more time on that venue (or those venues). For me, Pinterest and organic are my two biggest traffic 'drivers'. So, it's best for me to put more energy and time into SEO (for organic traffic) and Pinterest. Share your thoughts on this in the comments!
Though not a requirement at all, we would love it if you would subscribe and/or follow your hostesses on one or more of our social medias:
Goings-On With Your Hostesses
My Wee Abode
Spring Decor Ideas with Velvet Easter Eggs | Spring Centerpiece with Velvet Easter Eggs
Thistle Key Lane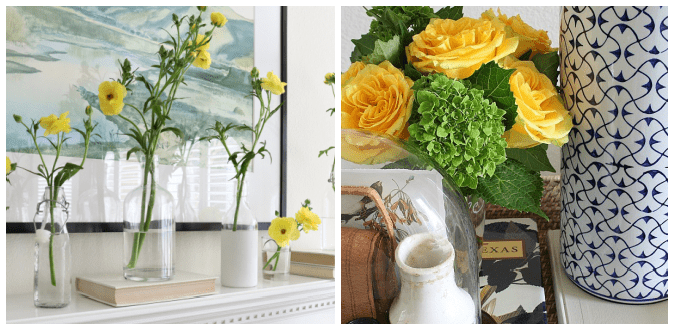 Spring Mantel With Flowers & Bottle Vases | How To Style An End Table
Bluesky At Home

Two Ways to Decorate a Cutting Board | Styling a Spring Entry in Blue and White |
5 Favorite and Fabulous Spring and Easter Tablescapes
This Week's Features:
Gorgeous "Marble" Cake Stand
Want to create this lovely 'marble' cake stand in just a few minutes? My friend Danielle from Faith and Farmhouse shows us how easy AND affordable her DIY cake stand is to make!
Cozy Spring DIY
Christine from DIY Dreamer is sharing this cozy fleece tie blanket! Hop on over and get the detailed tutorial and create the perfect blanket for the coming spring season. You may even want to make one for a bridal shower or wedding gift!
Unique Spring Wall Art
True, this DIY isn't QUITE as simple as the first two features. However, Gail from Purple Hues and Me shares her tutorial that makes this lovely spring dogwood wall-art easy peasy to recreate! Isn't is pretty?! Bet you can't guess what it's made of!
Check out our Tuesday Turn About Link Party Pinterest board! All NINE featured posts are pinned to this board each week!
Now It's Your Turn! Link Away!
Let's start sharing! Because this is a party, we encourage all who link up to visit several other bloggers who have linked as well – comments and pins are a great way to spread the love!
Before you get started, take a look at our guidelines:
This party is for home decor and home-related posts only (recipes, organizing, DIY, crafts, etc.). Link up to 3 related posts. Please do not link up informational posts that do not relate to the topic.
If you would please not link up shops, advertising, round-ups, other link parties, or any posts promoting sales, we would appreciate it.
DO NOT PIN FROM IMAGES ON THIS PAGE (it just won't work right on Pinterest). However, please visit the original post/source and pin from there. That works perfectly!
Please make sure that your images are in a jpeg or png format. If we can't save your image, we may not be able to feature you. So sad!
By linking to the party, you give us permission to share your projects on our blogs and social media. We will always give proper credit with a no-pin image.
I hope you take some time to peruse the lovely links below, and be sure to link-up your Easter, spring, and any homekeeping posts you like!