Tuesday Turn About #227 Christmas Beginnings
Tuesday Turn About #227 Christmas Beginnings: Christmas decorating has started at My Wee Abode so I figured it's about time to have Christmas begin at the party!
TUESDAY TURN ABOUT #227 CHRISTMAS BEGINNINGS
It's party time!
And My Wee Abode is starting up Christmas features!
This week, we have a countdown DIY, a printable gift list, gift guides, and more… all to start the Christmas season.
Ready or not, it's here at My Wee Abode!
And remember…
Be sure to hop on over to My Family Thyme to check out FIVE additional features from TTA!
If you haven't been featured at MWA this week, you just may be featured there!
Abode Adventures
Decorating has begun here at MWA, and you can get a sneak peek at my Christmas color palette on my Instagram account!
There are some DIYs already started, and a Christmas Centerpiece Blog Hop coming up on November 13 and 14! You won't want to miss the fun (or the tips), so be on the lookout notification in your inbox!
Weekly Household Tip
With baking season upon us, now is the time to update and organize your spices.
Checkout this post to learn how to organize spices in a small space!
And be sure to check-out Lynne's household tip, as well! She has more info on spice organization!
Weekly Blogging Tip
Is the holiday season already overwhelming you?
How 'bout taking a breather, and simply update an older post for the holiday season? Reassess the SEO and keywords and publish with the current date. Just remember, don't change your permalink/URL… that's a big no-no.
My Wee Abode
FREE 2024 Watercolor Calendar // Easy DIY Coastal Christmas Ornaments
My Family Thyme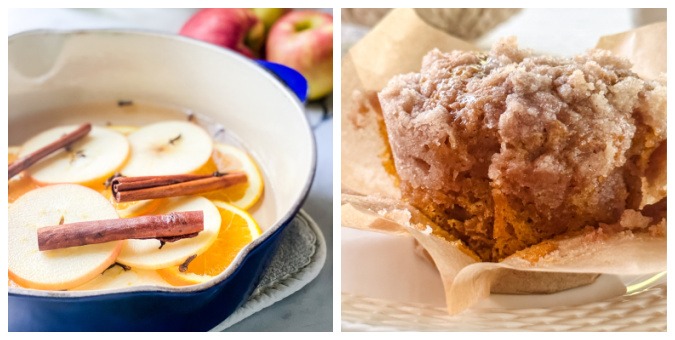 How to Make a Simple Fall Simmer Pot // Easy Pumpkin Muffins with Crumb Topping
Check out our Tuesday Turn About Link Party Pinterest board! All NINE featured posts are pinned to this board each week!
Let's start sharing! Because this is a party, we encourage all who link up to visit several other bloggers who have linked as well – comments and pins are a great way to spread the love!
Before you get started, take a look at our guidelines:
This party is for home decor and home-related posts only (recipes, organizing, DIY, crafts, etc.). Link up to 3 related posts. Please do not link up informational posts that do not relate to the topic.
If you would please not link up shops, advertising, round-ups, other link parties, or any posts promoting sales, we would appreciate it.
DO NOT PIN FROM IMAGES ON THIS PAGE (it just won't work right on Pinterest). However, please visit the original post/source and pin from there. That works perfectly!
Please make sure that your images are in a jpeg or png format. If we can't save your image, we may not be able to feature you. So sad!
By linking to the party, you give us permission to share your projects on our blogs and social media, with the use of ONE photo from your blog for that may be included in a pinnable collage. We will always give proper credit with a no-pin image.
It's so fun to see all the Christmas posts popping up at the party! Keep 'em coming! Feel free to share new and evergreen (old) posts!