Tuesday Turn About #226 Thanksgiving Savory Delights
Tuesday Turn About #226 Thanksgiving Savory Delights: We are partying today with some delicious and savory recipes that you can use for Thanksgiving!
TUESDAY TURN ABOUT #226 THANKSGIVING SAVORY DELIGHTS
Welcome to the party!
And Happy Reformation Day! (AKA, Halloween)
This week, I'm sharing some savory recipes that you might want to use for your Thanksgiving feast, or maybe prepare the night before for an easy breakfast on the day of thanks!
And don't forget…
Be sure to hop on over to My Family Thyme to check out FIVE additional features from TTA!
If you haven't been featured at MWA this week, you just may be featured there!
Abode Adventures
Life has been super busy here at MWA with my mom still healing from shingles. I'm FINALLY starting to feel more 'normal', and I'm hoping to get some new content out this season. So far, there will be three Christmas tours coming up at MWA!
Be on the lookout this week for the annual FREE printable 2024 calendar. It's a fave with the My Wee Abode 'family'!
Weekly Household Tip
Here's a tip from my cohost, Lynne:
Did you ever pause to think about how you clean your home? To be more efficient, you may want to consider cleaning from the top down. Start at the top by wiping down upper cabinets, walls, woodwork, dusting and wiping down surfaces/counters, and finishing with the floor. Using this method saves time as dust and dirt fall on lower surfaces that will be cleaned last.
Weekly Blogging Tip
Do you need help writing catchy blog titles that also get great search results?
The Coschedule Headliner Analyzer may just be the blogging tool you need! This tool helps you to turn a simple, and perhaps blasé, post title into something magnetizing to your readers and Google, too.
Try it for free (they have a free version that is NOT a trial). Poke around and see what it has to offer and let me know what you think.
Now, let's party!
My Wee Abode
Tiny House Inspo Ideas for Christmas // How to Make a Frosty Christmas Velvet
My Family Thyme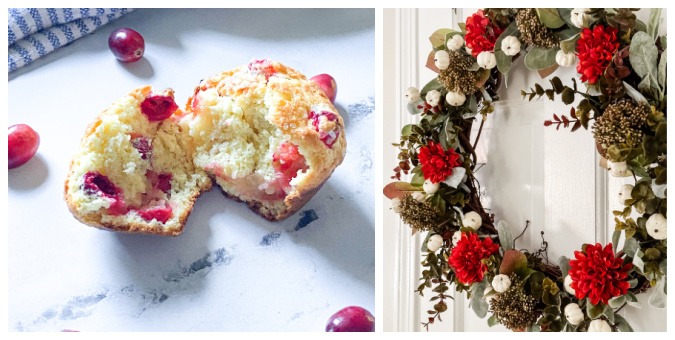 Cranberry Orange Muffins | Make a Simple Fall Wreath
Buttermilk Brined Turkey Breast
If you are thinking about having a small get-together for Thanksgiving, you might want to try this recipe for buttermilk brined turkey breast from Amy at The Copper Table. Learn the how-to and why-to on the post!
Oven Roasted Sprouts with a Twist
Esme Salon has yummy side dish recipe waiting for you! With garlic and parmesan, this roasted brussel sprouts recipe is a gamechanger for your Thanksgiving feast!
Loaded Mashed Potatoes
Whether you have this for a quick dinner the week before Thanksgiving, or use it as a side dish, these loaded mashed potatoes are a great option. Find the recipe from Jennifer at Juggling Midlife.
Crockpot Breakfast Casserole
Want a Thanksgiving breakfast you can start the night before? Check out this recipe for a crockpot breakfast casserole from Kristy at Mommy Hates Cooking. Super easy and super yummy!
Pumpkin Ravioli with Sage Brown Butter
Carol from Bluesky at Home has a plethora of recipes on her blog. This pumpkin ravioli with sage brown butter caught my eye! This could be a perfect appetizer or snack for your Thanksgiving Day.
Check out our Tuesday Turn About Link Party Pinterest board! All NINE featured posts are pinned to this board each week!
Let's start sharing! Because this is a party, we encourage all who link up to visit several other bloggers who have linked as well – comments and pins are a great way to spread the love!
Before you get started, take a look at our guidelines:
This party is for home decor and home-related posts only (recipes, organizing, DIY, crafts, etc.). Link up to 3 related posts. Please do not link up informational posts that do not relate to the topic.
If you would please not link up shops, advertising, round-ups, other link parties, or any posts promoting sales, we would appreciate it.
DO NOT PIN FROM IMAGES ON THIS PAGE (it just won't work right on Pinterest). However, please visit the original post/source and pin from there. That works perfectly!
Please make sure that your images are in a jpeg or png format. If we can't save your image, we may not be able to feature you. So sad!
By linking to the party, you give us permission to share your projects on our blogs and social media, with the use of ONE photo from your blog for that may be included in a pinnable collage. We will always give proper credit with a no-pin image.
All these recipes are making me hungry! Looking forward to seeing Christmas posts! Feel free to do some cross-hollidation, and link-up both Christmas and fall… or even everyday projects!