Tuesday Turn About #78 Christmas Ideas
Today's party is bringing lots of inspiration to you! Thanks for joining us at Tuesday Turn About #78 Christmas Ideas.
TUESDAY TURN ABOUT #78 Christmas Ideas
How has your first week of December been going?
Me?
It's been… interesting, to say the least.
Along with my mom being scheduled for emergency oral surgery, and all that goes along with that (think, 'dementia patient dealing with wisdom teeth post-op' is assisted living), California now has a full stay-at-home-order… again… Yep, it's been another week to remember.
And with the surgery happening this Saturday, this coming week will be interesting, too!
Shout-out to my sister who has done SO much to organize, prep, and plan for my mom! You ROCK, Deeds!
So, enough about my week… Let's relax, and take a look at some lovely Christmas ideas that you might want to implement in YOUR home! And remember…
But first, a few tips…
Weekly Household Tip
Do you have a DVD storage dilemma? Are you in a Blue-Ray organizing bind? Well, look no further! Here's a great way to store your digital media disks so no one can see them!
Weekly Blogging Tip
Using Social Media Follow icons has been mentioned here before, I believe. You know, using the icons like you see on my sidebar and at the bottom of my page.
Well, if you don't have them, get them. And then make sure that they open in another tab/window. Again, we always want to be sure to make it easy for our readers to get back to our site by just clicking/tapping on the tab that is already open.
Now, on to the party!
Though not a requirement at all, we would love it if you would subscribe and/or follow your hostesses on one or more of our social medias:
Goings-On With Your Hostesses
My Wee Abode
The Tale of a Frosty Minty Christmas – A Tiny Home Tour
Frosty Minty Christmas Trees Tour
Thistle Key Lane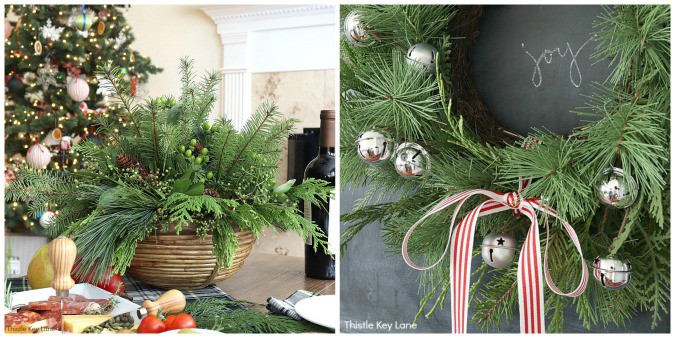 Evergreen Centerpiece And Tablescape | How To Update A Wreath With Greenery
Bluesky At Home
How to Make Christmas Signs | New Christmas Tablescape with Light sand Lanterns| Ideas for Decorating Christmas Trees Blog Hop
This Week's Features:
A Decorated Christmas Table
Beth from Whispers of the Heart just might be the queen of themed tablescapes! Take a look at her recent ornament-filled Christmas tablescape! How does she find so many ornament elements???
Peppermint Stick Surprise
This lovely French farmhouse peppermint stick decor is actually a salvaged piece that Amber from Follow the Yellow Brick House worked her magic on! Take a look to see how she created this special piece of Christmas fun!
Easy Christmas Decor in a Tiny Entryway
Y'all know I'm a sucker for a tiny space. And CoCo from The Crowned Goat always decorates her tiny entryway in an elegant and cozy style! And this year's effortless Christmas decor in her small entryway is no exception and very inspiring!
Check out our Tuesday Turn About Link Party Pinterest board! All NINE featured posts are pinned to this board each week!
Now It's Your Turn! Link Away!
Let's start sharing! Because this is a party, we encourage all who link up to visit several other bloggers who have linked as well – comments and pins are a great way to spread the love!
Before you get started, take a look at our guidelines:
This party is for home decor and home-related posts only (recipes, organizing, DIY, crafts, etc.). Link up to 3 related posts. Please do not link up informational posts that do not relate to the topic.
If you would please not link up shops, advertising, round-ups, other link parties, or any posts promoting sales, we would appreciate it.
DO NOT PIN FROM IMAGES ON THIS PAGE (it just won't work right on Pinterest). However, please visit the original post/source and pin from there. That works perfectly!
Please make sure that your images are in a jpeg or png format. If we can't save your image, we may not be able to feature you. So sad!
By linking to the party, you give us permission to share your projects on our blogs and social media. We will always give proper credit with a no-pin image.
What are you up to this week? More Christmas? Well, bring it on, and be sure to share in the comments, too!