Tuesday Turn About #89 More Spring
We have seasonal projects and DIYs at Tuesday Turn About More Spring!
TUESDAY TURN ABOUT #89 More Spring
We are welcoming March with spring projects and DIYs this week! And there are some lovely features from last week's party here at My Wee Abode AND…
For those wondering, my mom continues to heal, and we are thankful.
It is taking a while for me to get back my energy after the surgery, etc. I'm really hoping to get back into the groove this coming week!
Now, let's party… but, before we look at features, let's take a gander at some tips!
Weekly Household Tip
For a change this week, I'm going to ask YOU for a tip!
Do you all have a solution to keep top sheets tucked in under your mattress? I'm looking for a miracle cure! Leave your best tips/product suggestions for this situation in the comments! PLEASE!!!
Weekly Blogging Tip
If you are using Gutenberg, there may be an issue happening with your external links that you aren't aware of…
Gutenberg seems to auto-attach the 'no referrer' code to all external links, including affiliate links from Amazon Associates and the like. "No referrer" code essentially disables tracking on external links. What this means is you can't see (via Google Analytics) if someone clicked from my link to your blog. And Amazon can't see that someone clicked on a link from your blog (which is a violation of Amazon policies).
Mind you, there may be some differences of opinions as far as affiliate links are concerned, but I really do like to see if I received some pageviews from another blogger, don't you?
For more information, and how to fix this issue in less than 10 minutes, take a look at this article from iMark Interactive.
Now, let's get to the party!
Though not a requirement at all, we would love it if you would subscribe and/or follow your hostesses on one or more of our social medias:
Goings-On With Your Hostesses
My Wee Abode
Spring Door Decor to Make While You Stay Home | DIY Springtime Luminary
Thistle Key Lane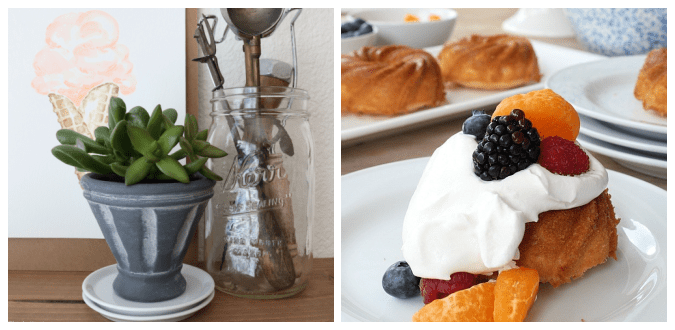 Three Easy Ways To Style Floating Shelves | Mini Pound Cake Recipe
Bluesky At Home
How to Style a Spring Sofa Table| Ways to Add Spring DIY Details
10 Spring Accessory Ideas
This Week's Features:
Leather What???
My friend Jenn from The Everyday Farmhouse is showing us a super cool project! She's using leather and a burning tool to create these lovely popsocket covers. Yep… a stylish classic look for an otherwise funky trend!
Near and Dear…
Isn't this crocheted pillow cover lovely??? Sara from Birdz of a Feather is sharing this lovely boho pillow cover she crocheted, including the pattern that YOU can use to make it! All the proceeds are going to Alzheimer's research, as Sara and her hubby lost both of their mothers in January to this extremely difficult disease.
This is especially near and dear to me, as many of you know my siblings and I are going through the adjustments of a mother dealing with dementia. Please go take a look, and consider purchasing the pattern for yourself or a friend! Thank you!
This Is SO Wonki!
Aren't these dishes lovely? The grayish hues and embossed look of these dishes make me stop and stare… for a good long time! MaryJo at Masterpieces of My Life is sharing her obsession with Wonki Ware and exactly what it's all about! (Have you heard of this dishware? I hadn't, but I want some for sure!)
Check out our Tuesday Turn About Link Party Pinterest board! All NINE featured posts are pinned to this board each week!
Now It's Your Turn! Link Away!
Let's start sharing! Because this is a party, we encourage all who link up to visit several other bloggers who have linked as well – comments and pins are a great way to spread the love!
Before you get started, take a look at our guidelines:
This party is for home decor and home-related posts only (recipes, organizing, DIY, crafts, etc.). Link up to 3 related posts. Please do not link up informational posts that do not relate to the topic.
If you would please not link up shops, advertising, round-ups, other link parties, or any posts promoting sales, we would appreciate it.
DO NOT PIN FROM IMAGES ON THIS PAGE (it just won't work right on Pinterest). However, please visit the original post/source and pin from there. That works perfectly!
Please make sure that your images are in a jpeg or png format. If we can't save your image, we may not be able to feature you. So sad!
By linking to the party, you give us permission to share your projects on our blogs and social media. We will always give proper credit with a no-pin image.
It's so fun seeing all the spring posts! Keep 'em comin'!