Tuesday Turn About #135 Happy Endings
The party is open, and we have some bittersweet news to share at Tuesday Turn About #135 Happy Endings.
TUESDAY TURN ABOUT #135 HAPPY ENDINGS
Happy Tuesday!
Today we have a couple of happy endings!
No, TTA is NOT closing. 🙂
However, two of our lovely hostesses, Carol from BlueSky at Home and Michelle from Thistle Key Lane, are both leaving their 'posts' at Tuesday Turn About.
I call these happy endings because Carol and Michelle are both leaving to add time to their busy schedule to tackle other blog projects. And we are 'parting' on VERY good terms!
We all are looking forward to continuing our blog hops and collabs together, but we WILL miss our weekly chats and sharing together about TTA. 🙂
If you'd like more details regarding their plans, be sure to visit BlueSky at Home's and Thistle Key Lane's last TTA posts!
I will very much miss co-hosting with these two amazing ladies (and blogging buddies), and I have SO enjoyed working with both of them. But, I'm excited for what their future business endeavors will bring for them!
New Beginnings to Come!
Be sure to tune in next week to meet our two NEW Tuesday Turn About hostesses, plus a refreshed "look" for the party!
In the meantime, let's checkout some tips!
Weekly Household Tip
You know that water that you have left after hard-boiling eggs? Well, don't throw it away. It's rich in calcium and your plants will LOVE it! Just let it cool to room temp, and then add a cup to each plant!
Weekly Blogging Tip
A couple people have asked what my email provider did to help my open and click-through rates on my newsletters. Well, they re-authenticated my account! And if you want to read more about it, take a look a this blog post from MailerCheck.
Now, let's get to the party! (These photos will change next week… so sad, but not!)
Though not a requirement at all, we would love it if you would subscribe and/or follow your hostesses on one or more of our social medias:
Goings-On With Your Hostesses
My Wee Abode
Easy Valentine Cloche Vignette // Free Watercolor Valentine Printables // DIY Velvet Heart Garland
Thistle Key Lane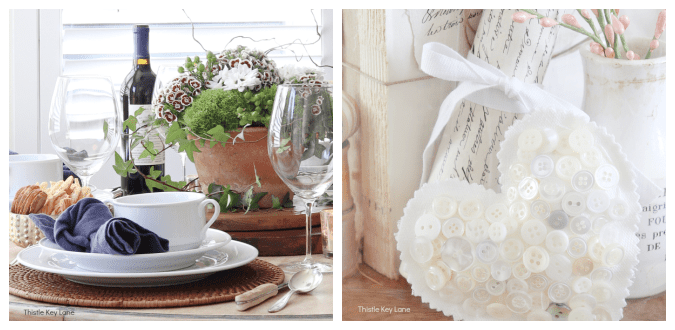 Winter Botanical Tablescape | Neutral Valentine's Day Cloche Vignette
Bluesky At Home
Two DIY Valentine Heart Wreaths | How to Make the Cutest Valentine Stickers
Bluesky Browsing #22
This Week's Features:
Valentine Artwork
This week, I decided to focus on some Valentine projects! Lynne from My Family Thyme shows us how to make reverse canvas Valentine art! It's so easy, and so pretty!
A Sweet Treat that Speaks to the Heart!
Have you ever had chocolate dipped pretzels? They. Are. Addictive! And these lovely decorated treats from Alea at Premeditated Leftovers are perfect for a party, pot-luck, or even a gift for that special someone!
Easy and Sweet-Smelling
Fresh Vintage by Lisa S is sharing a super fun thrifting find that she turned into sweet-smelling gifts! The nice thing is, soap-making is affordable, even if you don't find the kit at a thrift store, and they make great favors at Galentine parties! 😉
Check out our Tuesday Turn About Link Party Pinterest board! All NINE featured posts are pinned to this board each week!
Now It's Your Turn! Link Away!
Let's start sharing! Because this is a party, we encourage all who link up to visit several other bloggers who have linked as well – comments and pins are a great way to spread the love!
Before you get started, take a look at our guidelines:
This party is for home decor and home-related posts only (recipes, organizing, DIY, crafts, etc.). Link up to 3 related posts. Please do not link up informational posts that do not relate to the topic.
If you would please not link up shops, advertising, round-ups, other link parties, or any posts promoting sales, we would appreciate it.
DO NOT PIN FROM IMAGES ON THIS PAGE (it just won't work right on Pinterest). However, please visit the original post/source and pin from there. That works perfectly!
Please make sure that your images are in a jpeg or png format. If we can't save your image, we may not be able to feature you. So sad!
By linking to the party, you give us permission to share your projects on our blogs and social media. We will always give proper credit with a no-pin image.
I'm looking forward to introducing you to our new hostesses next week! I think many of you will already know them! In the meantime, link up all your best and give them LOTS to choose from for their first party!