Tuesday Turn About #79 Christmas Kitchens
We're all about Christmas these days at the link party with Tuesday Turn About #79 Christmas Kitchens.
TUESDAY TURN ABOUT #79 Christmas Kitchens
Welcome to the party! This week, we had several Christmas tours that were shared, so I thought I would feature some holiday kitchen decor with you!
Quick Update
My mom's assisted living (AL) community was put on lockdown this past week, as there were four (4) positive tests for the first time since May. Not sure if they were a-symptomatic, but the surgeon would not perform the surgery since my mom has possibly been exposed.
So, her community is on lockdown, though we are still able to visit with her outside, which we are thankful for. However, Christmas might be a no-go, as they have to test 100% clean for two weeks in order to be let out of the community. The rules are not totally logical to me, but we are at their mercy. I'll keep you posted!
So, let's turn our attention now to the party! And remember…
How 'bout some tips?
Weekly Household Tip
Last week, I shared a potato prep tip. This week, I learned that some people may like to know our family's secret to creamy mash pototoes.
We use a mix of Yukon Gold potatoes and Russet potatoes (yes, we use 'baking' potatoes). After boiling them until they are tender (or using the Instant Pot to cook them), we add butter, whole milk, and salt and pepper to taste. Be careful with how much milk you add… do just a little at a time. Also, you can substitute the milk with sour cream for an even richer taste!
Weekly Blogging Tip
Recently I read a post in a Facebook blogging group that has me wondering. Maybe you can help enlighten me.
Have you heard that there should only be one space between the end of a sentence and the beginning of the next? I was always taught to insert (type-in) TWO spaces! I know that sounds petty, but with Google, you just never know if it's important or not!
So, I ask again… Have you heard anything about spaces between sentences? Let me know your thoughts and intel in the comments!
Meet Your Hosts
Though not a requirement at all, we would love it if you would subscribe and/or follow your hostesses on one or more of our social medias:
Goings-On With Your Hostesses
My Wee Abode
Create a Vintage-Look Mercury Glass Garland | DIY Frosty Velvet Winter Wreath
Thistle Key Lane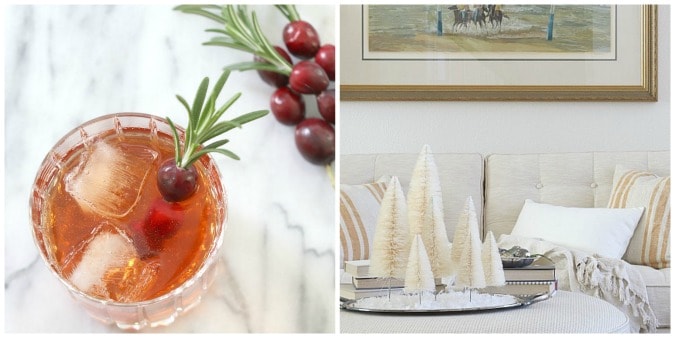 Cranberry Old Fashioned Cocktail | White Bottle Brush Tree Vignette
Bluesky At Home
How to Make Pinecone Place Cardholders | How to Make an Ornament Wreath | 15 Best Wreaths, Mantels and Garland for Christmas
This Week's Features:
Christmas Greenery in a Kitchen
A Day of Small Things is sharing her cozy Christmas kitchen. I love how she added greenery throughout, especially above her cabinets!
Nature in a Christmas Cupboard
Okay, Debra from Common Ground had me at this velvet pear! She's decorated her kitchen hutch with touches of nature that look lovely with all her vintage ironstone and dishes! And this decor will translate right into winter, too.
Shabby Christmas Kitchen
How 'bout some shabby cottage Christmas decor? Penny's Vintage Home loves the shabby cottage look, and her kitchen is no exception. Take a look for some inspo! She even has a lovely Christmas tree in the corner!
Check out our Tuesday Turn About Link Party Pinterest board! All NINE featured posts are pinned to this board each week!
Now It's Your Turn! Link Away!
Let's start sharing! Because this is a party, we encourage all who link up to visit several other bloggers who have linked as well – comments and pins are a great way to spread the love!
Before you get started, take a look at our guidelines:
This party is for home decor and home-related posts only (recipes, organizing, DIY, crafts, etc.). Link up to 3 related posts. Please do not link up informational posts that do not relate to the topic.
If you would please not link up shops, advertising, round-ups, other link parties, or any posts promoting sales, we would appreciate it.
DO NOT PIN FROM IMAGES ON THIS PAGE (it just won't work right on Pinterest). However, please visit the original post/source and pin from there. That works perfectly!
Please make sure that your images are in a jpeg or png format. If we can't save your image, we may not be able to feature you. So sad!
By linking to the party, you give us permission to share your projects on our blogs and social media. We will always give proper credit with a no-pin image.
Keep the Christmas posts coming! I'll still be featuring Christmas posts next week (and maybe even after the new year). We all may need a bit more Christmas this year!